Canada is testing drones for Arctic surveillance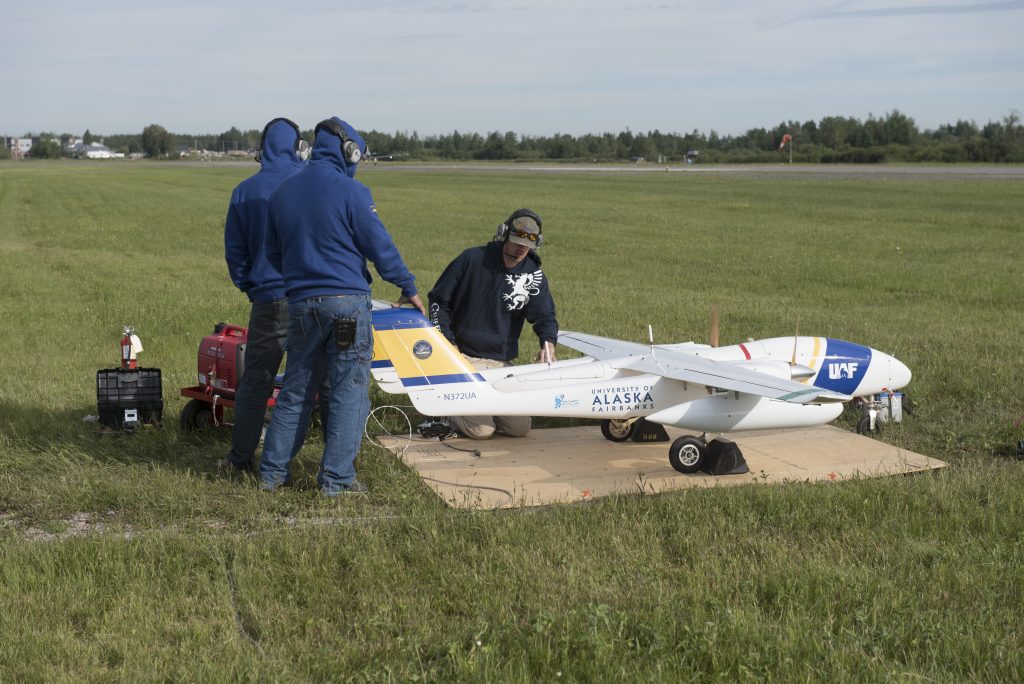 The federal government in partnership with a Nunavut-based private drone-operating company and the University of Alaska Fairbanks is in the final stages of testing a drone system for aerial surveillance of the Arctic regions of Canada.
The three-year testing program is part of an effort by Transport Canada to beef up its National Aerial Surveillance Program toolbox by adding drones to its existing fleet of piloted aircraft, according to Transport Canada officials.
This unmanned aircraft system will include one or more drones, a control station, and command and control links, officials said.
The aim of the National Aerial Surveillance Program is to protect Canada's environment by detecting oil spills, monitoring the environment, surveying ice and marine habitats and to contribute to search and rescue missions, said Annie Joannette, a spokesperson for Transport Canada.
"Transport Canada is committed to protecting Canada's environment and the Remotely Piloted Aircraft System will primarily be used to watch the Canadian Arctic by monitoring marine habitats and activity on the oceans," Joannette said in an email to Radio Canada International.
Will it work in the Arctic?
Transport Canada has partnered with Iqaluit-based Arctic UAV Inc. and the University of Alaska Fairbanks to conduct the tests using a Sea Hunter drone, produced by Alabama-based Griffon Aerospace.
The Sea Hunter drone was only selected to conduct research and development trials, Joannette said.
"Transport Canada is still exploring the acquisition of a Remotely Piloted Aircraft System and is not in a position to confirm which system will be used in the Canadian Arctic in the future," she added.
The Sea Hunter drone is a robust fixed-wing remotely piloted aircraft system with a maximum endurance of eight hours of operation with additional backup systems, Joannette said. It is also equipped with two on-board high-resolution camera systems.
The trials will go on until March 31, 2019. Transport Canada plans two, five-day test missions a year, with the option of two extra missions.
Flights are testing the use of remote pilot stations to fly drones outside pilots' line-of-sight. The first trial took place at the UAS Centre of Excellence for Drones in Alma, Quebec, in June 2017.
In August 2018, experts from Transport Canada, Fisheries and Oceans Canada, Arctic UAV and the University of Alaska Fairbanks conducted a three-week drone mission in Gaspé, Quebec, Joannette said.
Using the Sea Hunter drone and flying as high as 4,000 feet, the team flew more than 5,500 kilometres (2,970 nautical miles) around Anticosti Island, Joannette said. They captured data and images with the drone's on-board cameras and sensors.
"Drones can improve surveillance because they're able to fly longer and farther than manned aircraft," Joannette said. "This is vital during an environmental incident such as an oil spill. Drones reach areas manned aircraft cannot, cost less to operate and are more environmentally friendly."
However, it's unclear how the Sea Hunter drone will perform in the harsh Arctic winter environment or how its control systems will be affected by limited and unreliable satellite communications and navigation in the higher latitudes.
Griffon Aerospace did not answer questions about Sea Hunter's capabilities and potential challenges of operating the system in the Arctic and referred all questions to Transport Canada.
Officials at Transport Canada declined an interview but provided written answers to some questions.
Russia looks for Arctic drones too
Russia, which is also planning to deploy a fleet of UAVs to monitor its vast Arctic coastline, is working on developing drones that can navigate without relying on signals from the U.S.-owned GPS or Russia's own GLONASS satellite navigation systems.
ZALA AERO Group, owned by Russian defence manufacturer, Kalashnikov Concern, the maker of the world-famous AK family of assault rifles, is in the process of testing a series of lighter drones specifically created to operate in the harsh Arctic environment both for civilian and military use.
According to reports by the Russian news agency TASS, quoting Kalashnikov Group CEO Vladimir Dmitriyev, ZALA Arctic drones "will be able to solve civil and military tasks in conducting research in the Arctic, ensuring the safety of maritime navigation, round-the-clock protection of perimeters, and organizing a complete system for monitoring the Arctic coast and territorial waters."
Related stories from around the North:
Canada: Judge balks at plea deal for man who flew drone in airspace in Northern Canada, CBC News
Finland: Drone with smuggled cigarettes found on Finland-Russia frontier, YLE News
Norway: Could drones help prevent polar bear attacks on the Arctic archipelago of Svalbard?, The Independent Barents Observer
Russia: Eagle attacks military drone, The Independent Barents Observer
Sweden: Allow Swedish military to shoot down drones, says report, Radio Sweden
United States: Move over mushers and planes, drones to deliver emergency supplies in Alaska, Alaska Public Media