Pyhäjoki cottages in Finland make way for Russian-built nuclear reactor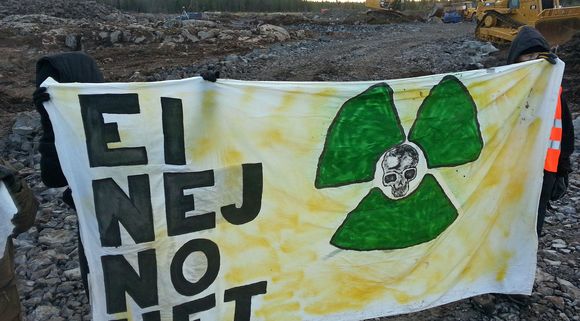 Fennovoima's planned nuclear plant in Pyhäjoki is proceeding apace— even though final building permits are still under consideration.
The last summer cottage owners in the area will have to vacate their properties by the end of May.
The site of Fennovoima's planned nuclear plant is starting to take shape at Pyhäjoki in north Ostrobothnia—despite the presence of protesters trying to stop the construction and a few landowners who have so far refused to sell up.
Trees have been felled and roads built in the area, even though the government has not yet granted the final building permit. Fennovoima only has a provisional permit granted last year and must seek a final permit this summer in addition to a permit from the local municipality to begin building work.
Most of the cottages located on the Hanhikiviniemi peninsula have already been purchased by Fennovoima, but the last few holdouts are now subject to compulsory purchase orders. According to the orders, the cottages must be vacated and handed over by the end of May, even though appeals against the compulsory purchase orders are still pending.
Protests on the way
Fennovoima currently controls around 400 hectares of land and water at Hanhikiviniemi, and this will increase to 500 hectares with the new acquisitions.
The local Pro Hanhikivi group is opposed to the project, but is also resisting the influx of activists who are camped out in protest at the ongoing construction work. The group is planning a legal challenge to Fennovoima's actions, and says it does not support protests by more radical groups.
"We want the court to take a view on the principle of whether it's allowed to grant a permit to start construction that is irreversible," said Pro Hanhikivi vice-chair and Green League MP Hanna Halmeenpää.
She says the local council's decision to allow initial building work to proceed is against Finland's municipal laws and runs counter to the principles of good governance.
Lengthy delays
The Fennovoima plant was originally approved by parliament in 2010, but planning delays and financing issues have dogged the project since then. Last autumn the Green League walked out of government in protest at the arrival of Russian firm Rosatom as the contractor and part-owner of the plant.
The Greens felt that such a major change in the plans meant they should be re-considered from scratch.
Even then, financing was not secure until state-owned energy firm Fortum stepped in to take a major stake in Fennovoima. According to the original terms on which the project was approved, a majority of the ownership should be in European, meaning EU, hands.
The project has also prompted opposition in Sweden, where 20,000 people signed a petition opposing the new reactor. Pyhäjoki is located just 155km from the Swedish coast.
Related stories from around the North:
Canada:  Floating nuclear power stations for Arctic?, Radio Canada International
Finland: Three taken into custody at nuclear protest in Pyhäjoki, Finland, Yle News
Norway: Three years on, still no deal on nuclear accident warning for Norway, Barents Observer
Russia: Sunken Soviet submarines threaten massive radioactive contamination, Barents Observer
Sweden:  Sweden's environment minister wants nuclear reactors closed, Radio Sweden