Inuit artists boycott Indigenous Music Awards over cultural appropriation concerns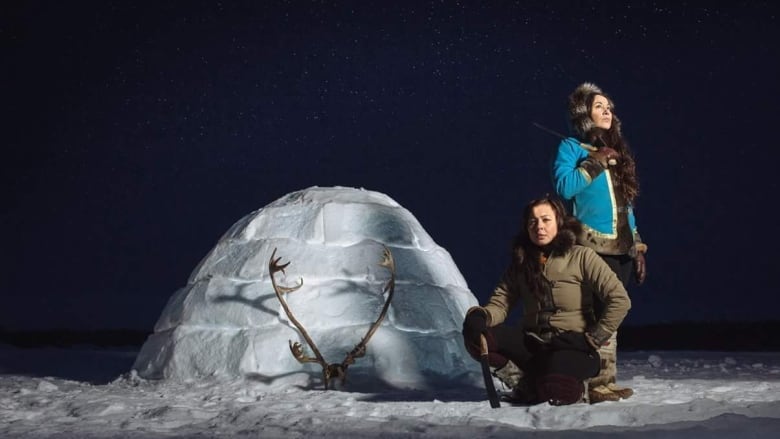 A group of Inuit artists are pulling their support from the Indigenous Music Awards over concerns that a First Nations nominee is culturally appropriating throat singing.
Musicians Tanya Tagaq, Kelly Fraser and the duo PIQSIQ have announced that they are frustrated with the IMAs and are refusing to submit any work or perform at the awards until the organizers add Inuit representatives to the IMA board.
"We came to the IMAs with the concern about cultural appropriation in one of the categories. There is a non-Inuk singer who is appropriating Inuit throat singing," said Tiffany Ayalik.
Ayalik and her sister Kayley Mackay are from Yellowknife and make up the throat singing duo PIQSIQ. They are withdrawing the nomination of their album, Altering The Timeline, for best electronic music album.
"It's very insensitive and wrong to have an organisation like the IMAs celebrating an artist who isn't Inuk, who isn't doing it properly, and who isn't doing it with the respect and the context and the history that should be informing throat singing," she said.
The @IMAs have procedures in place to prevent non-Indigenous culturally appropriative content, but so far nothing to protect from appropriation between Indigenous groups. In issues concerning Inuit, Inuit voices must be heard. No decisions about us without us, please. https://t.co/zFJAJnqfFH

— Inuksuk Mackay (@KayleyMackay) April 1, 2019
On Monday, they made the decision to announce their frustrations publicly after trying to work behind the scenes with the organizers to correct what they view as problematic.
"We reached out to the artist individually and asked them to stop what they were doing," said Ayalik.
She said "nothing came of that."
She said the group of artists expressed their concerns to the IMAs and told them that there are policies in place to ensure that non-Indigenous artists aren't submitting to the awards, but there are no policies in place to protect cultural appropriation among Indigenous nations.
"We are hoping that will change in the future and we're open to continuing a relationship with the [IMAs] in the future," said Mackay.
"We just feel very strongly that this needs to be addressed first. We put a lot of time and thought into dealing with this issue privately for two months now."
Due to issues surrounding cultural appropriation, I will not be performing at, attending, nor submitting my work to the @IMAs unless they revise their policies or have Inuit representation on the board for consultation.

— tanya tagaq (@tagaq) March 31, 2019
Until the Indigenous Music Awards board of governors addereses the issues around #culturalappropriation, I will not be submitting any more of my music to the IMA's until there is Inuit representation on the board. #imas #inuit #throatsinging

— Kelly Fraser (@Iskellyfraser) March 31, 2019
Nehiyaw singer nominated in folk album category
The sisters declined to name the musician in question to keep the focus on the issue of appropriation between Indigenous groups.
Nehiyaw singer Cikwes's IMA bio reads that her musical background is rooted in Woodland Cree traditions "with creative influences ranging from throat singing, jazz, soul, rnb and reggae."
"Her style of throat singing and chanting celebrates the Matriarch, with a raw powerful and sexual presence," the bio says.
Cikwes, also known as Connie LeGrande, is one of five nominees for Best Folk Album. Inuk songwriter and throatsinger Aasiva is one of the other nominees in that category.
LeGrande has not responded to a request for comment.
Throat singing an 'act of defiance'
For Ayalik and Mackay, throat singing is an act of cultural reclamation among Inuit.
"It was heavily tabooed and fineable and almost went extinct from Inuit memory," said Ayalik.
The sisters both learned to throat sing when they were young by listening to tape recordings and singing with family members who would stop by Yellowknife for visits.
It wasn't until she was in her 20s that Ayalik learned more about the history of Canada and how colonization affected the cultures of the people in the Arctic region.
"Throat singing became not only an important pastime to connect with my sister… but also as a radical political act," said Ayalik.
"This beautiful piece of art is also an act of defiance in the face of things like the Indian Act and things that were prohibited at one time in Canada," said Ayalik.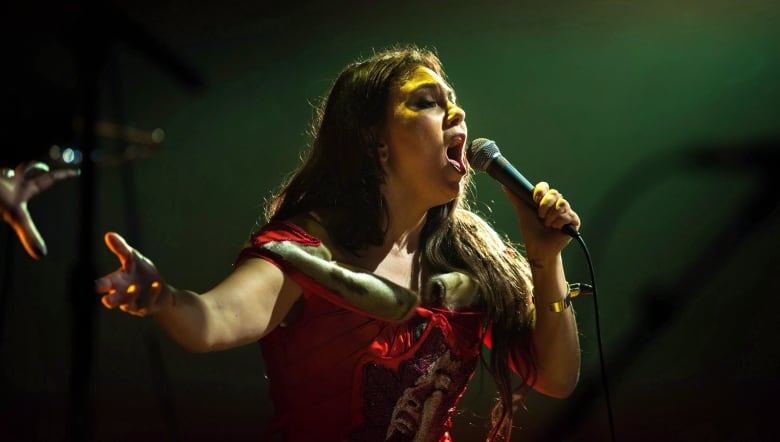 Both sisters said they are open to collaborating with other Indigenous artists as long as it isn't done in a way that fetishizes or tokenizes Inuit culture.
"I think it's really important to remember that as Indigenous people we are not excused from that," said Ayalik.
Mackay is hoping the situation can be addressed in a respectful way. She acknowledged that everyone makes mistakes and hopes the IMA organizers offer an apology and include Inuit representatives at the board level.
IMAs to add Inuit rep to board
The awards ceremony is set to be held in Winnipeg on May 17 as part of the annual Manito Ahbee Festival.
In a statement Tuesday, the Manito Ahbee Festival and Indigenous Music Awards said its board decided the nomination will stand for the artist in question based on current rules and regulations.
"We have been presented with a very difficult task, to decide if an individual artist is overstepping creative boundaries that some feel is not her right," reads the statement.
"We don't presume to agree or disagree on this matter at this time, as it requires great reflection, ceremony and discussions on how we move forward in a good way, to ensure that we as Indigenous people uphold our teachings, and do not provide a platform for negativity and separation."
The statement said the board has not dismissed the matter and it has decided to add an Inuit representative to the board at its next AGM, when new members can be added as per their constitution. The board also plans to develop a policy on cultural appropriation for all artists submitting to the IMAs.
Related stories from around the North:
Canada: Debate in Arctic Canada over who should sell traditional crafts, CBC News

Norway: Norway sends song with Sami joik to Eurovision Song Contest, The Independent Barents Observer
United Kingdom: U.K. fashion label apologizes for copied Inuit design, Radio Canada International