U.K. fashion label apologizes for copied Inuit design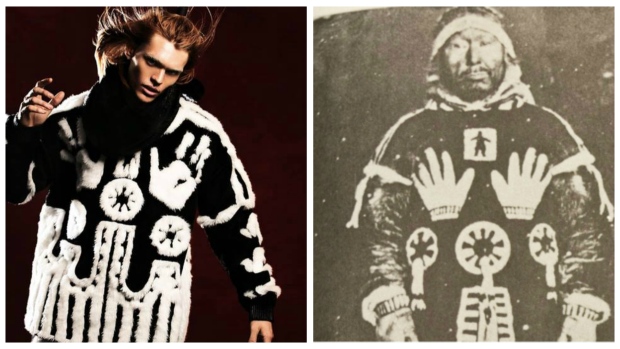 The U.K.-based fashion label KTZ has apologized to a Canadian Inuit woman for using without permission a sacred Inuit design produced by the woman's great-grandfather in the early 1920s.
KTZ's fall 2015 men's collection includes a number of garments based on traditional Inuit designs and a sweater that appears to be an almost exact replica of a sacred parka created to protect her great-grandfather, the great shaman Awa, said Salome Awa in a phone interview from Iqaluit, Nunavut.
A sacred garment
Awa said she stumbled upon the offending replica of her great-grandfather's parka while browsing a Facebook posting about KTZ's fall-winter fashion collection.
"There was a very specific shaman garment that my great-grandfather used for his protection," said Awa who works as a producer at CBC North. "You cannot wear a sacred garment at any point when you didn't vision it, when you didn't want to use it for protection."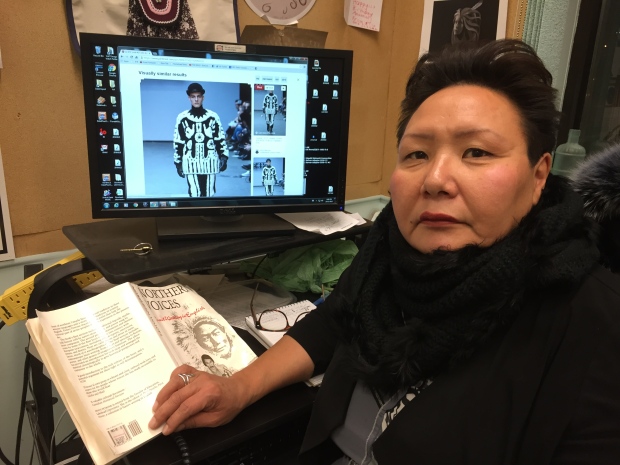 Awa said she immediately contacted the fashion label demanding that they pull the offending sweater and apologize. On Friday morning she received an email from the company.
"KTZ is a very small UK based company – with a team counting less than 15 people employed across the globe and with ethnic backgrounds ranging from Macedonian, Greek, Portuguese, Polish, German, Italian, Dutch, Japanese, Nigerian, Chinese and Indonesian," the letter said. "Our work is never intended to offend any community or religion. We sincerely apologise to you and anyone who felt offended by our work as it certainly wasn't our intention."
Item removed
The fashion label has also removed the item from sale online and will remove the item in question from its stores, the letter said.
But Awa says she would like to also get a financial compensation from the company.
"They have to pay back the money gained from the design they stole," Awa said.
The garment was created in early 1920s after her great-grandfather had a vision that someone was going to drown him and push him into the ocean, Awa said.
"He wanted to protect himself at any time, either sleeping or hunting," Awa said. "This garment will stop that person with his shaman powers from drowning him."
KTZ's history with indigenous designs
Famous Danish Arctic explorer Knud Rasmussen took a photo of her great-grandfather in the sacred parka in early 1920s, said Awa. The photo as well as the shaman's story, is featured in the book Northern Voices: Inuit Writing in English. A replica of the garment was also displayed in the 2006 film The Journals of Knud Rasmussen.
It's not the first time KTZ, which makes high-end clothing for men and women, has been accused of appropriating indigenous designs. Last year, U.S.-based northern Cheyenne/Crow designer Bethany Yellowtail accused KTZ of using her designs without permission.
On its website, the company brands itself as creating clothing "known for its raw energy and contemporary urban edge, but also for embracing ethnographic references and multiculturalism."
Related stories from around the North:
Finland:  Ralph Lauren collection shot in Arctic Finland, Yle News
United States:  New stores celebrate Alaska's eclectic fashion sense, Alaska Dispatch News