Beluga whale freed from mysterious harness delights residents of Arctic Norwegian town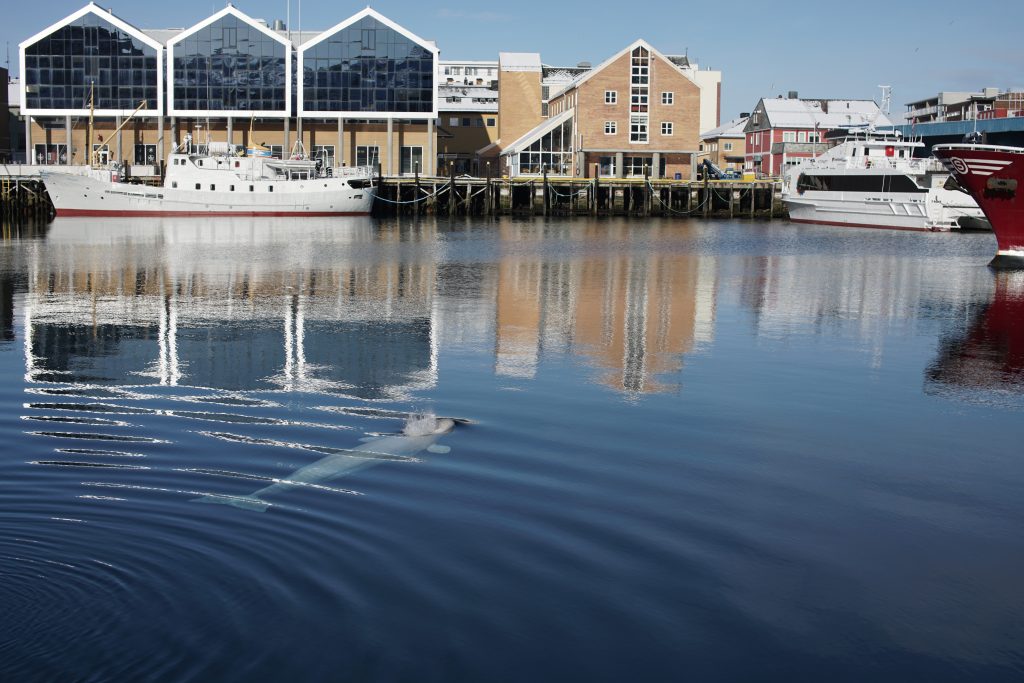 A genial beluga whale freed from a mysterious harness by Norwegian fishermen and fisheries officials off the coast of northern Norway last week is not in a hurry to leave the friendly Norwegian waters and even paid a visit to the town of Hammerfest on Thursday.
Joergen Ree Wiig, an official with the Norwegian Directorate of Fisheries, who was instrumental in getting the whale freed from the harness last Friday, said the affable cetacean was the first thing he saw when he woke up aboard his fisheries patrol ship Thursday morning.
"The whale was outside our ship this morning! It's amazing!" Ree Wiig told Radio Canada International in a phone interview. "It followed a sailboat all the way to Hammerfest apparently and it was the first thing I saw when I looked out the window this morning! I thought I was dreaming."
(video courtesy of Jorgen Ree Wiig/Norwegian Directorate of Fisheries)
Ree Wiig said he doesn't think the adult beluga whale recognizes him.
"I tried to make the same noises that I made as we rescued it," Ree Wiig said. "But it comes towards anybody. It goes to the boats, it goes towards engine noise. When it sees a boat, it goes baam just like a torpedo."
A Russian 'spywhale'?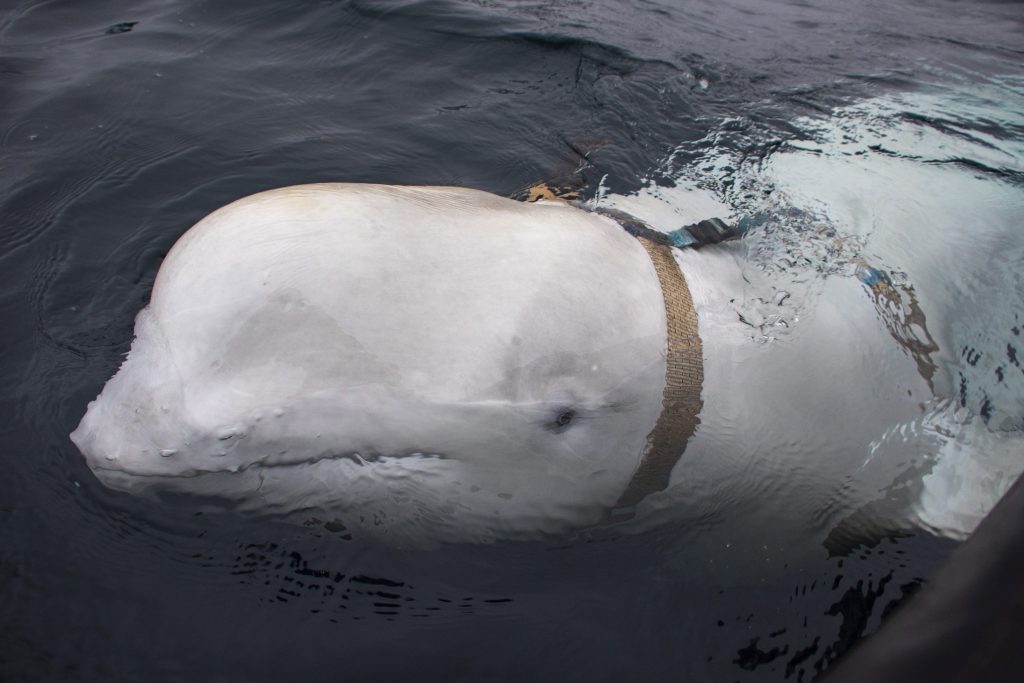 Last Friday, local fishermen contacted Ree Wiig about a beluga whale, wearing a strange harness that had come up to their fishing boats.
It was obvious that the whale was used to interacting with humans, said Ree Wiig.
The whale immediately darted for their boat as soon as they approached the area, he said.
One of the fishermen put on a dry suit and jumped into the water to try to remove the harness and eventually succeeded in cutting it off and then unbuckling it.
(video courtesy of Jorgen Ree Wiig/Norwegian Directorate of Fisheries)
The harness consisted of two large belts attached to each other – one about two metres in diameter and the other about a metre, with one belt going over the animal's neck and the other underneath the fins, said Ree Wiig.
In addition, the harness featured two GoPro action camera mounts on each side of the whale but no actual cameras.
The discovery prompted intense media speculation that the animal may have come from a secret Russian facility that trains whales, dolphins and seals for military purposes.
Russian experts have dismissed this speculation as another example of the Cold War-era "Red Scare" and the West's obsession with Russian spies.
Worries about the whale's well-being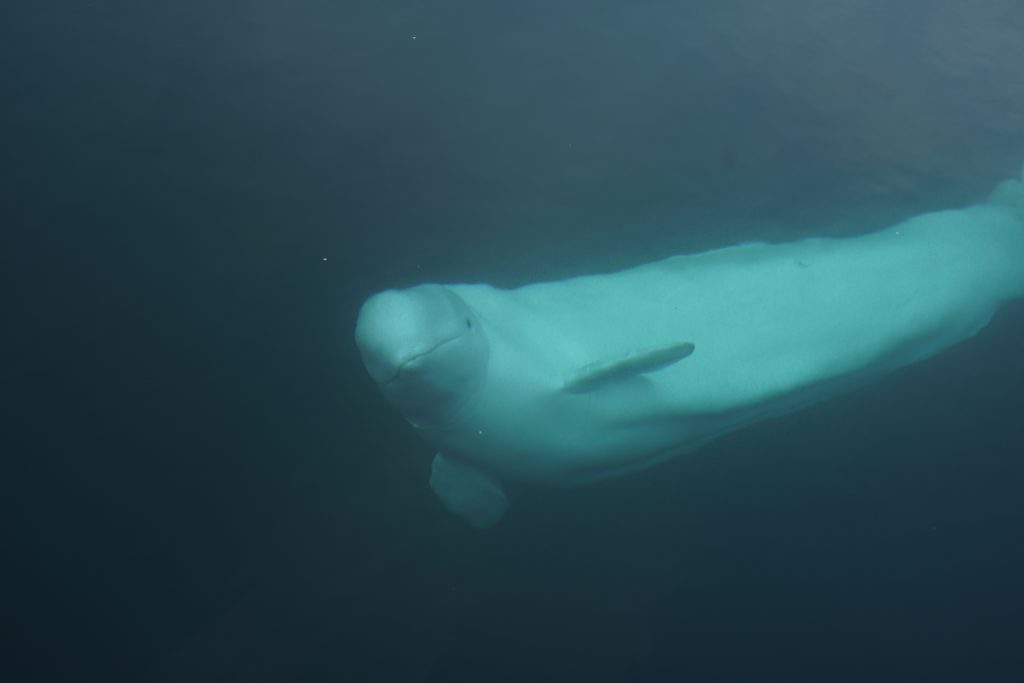 While the playful cetacean has been delighting local residents with its presence, officials are also concerned about its future. Whales are social creatures and it's not clear whether the gregarious fellow, who is obviously used to human interactions, will be able to find another pod.
"I talked to my dad, he is a marine zoologist, and he advised me to wait and see what happens," Ree Wiig said. "But some of his colleagues they said that maybe we should catch it and have it in a sanctuary."
There is an open sea beluga whale sanctuary in Iceland's Westman Islands that specializes in rehabilitation of captive whales.
Ree Wiig says Norwegian fisheries officials are consulting with whale experts to see what to do next.
The average life-span of a beluga whale is 35-50 years, and there are an estimated 200,000 belugas in the Arctic waters around Greenland, Canada, Alaska and Russia. According to WWF, belugas, like other Arctic whales, do not have dorsal fins (a dorsal fin causes extra heat loss and would be a major hindrance in the Arctic ice), but they do have a tough dorsal ridge.
The belugas, which are closely related to narwhals, also have a thick layer of blubber that insulates them from the icy Arctic waters.
Another fan fact courtesy of WWF, the vertebrae in a beluga's neck are not fused together, giving it the unusual ability to turn its head up, down and side-to-side.
Related stories from around the North:
Canada: Tracking beluga whales in the Beaufort Sea through Facebook, CBC News
Finland: Endangered Finnish seal population slowly recovering, Yle News
Iceland: Scientists puzzled by right whale's appearance off Iceland, CBC News
Norway: Lower Barents Sea cod and haddock quotas, scientists advise, The Independent Barents Observer
Russia: Polar bears greatly exposed to toxic chemicals in eastern Barents Sea, The Independent Barents Observer
Sweden: Poachers suspected behind dwindling wolf numbers in Sweden, Radio Sweden
United States: Communities wrestle with shark-bite mystery off Alaskan coast, Eye on the Arctic