Canadian Heritage to contribute funding to travelling Kenojuak Ashevak exhibition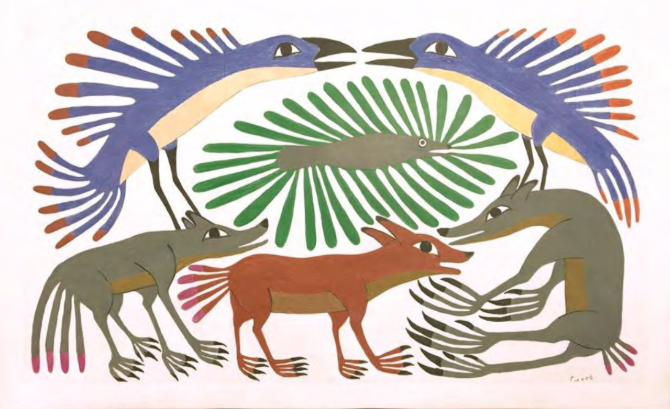 The federal Department of Canadian Heritage is contributing
$464,000 to help fund a travelling exhibition featuring the work of Kenojuak Ashevak, one of Canada's most renowned artists. 
The money will go to the Kinngait Arts Foundation, the non-profit organiztion working on a national tour of the exhibition titled Kenojuak Ashevak: Life and Legacy. The foundation, which promotes Inuit art from Cape Dorset, is putting the travelling exhibition together along with the West Baffin Eskimo Cooperative and the Kenojuak Cultural Centre.
"As President of the Kinngait Arts Foundation and someone who knew Kenojuak very well, I am honoured to announce this important partnership with Canadian Heritage," said Jimmy Manning in a news release on Wednesday.
"A prominent artist member of the West Baffin Eskimo Cooperative and an ambassador for Cape Dorset's cultural community, this exhibition celebrates the life and legacy of one of Canada's most beloved national treasures."
Putting Arctic art on the map
Kenojuak Ashevak (1927-2013) lived most of her life in Cape Dorset, an island community of approximately 1400 people, off the southwest coast of Baffin Island in Canada's eastern Arctic territory of Nunavut. 
Her career spanned decades and her iconic images depicting Arctic animals and wildlife came to define a generation of Inuit artists living and working in the North. Her work almost single-handedly came to define Arctic art both in Canada and on the world stage.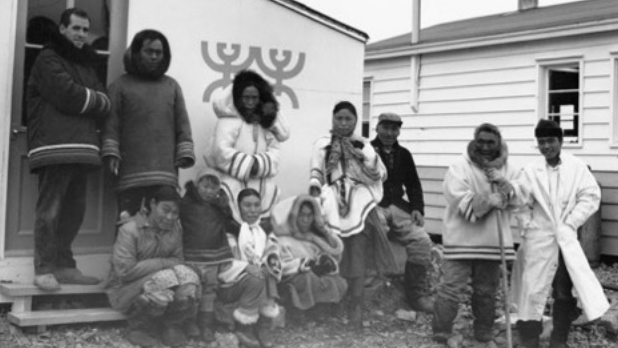 Kenojuak Ashevak was part of the first generation of artists to come through the Cape Dorset print program. The program's roots go back to the 1950s when Canadian artist James Houston moved to Cape Dorset and taught local Inuit how to draw and make prints of Arctic nature and Inuit life.
Starting in 1959, the prints produced in Cape Dorset were released in an annual collection. They became a hit in the art world and a favourite of collectors. 
Kenojuak Ashevak: Life and Legacy features 31 drawings and three prints from the archives of the West Baffin Eskimo Cooperative,  the local co-op established in the community in 1959. The works had not previously been formally exhibited.
The works are accompanied by objects and anecdotes related to Ashevak's work and contributions, items that were contributed by Cape Dorset community members.
Kenojuak Ashevak: Life and Legacy was the first exhibition mounted at the Kenojuak Culture Centre after it opened in 2018 in Ashevak's home community of Cape Dorset.
"Canada's many diverse stories deserve to be celebrated and shared across Canada and the world," said Pablo Rodriguez, the minister of Canadian Heritage and Multiculturalism, in a news release.
"Our government's contribution of more than $464,000 to the Kinngait Arts Foundation will ensure that an even greater number of visitors to museums and cultural centres will be able to discover the works of one of the Arctic's most important artists."
Eye on the Arctic Feature Interview
Kenojuak Ashevak speaks with Eye on the Arctic's Eilís Quinn in 2010 in Cape Dorset, Nunavut.
Six venues are currently scheduled to host the exhibition.
The tour will run from early 2020 to 2022.
Dates and venues are expected to be announced in July.
Write to Eilis Quinn at Eilis.Quinn(at)cbc.ca
Related stories from around the North:
Canada: Inuit art meets architecture – Saguenay exhibition winds up on Sunday, Eye on the Arctic
United States: Inuit carvings head to Northern Canada after decades in California, CBC News