Construction of Tlicho all-season road in Northern Canada begins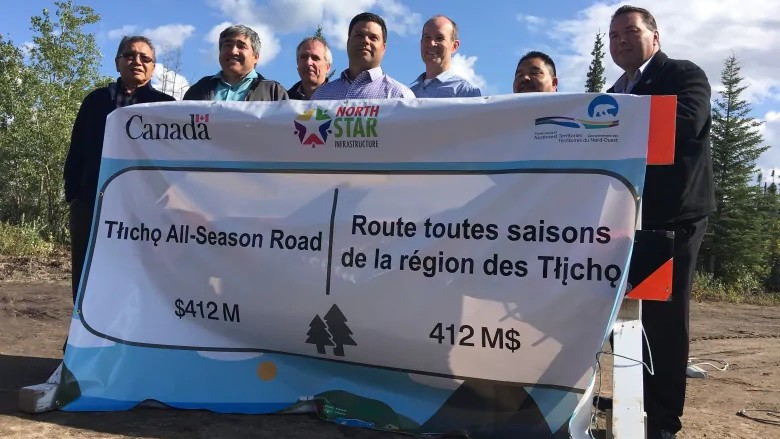 Elected officials stabbed at muddy ground with clean shovels at the official groundbreaking on the Tlicho all-season road in Whatı̀​​​, Northwest Territories, on Saturday.
For Whatı̀ Chief Alfonz Nitsiza, the moment was the culmination of decades of effort.
Speaking to reporters in a scrum, Nitsiza said that decades ago two elders — including his own uncle, who is a former chief — survived two plane crashes in the Tlicho region.
"They quickly realized, this is too much, and there's a lot of people going in and out of the community for medevac, we need to get a road here. That's when it all started — almost 30 years ago."
Whatı̀ is about 170 kilometres northwest of Yellowknife, and is a fly-in community for most of the year except when it's accessible by winter road. The 97-kilometre, two-lane gravel road will connect Highway 3 to the small Tłı̨chǫ community year-round.
North Star Infrastructure — which is made up of Kiewit Canada Development Corp. and the Tłı̨chǫ government — with Peter Kiewit Sons ULC, Hatch Corp. and Thurber Engineering Ltd. as design and engineering partners — will be responsible for the construction of the road.
For $16 million, the Tłı̨chǫ government has taken a 20 per cent equity stake in the project. It's the first time in the Northwest Territories that an Indigenous government has taken an equity role in a major construction project, according to the territorial government.
On Saturday, N.W.T. Infrastructure Minister Wally Schumann said the Tlicho government set a high bar for other governments, and he hopes to work with them in the future if re-elected.
"An all-season road will … make the community more resilient to the impacts of climate change," said Schumann, during speeches from the officials.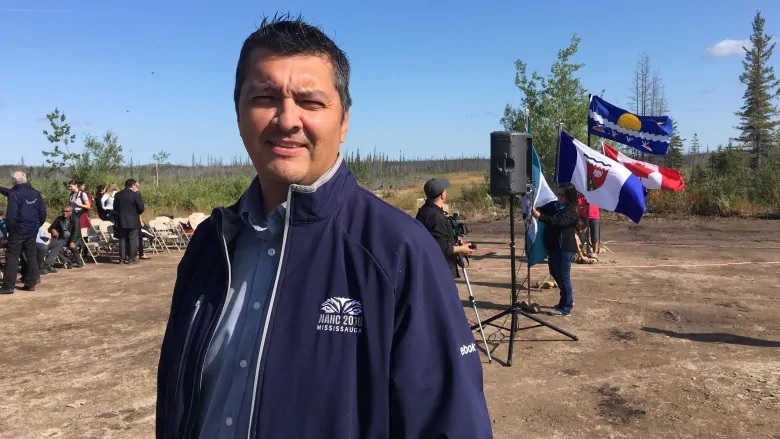 After the ceremony, Monfwi MLA Jackson Lafferty thanked attendees for witnessing "such a historic event."
Lafferty told CBC those concerns have only become worse as warmer winters impact the Northwest Territories' winter road system. "Elders are fearful," he said. "When they travel to the communities they travel in groups … now they're going to be travelling on an all-weather road so it will be much safer."
Concerns
The road has been debated for years.
Last spring, the territorial government deemed an extended caribou preservation buffer zone along the proposed road to be too expensive to include.
In November, the Tłı̨chǫ, federal and territorial governments agreed to nearly two dozen measures to reduce negative effects the proposed road could have on the community, including easier access to drugs and alcohol, wildlife and the environment.
Community member Samantha Migwi is concerned about what the road will mean for her children.
"There's a lot of fear for the children, the younger generation — mainly about drugs and the alcohol," said Migwi, mother of four. She said she'd like the community to consider adding a gate to the road that closes at night.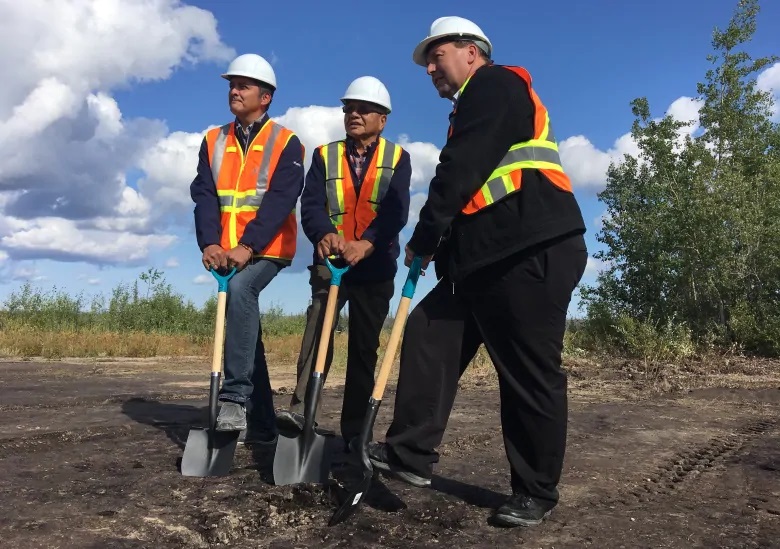 Hopes
But Migwi has some hopes for the new infrastructure.
"Hopefully it will create jobs," she said.
Mining company Fortune Minerals has celebrated the approval of the gravel road — which it plans to connect to with another road to its proposed mine 49 kilometres from Whati.
Whatı̀ Chief Alfonz Nitsiza said in November that the road would bring mostly positive changes to the community, including a better supply of food, cheaper travel and more job opportunities. At the groundbreaking event on Saturday, he said he knew the road would bring "both impacts and benefits" to the community, but that the community was working to prevent problems.
He also told reporters the youth would benefit from being more connected. "They're really cooped up as it is now. They want to get out … and meet other people. This road will do that."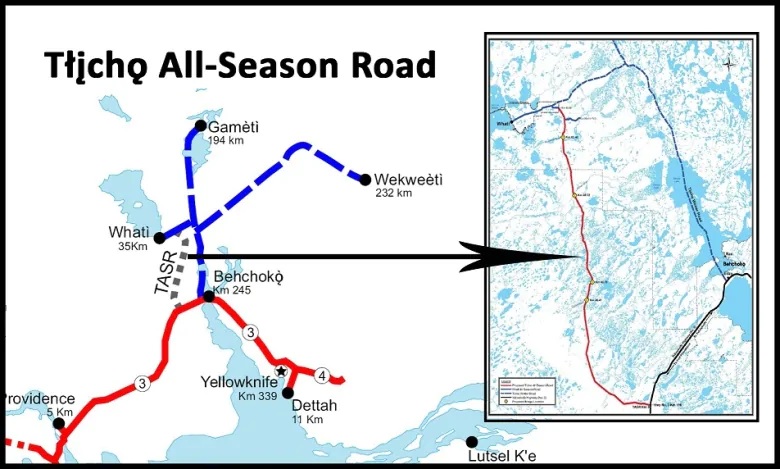 Greg Hanna, a spokesperson with the Department of Infrastructure, wrote in an email that construction and equipment crews have started to arrive in the region.
Hanna wrote that the government of the Northwest Territories is "committed to protecting healthy caribou populations" and will make sure that any decisions made consider potential impacts to the caribou herd and their habitats.
The road contract is worth $411.8 million over 28 years, and is expected to be completed by 2022.
The ceremony on Saturday included an elder prayer, cultural performances, speeches by dignitaries and a community barbecue.
With files from Katie Toth
Related stories from around the North:
Canada: All-season road project linking Northwest Territories and Nunavut in Northern Canada gets first major funding, CBC News
Finland: Finland takes another step towards building Arctic rail link, The Independent Barents Observer
Norway: Railway linking Barents Sea coast to Arctic Finland not commercially viable, report says, The Independent Barents Observer
Russia: Murmansk supports building new road connection to Finland, The Independent Barents Observer
United States: U.S. government signs new land swap for Alaskan wildlife refuge road, Alaska Public Media