Greta Thunberg look-alike in Yukon gold rush photo sparks online frenzy
No, Greta Thunberg is not a time traveller. But a historic photo from the Yukon Klondike Gold Rush in northwestern Canada has people asking.
An archival photo from 1898 featuring a young girl who looks a lot like the high-profile Swedish teenager went viral online this week.
"We've had about 15 to 20 requests just to talk about the photo, and we're getting into almost the triple digits now, in terms of requests to use the photo," said Lisa Oberg, an archivist at the University of Washington, on Thursday. The image is from the university's vast collection.
The photo — taken in Yukon at the height of the Klondike Gold Rush — was taken by Eric Hegg, a Swede, like Thunberg.
Hegg took some of the most famous photos of the gold rush including an iconic image of stampeders ascending the Chilkoot Pass on their way to the gold fields.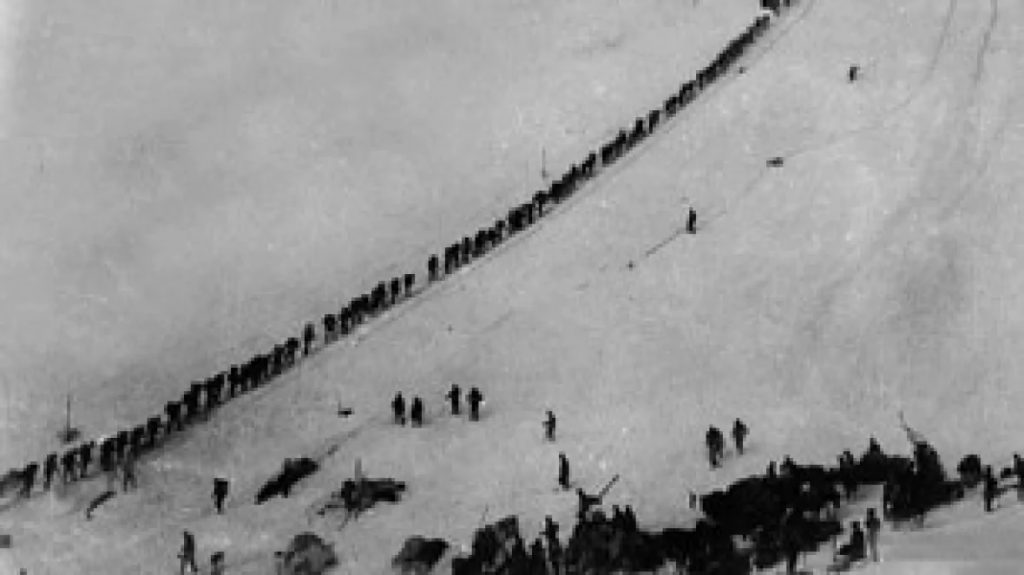 The university in Seattle has hundreds of Hegg's Klondike photos in its collection, and has had them for decades.
Oberg says the records of how they came to the university are spotty, though.
Information about individual images is also spotty — including the one with Thunberg's doppelgänger​​​.
The young girl is unnamed, as are her two companions. It's not known where they were from. Hegg's caption simply identifies them as "youths operating gold mines on Dominion, Klondyke Y.T."
Dominion Creek is near Dawson City, Yukon, the epicentre of the Klondike.
Jokes and wild theories
And because, well, 2019, it's not enough to just marvel at a weird and wonderful coincidence. Cue the jokes and fanciful theories.
So, 'Greta Thunberg' is in a photo from 120 years ago, and it's my new favourite conspiracy. Greta's a time traveller, from the future, and she's here to save us. pic.twitter.com/5ObTjPFXvk

— Jack – J.S. Strange (@JackSamStrange) November 18, 2019
This photo, taken in 1898, appears to have Greta Thunberg in it! Which is making somer folks believe that maybe she's a time traveller, an angel or a child from the future sent to warn us all of the real threat of Climate Change. I think it's all of the above RS pic.twitter.com/uAnYObktI9

— Ron Sexsmith (@RonSexsmith) November 21, 2019
Oberg says she was as surprised as anybody when the photo suddenly sparked a gold rush-like frenzy online.
"We don't know exactly what started this whole chain," she said.
Oberg suggests that somebody was using facial-recognition software to search for images resembling Thunberg, and came across the university's digital collection.
"[They] then decided to launch a kind of a conspiracy theory that somehow people were hacking into photo databases and superimposing Thunberg's face," she said.
That's about as likely as were most Klondike dreams of easy fortune — in other words, not very.
"I can assure you we've had this photo for well over 50 years. So that's just not what happened," she said.
Oberg is happy with the attention the photo is getting, though, saying it puts a spotlight on the work archivists do.
"We really hope that this photo going viral like this really just kind of brings a little bit of respect, if you will, to archives like ours," she said.
"It's so that people have an appreciation and hopefully some gratitude for the fact that some of these cultural organizations have captured this history."
Oberg chuckles when asked if the university has looked for other historic doppelgängers in its archives.
"Well we haven't been … but we might do that now," she said.
Written by Paul Tukker, with files from Dave White
Related stories from around the North:
Canada: Rare snow-white squirrel spotted in Yukon, northwestern Canada, CBC News
Finland: Photographer tells how he snapped picture of rare white bear cub in Finland, Yle News
Sweden: Too young to vote, Swedish student Greta Thunberg goes on strike for climate action, Radio Sweden