Finnish youth on strike for climate action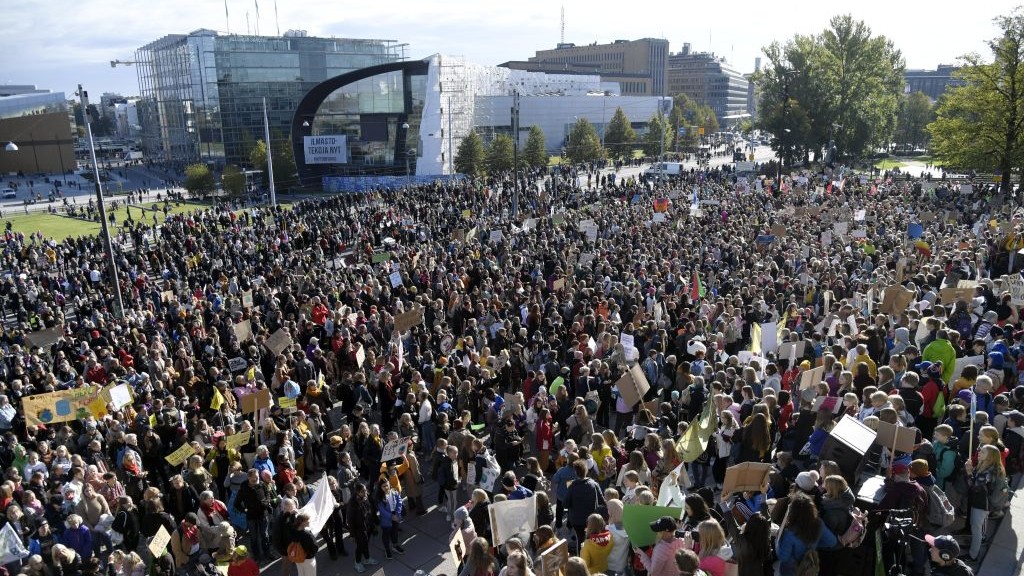 Some 18,000 people gathered in central Helsinki to demand action on greenhouse gas emissions, part of a nationwide wave of strikes and protests demanding action to tackle climate change.
The Helsinki strikers assembled in front of the parliament building before listening to speeches from activists demanding action under the 'nyt on pakko' slogan.
"I'm showing the people in power what the people want," Ivy Hei Yu Chan, an exchange student at the University of Helsinki, told Yle News. "A lot of individuals chose to be here today and it shows you that individual action paired with collective actions will show the people in power that climate change is our priority and that we need to do something about it today."
Her friend Cinzia Passamani, an exchange student from Italy currently at the University of Helsinki, agreed.
"If we wait too much we will be unable to keep the environment a place where humans can live," Passamani told Yle News outside parliament. "The population is growing and we have to manage our resources in a better way. Now is the moment to do it. The window will close soon if we don't change. We have to ask ask politicans, but we also have to make differences in our daily life; choosing between a car and public transport or a local market or supermarket can make the difference."
"The people who are supposed to do something haven't and they're not helping us have a good future," said Jesse Jantunen, 12, a sixth grader at Maunulan Ala-aste (Maunula Comprehensive) school. "Because of them we might not have a future and we have to act now so that we have one. We need to do something about climate change. Some people are burning their plastic. People should recycle their things and not just throw them out on the street and litter and damage our planet."
"I'm here because I want a future," Johanna Pavord, 12, also a sixth grader at Maunula. "We need to act quick before it's too late."
Thousands of people infront of Finnish parliament!@GretaThunberg #FridaysForFuture #Climatestrike #ilmastolakko pic.twitter.com/pXfwFnDUEU

— Atte Ahokas 🇫🇮🇪🇺🌍 (@A_Ahokas) September 27, 2019
Yes We Can Do This 💪🏾#nytonpakko #ilmastolakko #ilmastomarssi #globalclimatestrike #fridaysforfuture #climatestrike #helsinki pic.twitter.com/B2c9oaiHNG

— Suldaan Said Ahmed (@suldaansaid) September 27, 2019
Latest count of #ClimateStrike'rs in front of the Finnish Parliament: 16,000! Wonderfully powerful speeches delivered by 12-15-year-olds. How dare we adults is repeated over and over again – humbling 😔 #climatecrisis #ilmastolakko #ilmastokriisi #FridaysForFuture pic.twitter.com/LEWShrjf2i

— Leif Schulman (@Leif_Sch) September 27, 2019
#ilmastolakko #nytonpakko pic.twitter.com/NZB4fLTL38

— Hilkka Timonen (@HilkkaTimonen) September 27, 2019
#climatestrike in Helsinki: A 13-year-old just told all of Finland to get their asses off their sofas and DO SOMETHING. #ilmastolakko pic.twitter.com/Q6RSjAbsCw

— Danja Lillig (@DanjaJLillig) September 27, 2019
Act now or swim later. #climatestrike #ilmastolakko #swimming #uiminen #sealevel pic.twitter.com/gf1WzaSQK5

— Teivo Teivainen (@TeivoTeivainen) September 27, 2019
Related stories from around the North:
Canada: What an ice-free Arctic really means, and why it matters so much, CBC News
Finland: Climate activists block cruise ship in Helsinki, Yle News
Monaco: Sea level rise to provoke 'profound governance challenges' & 'difficult social choices' says UN climate report, Eye on the Arctic
Norway: Emissions dropping in EU, but not in Norway, The Independent Barents Observer
Russia: Climate change threatens security and industry, Russian PM says, The Independent Barents Observer
United Kingdom: Documentary will show climate change through eyes of pioneering scientist, Cryopolitics Blog
United States: Heat stress that caused Alaska salmon deaths a sign of things to come, scientist warns, CBC News