Inuit focus in violence inquiry important for Arctic Canada, conference hears
Canada's landmark inquiry into violence against Indigenous women was a wake-up call for the nation and continues to have important significance for Inuit regions, a Montreal conference heard on Thursday.
"It illuminated the human rights violations carried out through the colonial process and illuminated the kinds of colonialism that's not always talked about it," panelist Violet Ford-Roy, a lawyer from Nunatsiavut, the Inuit region in the Atlantic Canadian province of Newfoundland and Labrador, told a packed session at the 21st Inuit Studies Conference. "That (colonialism) is ongoing in ways that has been produced through violence to Indigenous to woman and girls."
"I think  (the inquiry report) provides guidance, such as the advancing of the policies of ITK (Inuit Tapiriit Kanatami – Canada's national Inuit organization) and self determination. It crosscuts a lot of the existing human rights norms and other aboriginal rights in this country," said Ford-Roy, also one of the commission counsel on the Missing and Murdered Indigenous Women and Girls (MMIWG) Inquiry. 
Ford-Roy was one of four panelists from across the Arctic who presented at the session.
All worked in some capacity on the inquiry: Looee Okalik from  Canada's eastern Arctic territory of Nunavut, was a community liaison officer; Lisa Koperqualuk, from Nunavik, the Inuit region of northern Quebec, was a researcher; and Qajaq Robinson, who grew up in Nunavut, was one of the inquiry's four commissioners.
For over an hour and a half, the panelists discussed the challenges and successes of incorporating Inuit perspectives from across Canada into the inquiry's work.
Inuit-specific recommendations
Canada's National Inquiry into Missing and Murdered Indigenous Women and Girls (MMWIG) was announced by Prime Minister Justin Trudeau in 2015 after calls from many Indigenous leaders, groups and organisations to examine the high rates of violence against indigenous women in Canada. Indigenous women make up 4 per cent of Canada's female population, but 16 per cent of all women murdered in Canada between 1980 and 2012 were Indigenous, the government says.
The inquiry's mandate was to examine and report on the systemic causes of violence against Indigenous women and girls as well as how investigations are conducted by authorities. The inquiry also examined violence against the 2SLGBTQQIA (two-spirit, lesbian, gay, bisexual, transgender, queer, questioning, intersex and asexual) community. 
At the time the inquiry was launched, some Inuit leaders questioned the exercise's relevance to Inuit given their unique circumstances in Canada: that the vast majority of Inuit communities are isolated, fly-in communities in the Arctic where violence against women most often comes from family members and domestic partners and where there are few resources or social services.
Robinson described Inuit as often feeling marginalized within the Indigenous community in Canada and said the inquiry worked hard to make the inquiry meaningful for Inuit.
"(We had to ensure) that it wasn't pan-Indigneous," Robinson said. "One size fits all wasn't going to work so that was really important."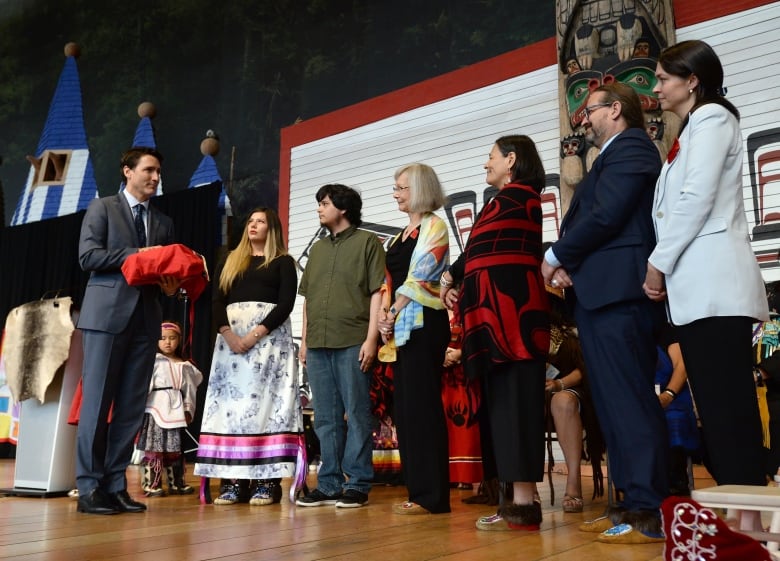 The inquiry was a massive undertaking, spanning each region of the country.
The national inquiry held 15 public community hearings, and visited each of Canada's northern territories: Yukon in the northwest, the Northwest Territories, and Canada's eastern Arctic territory of Nunavut. The MMWIG commissioners heard 1484 testimonies from families and survivors during this period of the inquiry. Separate hearings were also held to hear testimony from people working in institutions and from elders, academics, front-line workers and specialists. 
When the report was released on June 3, there were 46 Inuit-specific recommendations, referred to as 'calls for justice,' that included everything from the need for better mental health services in the Arctic to the need for urgent action on the housing crisis.
"The Inuit women's experience – it was expressed in the Inuit way with our concepts," said Koperqualuk.  "Writing research and science has always belonged to another group of people who said what it was for us. But we said what it is with our concepts and way of thinking, this is a very positive aspect of this inquiry. It really took the Indigenous perspective to heart."
The panelists also addressed the months of criticism the inquiry was often under for everything from a series of resignations to its mandate to conclusions in the final report, reactions Robinson described as "violently defensive."
But the panelists said focusing on the families helped them cope with the public pressure.
"All the criticism taking place, we had to keep families first with cultural protocols in place otherwise shambles would follow us," said Okalik.
"That helped us do the work we needed to do, to comply with the Inuit traditions to do what we needed to do."
Importance for survivors and their families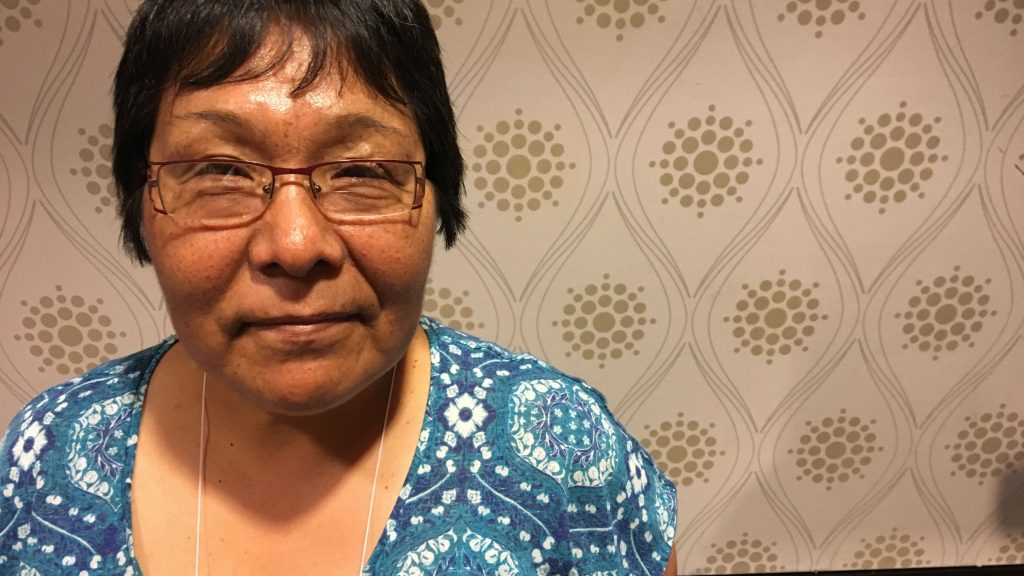 Harriet Lampe spoke at the inquiry when it went to Happy-Valley – Goose Bay in Newfoundland and Labrador. She said it was a profound experience for her testifying about the life and death of her 20 -year-old daughter Kimberley Jararuse, who was killed by an abusive partner.
"This was so important for Inuit in Canada because (the inquiry) validated everything we've been through," Lampe told Eye on the Arctic at the conference. "It highlighted the seriousness of everything we'd been through and showed Canada that (violence against Indigenous women) is a systemic issue, these systems are affecting us, and what's needed to change."
The Inuit Studies Conference runs until October 6. Sessions are taking place at various locations in downtown Montreal.
Write to Eilís Quinn at eilis.quinn(at)cbc.ca
Related stories from around the North:
Canada:  Inuit-specific mental health services among recommendations in Canadian report on violence against Indigenous women, Eye on the Arctic
Finland: Swedish-speaking Finnish women launch their own #metoo campaign, Yle News
Sweden: Report sheds light on Swedish minority's historic mistreatment, Radio Sweden
United States: Alaska reckons with missing data on murdered Indigenous women, Alaska Public Media