Do the extreme conditions of Antarctica change the human brain?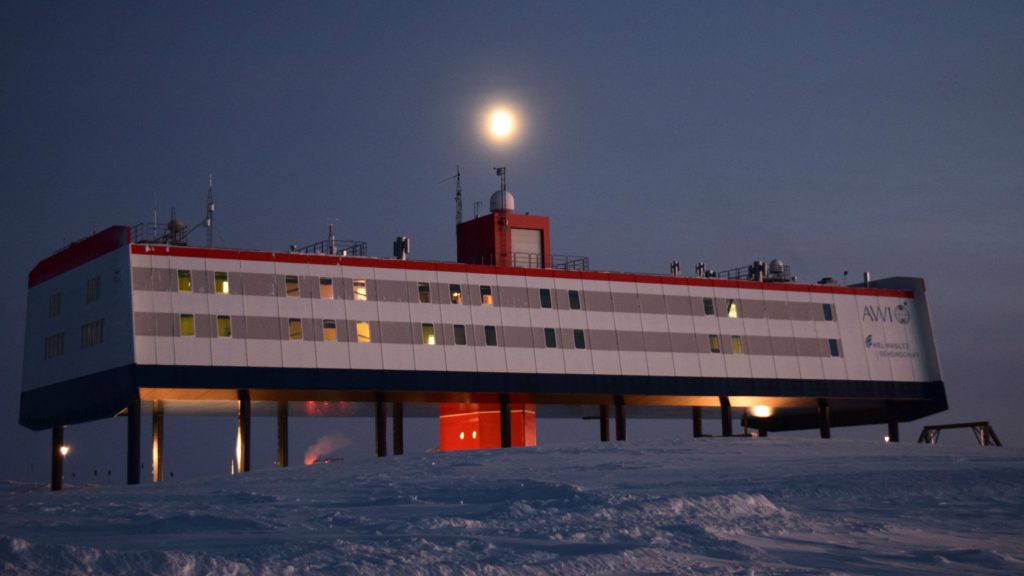 Using Antarctica as a test ground, a group of researchers has found that extreme environmental conditions really can affect the human brain.
Researchers from Charité – Universitätsmedizin Berlin and the Max Planck Institute for Human Development followed four women and five men who spent 14 months at the German polar research centre Neumayer-Station III in Antarctica, a place run by the Alfred Wegener Institute, Helmholtz Centre for Polar and Marine Research (AWI). Nine of those months the study volunteers were spent in isolation from the outside world. 
The participants were evaluated before, during and after their stay at the research station on everything from memory and concentration, to cognitive reaction time and spatial thinking.  Blood tests were also done to measure the levels of brain-derived neurotrophic factor (BDNF), a protein that promotes the growth of nerve cells and brain synapses.
After they were evaluated, the researchers found changes to an area of the hippocampus called, the dentate gyrus, which is responsible for spatial thinking and memory.
"My major interest in Antarctica was in terms of navigation," Simone Kuehn, one of the researchers and group leader of the Lise Meitner Group for Environmental Neuroscience at the Max Planck Institute for Human Development, said in a phone interview with Eye on the Arctic.
"People use landmarks to navigate, but what happens in a place like Antarctica were people are deprived of landmarks?  Where it's all white and there's no spatial information. What happens to the human brain when you don't use that common skill? 
"What's interesting in this case is that normal, healthy people still experienced brain shrinkage over time."
Adverse effects on the brain
Researchers say Antarctica provided the perfect test ground for the study: temperatures can go as low -50 degrees Celsius, there's almost complete darkness in winter. There's also little privacy or personal space at the research centre as well as the reality that it's not possible to just leave, as emergency evacuations and food deliveries are only possible during  the short summer season.  
Alexander Stahn, a researcher from the Charité's Institute of Physiology and an assistant professor in the Perelman School of Medicine at the University of Pennsylvania in the United States, said the results mirror what's already been seen in animals. 
"Given the small number of participants, the results of our study should be viewed with caution,"  Stahn said in a news release on Thursday. "They do, however, provide important information, namely – and this is supported by initial findings in mice – that extreme environmental conditions can have an adverse effect on the brain and, in particular, the production of new nerve cells in the hippocampal dentate gyrus."
Simone Kuehn says they are also currently researching the same issues on the International Space Station, to see how isolation in outer space affects things like navigation. 
As for Antarctica, researchers are continuing their work.
It's been shown that exercise promotes brain plasticity, and they are now examining if exercising on stationary bikes in Antarctica can help slow or undo the changes.
"We see that there are changes to the brain in these conditions," Kuehn said. "Our next steps are to see what countermeasures can be taken to slow or reverse them."
Write to Eilís Quinn at eilis.quinn(at)cbc.ca
Related stories from around the North:
Canada: Could millions of wind-powered pumps slow sea ice retreat in Arctic?, Eye on the Arctic
Finland: Northerners cope in different ways with prolonged winter darkness, Yle News
Iceland: Iceland to host international symposium on plastics in Arctic and sub-Arctic, Eye on the Arctic
Norway: Climate change is about to divide Norway's largest Arctic island, The Independent Barents Observer
Russia: Scientists raise alarm about polar bears' plastic consumption in Arctic Russia, The Independent Barents Observer
Sweden: Over 11,000 scientists sign statement warning of climate emergency, Radio Sweden
United States: The Arctic shipping route no one is talking about, Cryopolitics Blog