Putin says climate change might not be human made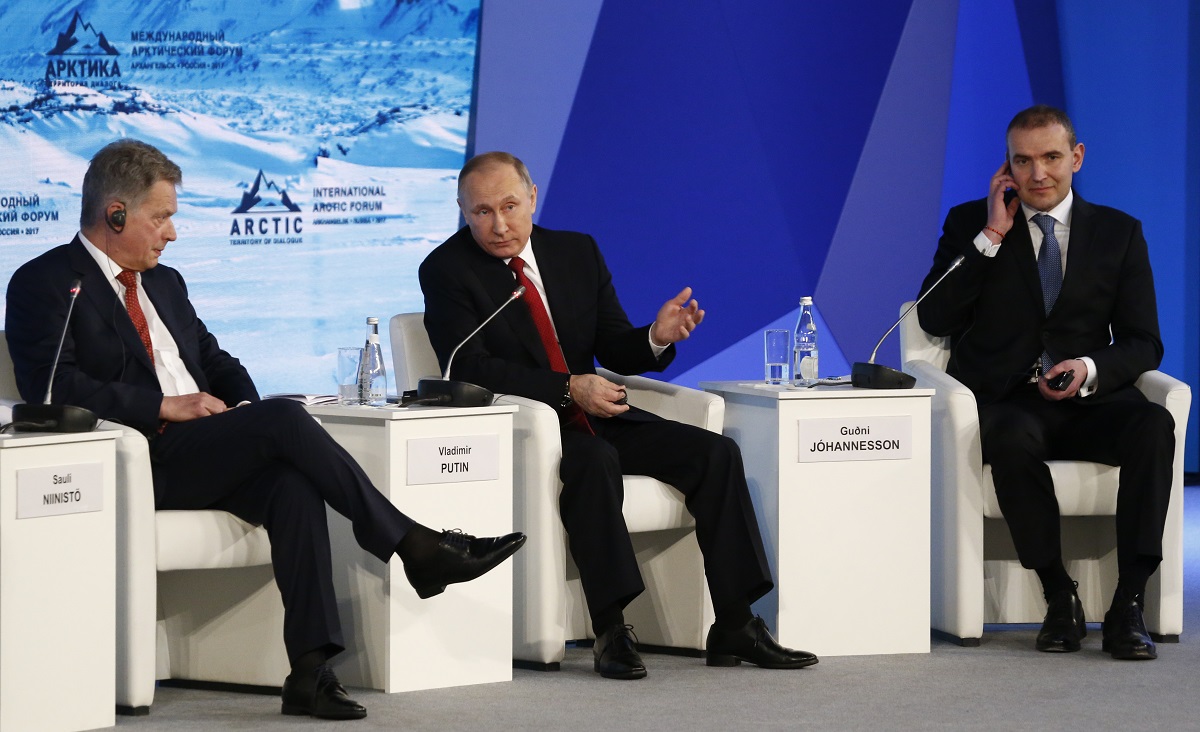 On my visit to Franz Josef Land yesterday, I saw photos which indicate that climate change is not necessarily triggered by human activity, the Russian President described in today's round table talk in Arkhangelsk.
According to the President, he was shown a photo of a local glacier taken by an Austrian scientist in the 1930s. Then, he was shown a photo of the same glacier twenty years later. A comparison of the photos revealed that the glacier had shrunk, despite the fact that this was before the time of climate change, Putin told the audience of Arctic experts, policy makers and diplomats.
This indicates that climate change in the area has its natural dynamics, the President argued. He also made clear that he does not necessarily disagree with the controversial new leader of the U.S. Environment Protection Agency, Scott Pruitt, who disputes that climate change is man-made.
Melting ice and the Northern Sea Route
At the same time, Putin underlined that the rapidly melting ice in the Arctic is opening new opportunities for Russia.
«What it all tells us is that with the changing climate come more favorable conditions for use of this region for economic purposes», Putin underlined.
«If this tendency is to continue the same way, then look what will happen. While we today ship 1,4 million tons of goods on the Northern Sea Route, the volume already by 2035 will be 30 million tons. That's what I call growth».
At the same time, Putin underlined that Russia will meet its obligations made in the Paris climate treaty.
Arctic Forum week
The round table session, streamed by the event organizers and available in a transcript from the Kremlin, was held as part of the ongoing Arctic Forum in Arkhangelsk. It was moderated by Geoff Cutmore from broadcaster CNBC. In the panel were also Finnish President Sauli Niinistö and Icelandic President Guðni Th. Jóhannesson.
Vladimir Putin had come to the Arctic Forum in Arkhangelsk directly from the Franz Josef Land where he was shown around in new Russian research facilities by representatives of the Russian Arctic National Park. He traveled along with PM Dmitry Medvedev, Foreign Minister Sergey Shoigu, Special Envoy Sergey Ivanov and Natural Resource Minister Sergey Donskoy.
Related stories from around the North:
Canada: Climate-driven Arctic permafrost thaw will dramatically alter northern landscapes: study, Radio Canada International
Finland: Winds challenging Finland's icebreakers despite record low Baltic ice, Yle News
Greenland: Arctic sea ice – Is the minimum maximum the new normal?, blog by Irene Quaile, Deutsche Welle
Norway:  January sea ice extent at record low in Barents and Kara seas, The Independent Barents Observer
Russia:  Foreign cruise vessels line up for voyages to Franz Josef Land, Radio Canada International
Sweden:  How will global warming affect the average Swede?, Radio Sweden
United States:  Trump repeal of climate rule won't immediately affect Alaska, Alaska Dispatch News