Report: Moscow sees Finland as friendly, but not a major EU player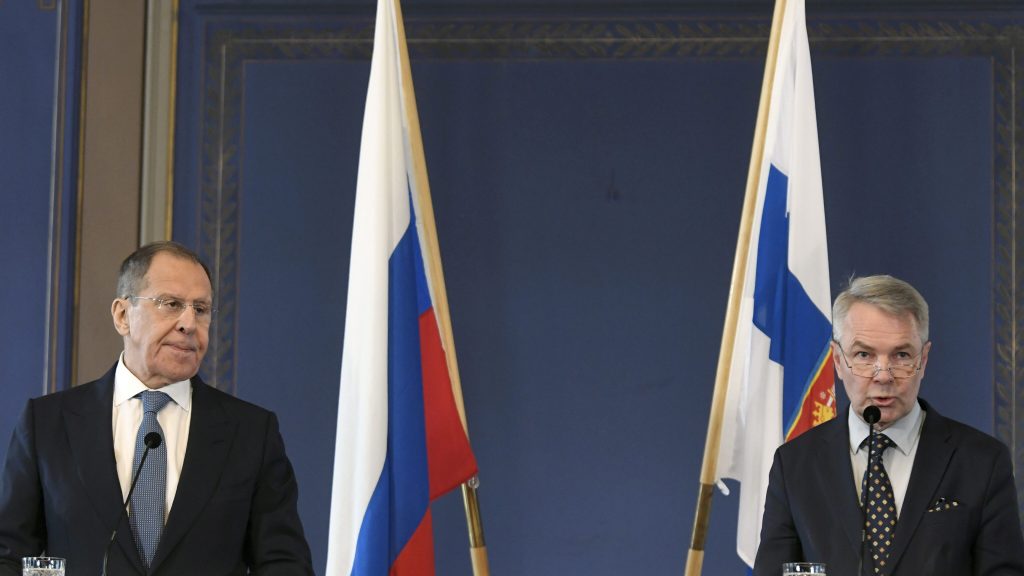 Russia no longer sees Finland as an influential EU country, so Moscow has less interest in routing strategic communications through Helsinki, according to a report commissioned by the previous Finnish government.
"Russian leadership does not believe that the Kremlin's messages to Brussels [should] go through Helsinki or that Finns would provide significant additional value in rationalising Russia's views or interests," the report stated.
According to the authors of the report, this finding does not mean that modern-day Russia no longer conducts influencing operations in Finland. They said that Moscow's influence is not as systematic as it had been during the Soviet era and that the same kind of influencer system no longer exists.
The research project was led by former Finnish intelligence chief and retired rear admiral Georgij Alafuzoff. According to news agency STT, Alafuzoff is suspected of leaking information that formed the basis of a Helsingin Sanomat article about the Finnish Intelligence Research Centre. The article, which was published in December 2017, later prompted a police investigation into the source of the background information.
As far as is known, Alafuzoff did not inform the customer or his project partners that he was suspected of a crime before STT reported on the matter last summer.
Focus on state operations, not troll farms
The subject of the research commissioned was defined as Russia's strategic communications. The final report, "Govorit Moskva — Russia speaks" was published on Monday morning. However the foreword was dated in February, before the spread of novel coronavirus.
The term strategic communications is widely used to refer to a state or other organisation pursuing a specific objective with deliberate communications. States use it to gain leverage. The report released on Monday focuses on communications by Russia's top political leadership. It does not include other information influencing operations such as online trolls.
In February 2019, the then-government commissioned the report from consultancy firm Eurofacts, and according to the research agreement, Alafuzoff was the project manager. Other parties involved included Eurofacts founding partner Anders Blom and retired brigadier general Juha Pyykönen, through his own consultancy company.
The Helsinki-based European Centre of Excellence for Countering Hybrid Threats (Hybrid CoE) organised an international seminar related to the project, but did not participate in the report itself. The University of Jyväskylä produced a separate background paper about communication concepts for the report.
Nato a focus for Russia
According to the report, Russian strategic thinking has placed Finland in the category of "a friendly country that poses no problems". Finland is therefore a good neighbour with whom active contacts are maintained, but its influence is clearly more limited than in Soviet times.
"On a more general level you could say that Finland generates less passion in Russia and its strategic communications than you would infer from the way Finnish media view Russia," the report concluded.
The authors advised that Finland must continuously work hard to be heard and understood in Moscow. A central plank of maintaining relations with the Kremlin is bilateral presidential meetings. The report stressed the importance of President Sauli Niinistö, who after the annexation of Crimea in 2014, gradually assumed a greater role in foreign policy leadership.
"Without deviating from EU policy, Finland's dialogue appears to have been appreciated in Russia as well as the EU," the authors said.
Finland's EU membership has long been established in Russian thinking but its possible membership in the Nato military alliance would change bilateral relations. Although Russia has said that Finland has the right to decide, it has given advance warning of the negative consequences of membership in Finnish-Russian relations.
"This is one of the most important strategic messages that is rarely expressed and [only] when asked."
A list of familiar recommendations
The authors of the report outlined seven recommendations to improve strategic communications among Russia, the EU and Finland, many of which are not novel.
The report calls on Finland to strengthen relations with the St. Petersburg area and to increase dialogue with Russia. There should be support for teaching Russian language and culture in Finland, while enhancing teaching history and source criticism in schools. This would ensure that Finns learn to better understand Russia and to recognise influencing operations.
The authors also recommend more support for the media and for Yle's foreign reporting to ensure that news coverage is based more on Finnish reporters' observations and less on major western news agencies. They noted that information from the US-based Associated Press, France's AFP and the UK's Reuters play a major role in foreign news published in Finland.
"Finns' own interpretations are a key issue," they commented.
They also recommended further research on the subject and called for Finland to organise a "high level international seminar on European security-related issues".
Related stories from around the North:
Canada: Canada, U.S. must do more to check Russian military in the Arctic, says NORAD chief, CBC News
Estonia: Iceland, Estonia talk Arctic at Tallinn meeting, Eye on the Arctic
Finland: Finnish Defence Minister tells party leaders shrinking fighter fleet would be "irresponsible", Yle News
Iceland: Iceland talks Arctic, Trump's ditching of climate accord, with U.S. Secretary of State, Eye on the Arctic
Norway: Norway strengthens its Arctic military in new defense plan as security concerns grow in the region, The Independent Barents Observer
Russia: Russia accuses Norway of northern military buildup, The Independent Barents Observer
Sweden: Arctic Sweden to welcome thousands of international troops for Northern Wind exercise, The Independent Barents Observer
United States: U.S., NATO and Russia engage in cat-and-mouse game during Arctic training, Eye on the Arctic