Canada's Northwest Territory ex-minister accused of insulting staff and 'continual tantrums,' ejected from cabinet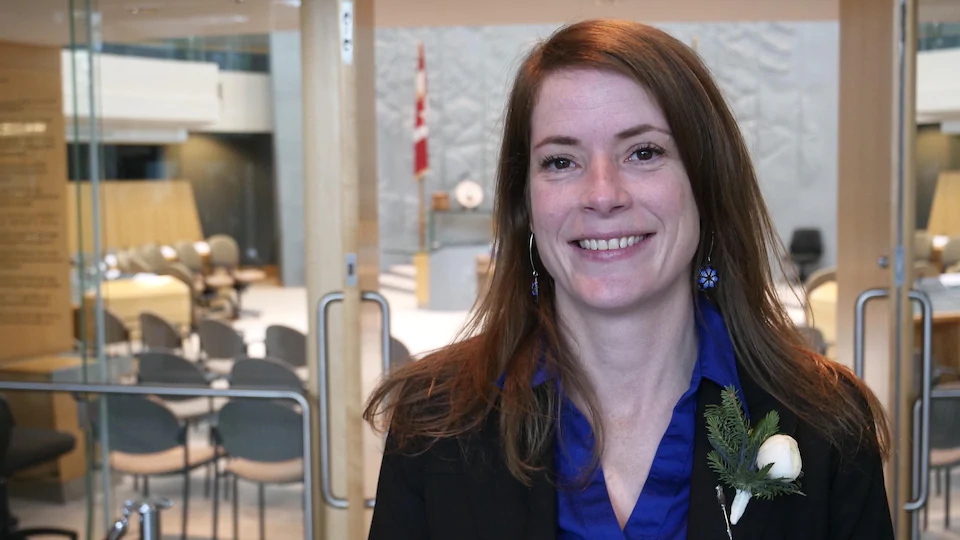 Northwest Territories MLAs voted to eject former industry and infrastructure minister Katrina Nokleby from cabinet following an extraordinary two-hour session that saw numerous allegations of wrongdoing levelled at her.
All but Nokleby and Nunakput MLA Jackie Jacobson, who abstained, voted in favour of the motion.
In an opening statement on the motion to eject her, Premier Caroline Cochrane alleged Nokleby, the MLA for Great Slave, yelled at staff, expressed "degrading" opinions of public servants to their faces, and threw "continual tantrums" in meetings.
Cochrane stripped Nokleby of her portfolios in a surprise move last week that had several MLAs and industry leaders publicly scratching their heads.
Cochrane last expressed "complete confidence" in Nokleby on May 29, following a failed confidence motion advanced by regular MLAs. Following that motion, Cochrane said, she asked Nokleby to address issues with her behaviour raised by her colleagues.
"I still don't believe that Minister Nokleby is ready to accept any responsibility." Caroline Cochrane, premier of the Northwest Territories
WATCH: Premier accuses Nokleby of "continual tantrums," abuse of staff in speech before vote:
Cochrane said efforts to raise issues with Nokleby were "repeatedly turned into an exchange where I or my staff were subjected to a rude or disrespectful minister who was yelling, angry, and using disrespectful language."
Cochrane alleged Nokleby insulted staff, took unrecorded meetings with outside parties, and "targeted staff for discipline based on unsubstantiated rumours."
She also said the minister "failed" to properly manage her department.
"Replies should not be waiting months without an interim response." Caroline Cochrane
During Cochrane's statement, Nokleby was visibly emotional.
'Rumours, heresay' behind dismissal: Nokleby
Nokleby was given an opportunity to speak after more than 90 minutes of harsh criticism from her colleagues.
In a brief and forceful speech, she frequently addressed her remarks directly to the premier.
"Was I perfect? Of course not. Was I outspoken? Of course I was. That is who I am." Katrina Nokleby
Nokleby said a challenge has been the "level of secrecy that is demanded by current conventions, especially at the cabinet level."
"Secrecy and innuendo are the hallmarks of corruption and backroom dealings."Katrina Nokleby, while looking at premier Cochrane
WATCH: Nokleby defends herself, saying allegations based on gossip, heresay:
"The toxic culture of secrecy has allowed my character and professionalism to be disparaged, while not allowing me to respond, reply, or defend myself." Katrina Nokleby
"I am disappointed that I have been unfairly admonished … based on nothing more than gossip, heresay, rumours, and bruised feelings."
Cochrane responded in closing comments just before the vote.
"This is not the case of a crusader against corruption being persecuted. You do not fight against corruption by firing every staff member you hear a rumour about. You do not fight against corruption by failing to record meetings with those seeking to influence you."Caroline Cochrane
WATCH: MLAs describe their experiences working with Nokleby:
Most other MLAs support motion
As of 3:00 p.m., only Jackie Jacobson, MLA for Nunakput, said he would not vote in favour of the motion. Jacobson said he would abstain as he did not have "adequate information" about the issues with Nokleby's performance.
All other MLAs voiced support for removing Nokleby from cabinet.
Caroline Wawzonek, the minister of finance and justice, said Nokleby frequently fought her in a "bizarre contest for control of announcements."
"To be honest, I never fully understood what was being fought over. This was emotionally exhausting."Caroline Wawzonek, minister of finance and justice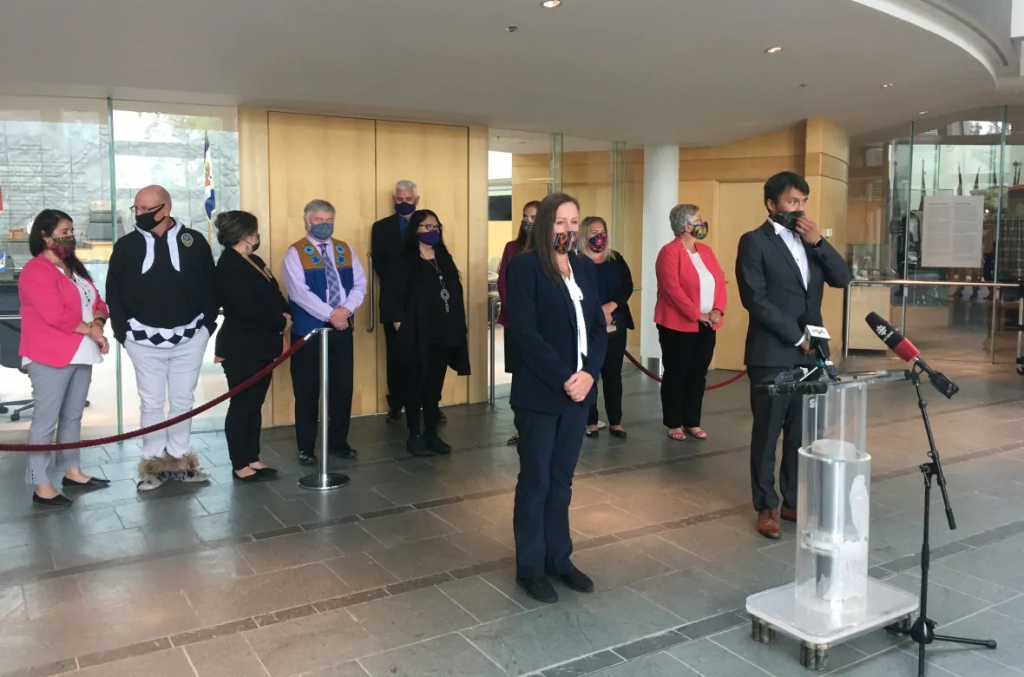 MLA for Tu-Nedhe Wiilideh Steve Norn said Nokleby had damaged relations with the Tłı̨chǫ government by standing by a procurement process that saw important projects go to non-Indigenous businesses.
"I have seen the minister blatantly ignore the economic issues of small communities." Steve Norn, MLA for Tu-Nedhe Wiilideh
Other MLAs also piled on.
Yellowknife Centre MLA Julie Green said she had "witnessed Nokleby behave inappropriately, swearing in explosive and shocking anger."
"It's time for the chaos created by the member for Great Slave to end." Julie Green, Yellowknife Centre MLA
"Personally, I'm not going to be put in the position to walk on eggshells around any minister," said Hay River South MLA Rocky Simpson.
"I applaud the premier for doing this. She's going to take a beating on it," said Shane Thompson, minister of environment and natural resources.
Monfwi MLA brings up Tłı̨chǫ contract conflict
Frame Lake MLA Kevin O'Reilly also criticized Nokleby for a "lack of transparency" in her department on funding for entrepreneurs, and a slow response to the economic downturn caused by the COVID-19 pandemic.
Monfwi MLA Jackson Lafferty used his speech to criticize the premier for her "unilateral decision" to revoke Nokleby's portfolios. He said the brief notice and discussion of the decision made it difficult for regular MLAs to explain to constituents.
"They are far from happy," Lafferty said. "On the contrary, they are very confused, and frustrated."
But Lafferty also said a conflict with Nokleby's departments over construction contracts in Tłı̨chǫ territory was a deep embarrassment for chiefs, who generally avoid "airing grievances" in public.
"[Nokleby] prioritized the needs of the [territorial government] over the needs of the Tłı̨chǫ people, my people." Jackson Lafferty, Monfwi MLA
"It is past time this cabinet has a shakeup," he said, suggesting MLAs break convention and appoint a minister from a small community.
Convention holds that two ministers come from northern ridings, two from the south, and two from Yellowknife.
The preamble to Wednesday's vote marks the first occasion that many MLAs publicly acknowledged Cochrane's effort to oust her minister. None have granted interviews with media, despite repeated requests.
Following the vote, regular MLAs and cabinet members held a joint press conference in the lobby of the legislature in a deliberate show of unity. Nokleby was not in attendance.
Nokleby will now leave cabinet to sit as a regular MLA. MLAs will need to reconvene as a territorial leadership committee on Thursday to select her replacement.
Related stories from around the North:
Canada: Canada's Northwest Territories decide fate of minister of Industry, Tourism and Investment, CBC News
Finland: Finland and Russia discuss cooperation between Arctic and Barents structures, The Independent Barents Observer
Greenland: Greenland changes COVID-19 rules for travellers from Iceland, Faroe Islands, Eye on the Arctic
Iceland: Iceland cancels largest Arctic conference due to COVID-19, The Independent Barents Observer
Norway: Washington pulls 700 US marines out of Norway, The Independent Barents Observer
Russia: Kremlin-critic soldier tells his story about military service in Russia's Arctic, The Independent Barents Observer
Sweden: Swedish military ramps up presence in Baltic Sea due to Russian activity, Radio Sweden
United States: U.S. wants to keep the Arctic an area of low tensions, top official, Radio Canada International