Two new Sami languages added to Swedish children's book app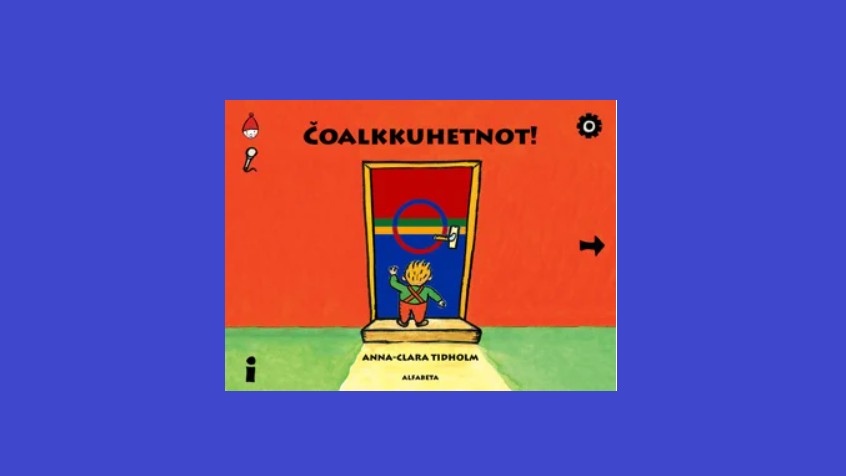 Sami Language Week ran from October 19-25, an occasion that was marked, along other events,  by the addition of two new Sami languages to a popular children's book app.
Swedish author Anna-Clara Tidholm's book Knacka på! has been available as an app in three Sami languages (North Sami, Lule Sami and South Sami) since 2015.
Sweden's Sami Language Centre collaborated with Alfabeta Bokförlag to translate and record voices for the app. 
Now, since October 23, the app is also available in Pite Sami and Ume Sami.
"It is very gratifying that we can now offer the app in all five Sami languages," said Ingegerd Vannar, acting language director at the Sami Parliament and supervisor at the Sami Language Center, in a news release on the Sami Parliament in Sweden website.
"We know that the app is popular with young children and it can also be useful for parents and others who are learning Sami."
Importance of targeting children
The Sami Language Center works on promoting and revitalizing the Sami language with a focus on promoting the language and encouraging its use amongst young people.
The centre says the Knacka på! translation project is part of its mandate to make sure Sami language materials are available to people at all ages. 
"Children are our future and the app is an easy and fun way to access your own heart language," the center says.
Maintaining endangered languages
The Sami are an Arctic Indigenous people. There is no census just for Sami but their numbers are estimated to be between 100,000 to 150,000. Their traditional homeland stretches across Arctic Finland, Sweden, Norway and Russia's Kola Peninsula — a region they collectively refer to as Sapmi.
There are eleven Sami languages and numerous dialects spoken across the Sami homeland but according to UNESCO, all are in danger. Their classifications range from "definitely endangered" for North Sami, the most widely spoken Sami language with most estimations averaging around 25,000 speakers; to "critically endangered" for Pite Sami which is now extinct in Norway but is believed to still have around 30 speakers in Sweden.
"There's so little for our children"
Sara Helen Persson, a parent and Ume Sami teacher in Gávtjávrrie / Ammarnäs in Arctic Sweden, says it's vitally important that materials get made in critically endangered languages.
"Finally, an app for children in Ume Sami," she said of the children's book project. "There's so little for our children in the smallest Sami languages ​​so Sápmi Knacka på! is a welcome boost."
The app is free and available on iTunes.
Sami Language Week is marked in Finland, Norway and Sweden and was established to promote and raise the profile of Sami langauges.
The 2020 edition was the second time the event was held.
Write to Eilís Quinn at eilis.quinn(at)cbc.ca
Related stories from around the North:
Canada: Inuit TV coming to Northern Canada from new Inuktut-language broadcaster, CBC News
Finland: Everyone encouraged to boost Sami language visibility in Finland, Norway and Sweden this week, Eye on the Arctic
Norway: Walt Disney Animation Studios to release Saami-language version of "Frozen 2", Eye on the Arctic
Sweden: Can cross-border cooperation help decolonize Sami-language education, Eye on the Arctic 
United States: Inuit leaders applaud UN move to designate International Decade of Indigenous Languages, Eye on the Arctic