Arctic Canadian territory of Nunavut tightens restrictions in two areas, after COVID-19 case in Rankin Inlet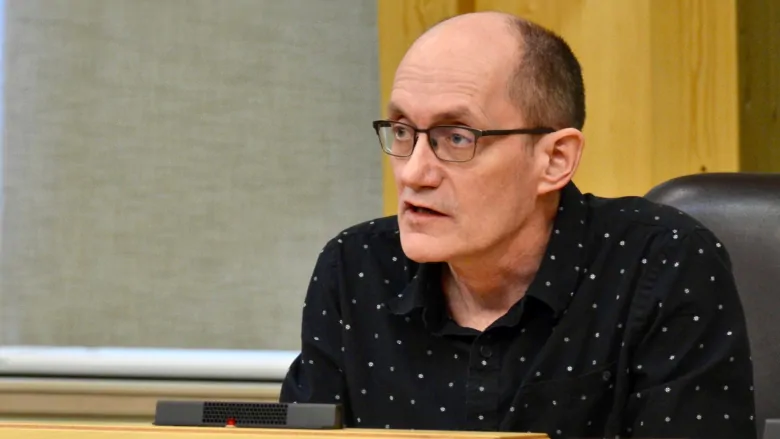 Territory has confirmed its first 3 cases over the past week in Rankin Inlet and Sanikiluaq
The government of Nunavut has tightened restrictions across the Kivalliq region and in Iqaluit, after a case of COVID-19 was confirmed in Rankin Inlet, Nunavut on Wednesday.
It's the third confirmed case in the territory in less than a week. Prior to that, Nunavut had yet to record a single case during the pandemic.
Gatherings in the region and the capital city are now restricted, Nunavut's Chief Public Health Officer Dr. Michael Patterson announced during a Thursday news conference. A maximum of five people who do not live in a house can now visit at one time.
Outdoor gatherings and gatherings at conference halls and places of worship are now restricted to 50 people or half the building's capacity.
All food establishments outside of Rankin Inlet may remain open for in-person dining, delivery and take-out, but the capacity cap has been dropped from 75 per cent to 50 per cent. There continues to be a maximum of six people allowed at a table at a time.
Avoid non-essential travel, Patterson says
Patterson also asks everyone to avoid non-essential travel at this time, including inter-community travel that requires a stop-over in Rankin Inlet. The community on the northwestern shore of Hudson Bay is a connecting hub for western Nunavut.
Failure to comply with public health orders can result in fines for individuals of $575 and $2,875 for corporations.
All three of Rankin Inlet's schools will be shut down for 14 days, with no teachers or students permitted in the buildings, but Patterson recommends schools outside of the hamlet remain open.
Schools in Iqaluit closed Thursday. Officials say schools in the capital are now considered to be at Stage 2, or "escalated risk" of COVID-19 transmission.
Aqsarniit Middle School, Joamie Ilinniarvik School, Inuksuk High School and Nakasuk Elementary School were to close for the day so staff could develop Stage 2 action plans.
All three infected people doing well
The person in Rankin Inlet became infectious around Nov. 5 and presented themselves at the community's health centre with mild symptoms, Patterson said. The individual is doing well, he added.
As of Thursday, the number of confirmed contacts is too few for the government of Nunavut to announce for privacy reasons, he said.
Patterson said the territory's two other confirmed cases in Sanikiluaq, a hamlet on the opposite side of Hudson Bay, are also doing well. The 11 contacts of those cases identified last week have been tested along with another 27 people and all their results were negative.
The travel history of the positive cases are not being released by the government of Nunavut for two reasons, Patterson said.
The first is they don't want to go public with the information before the government is certain about how the transmission occurred.
The second reason is that the chief public health officer said there have been instances of harassment toward people who have travelled for work, something the government is trying to avoid.
"Talking about it contributes to the shame, blame, rumour-mill," Patterson said. "We do recognize that there is concern and people are legitimately wondering what can be done differently … but right now, we're focusing on breaking transmission."
Travel bubbles unchanged, for now
The travel bubble with the Northwest Territories is not affected at this time, and Nunavut will not be requiring N.W.T. residents to isolate if they are coming into Nunavut.
Francois de Wet, the chief of staff for Nunavut's Department of Health, has been reviewing cases being sent to Winnipeg, as new "code red" pandemic restrictions went into effect in Manitoba.
He will be working to determine what trips are necessary and what services are on hold in Manitoba.
Nunavut predicts it could handle 3 community outbreaks
Patterson said the territory's health capacity allows it to respond to outbreaks in three communities — depending on the size — before Nunavut would have to seek outside help.
All health centres across the Kivalliq have about a two-week supply of personal protective equipment in order to prepare for an outbreak.
There have been around 10,000 non-medical masks donated to the Kivalliq region in recent weeks.
A couple thousand non-medical masks are available for distribution in Rankin Inlet, according to the Health minister.
Lorne Kusugak said masks will be available for pick-up at the Co-op and Northern stores, and that emergency services will be employed to drop off masks to those unable to pick them up.
Restrictions will be eased when the government of Nunavut feels confident COVID-19 is contained in the community, Patterson said.
Gearing up for online learning
The government of Nunavut has sent 176 tablets and laptops to Sanikiluaq to facilitate remote learning. Nunavut has purchased 3,000 of them for students across the territory, but not all have been delivered yet.
Nunavut Education Minister David Joanasie said as a result, there will likely be a delay with setting up remote learning for students in Rankin Inlet.
Nunavut is using Edsby, an online learning platform, to conduct remote learning. Joanasie said all teachers in the territory have been trained to use it.
In the meantime, the minister said paper learning packages will be delivered to students to learn at home.
Related stories from around the North:
Canada: Inuit association in Canada's eastern Arctic adjusts COVID-19 financial support announcement after deluge of applications, Eye on the Arctic
Greenland: Greenland adds new incentive to promote domestic tourism as international travel craters, Eye on the Arctic
Iceland: New COVID-19 restrictions for Iceland's schools and universities, Eye on the Arctic
Sweden: Sweden's northernmost county among regions to introduce stricter COVID-19 recommendations, Radio Sweden
United States: After early containment success, there's now rapid COVID-19 spread in rural Alaska, including the Arctic, Alaska Public Media