Arctic Canadian territory of Nunavut reports 10 new COVID-19 cases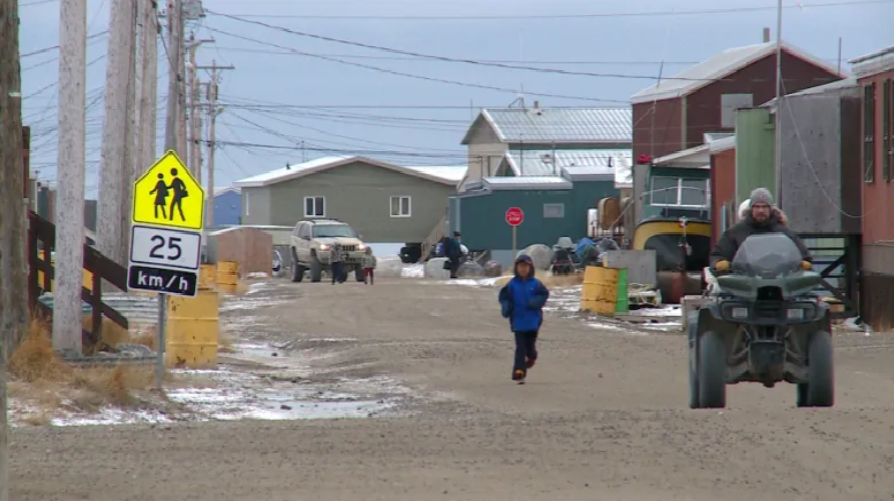 6 more cases were reported in Rankin Inlet, 3 in Whale Cove and 1 in Arviat
The Nunavut government reported 10 new cases of COVID-19 on Friday.
Since Nunavut confirmed its first case two weeks ago, the territory has reported a total of 84 cases.
Among the new cases announced on Friday, six more cases were reported in Rankin Inlet, three in Whale Cove, and one in Arviat.
"As we head into the weekend, it is imperative that Nunavummiut limit visiting, maintain strong physical distance and wear masks when outside their households," said chief public health officer Dr. Michael Patterson.
He added there remains no evidence of community transmission in Sanikiluaq, Rankin Inlet or Whale Cove, and most of the new cases are from household transmission.
"All 84 individuals are in isolation and they are all still doing well. We continue contact tracing in all impacted communities and are monitoring all individuals in isolation to ensure they stay healthy," Patterson said, noting (anecdotally) most of the 84 cases are in Nunavummiut younger than 30 years old.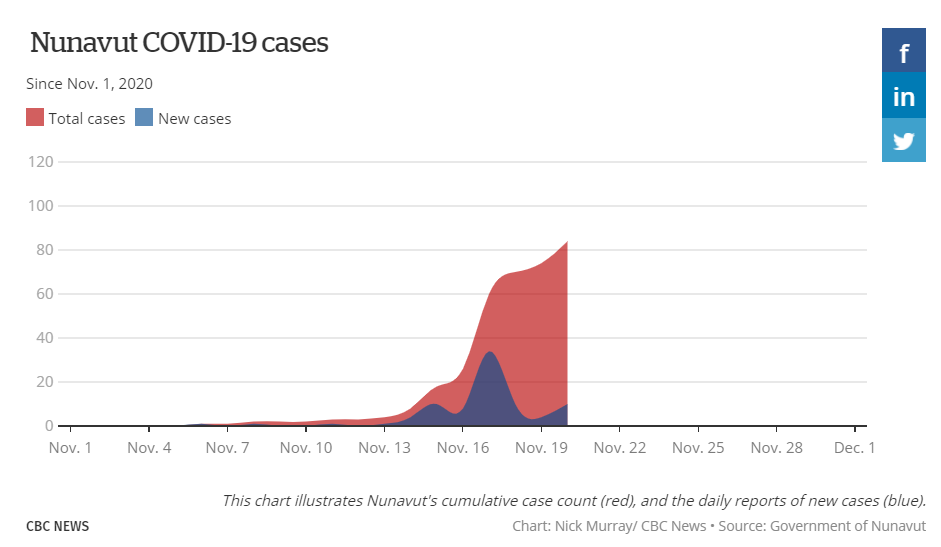 While Nunavut's daily new case numbers have all been lower than the 34-case spike on Tuesday, Patterson said it's too soon to read anything into the numbers.
"We almost certainly have containment at this point in Sanikiluaq. The other communities, Rankin Inlet and Whale Cove, we might," Patterson said, adding they're going to continue to be aggressively in contact tracing.
"Arviat is concerning whether or not there's still transmission happening. But we're acting as if there is and we'll carry on to do that until things are better."
He also said because of the timing of testing and the various flight schedules, daily numbers will rise and fall regardless of what's happening in the community.
"Say [the pilots] are weather-delayed, and we may not be able to get a number of samples until the next day, you could literally go from zero one day to a large number the next day," Patterson said.
Meanwhile, as Nunavut enters Day 3 of its two-week lockdown, Patterson said any communities still without a case by the end of the 14 days will return to "much less stringent health measures."
Remote learning rollout still ongoing
Education minister David Joanasie also provided more details on the government's online learning platform, Edsby.
Earlier this week, the Nunavut Teachers' Association criticized the government, saying teachers have not received enough training on the platform.
At Friday's press conference, Joanasie said the government is still in the process of  setting up and activating accounts for students and parents, despite assurances last month that the government was much better prepared if schools had to close than it was in the spring.
Asked why Edsby isn't ready now, Joanasie sidestepped the question and said training is ongoing and asked for patience.
Meanwhile as around 10,000 Nunavut students are out of school, the minister said Nunavut's order of 3,000 devices aren't expected to be shipped out until December and into the new year.
The distribution of those devices will be prioritized to students in higher grade levels, and to communities most impacted by COVID-19.
Joanasie has urged Nunavummiut who have personal devices available at home to use them.
Related stories from around the North:
Canada: Travel 'bubble' in northern Canada between N.W.T. and Nunavut suspended until further notice, CBC News
Greenland: Greenland adds new incentive to promote domestic tourism as international travel craters, Eye on the Arctic
Iceland: New COVID-19 restrictions for Iceland's schools and universities, Eye on the Arctic
Sweden: Sweden's northernmost county among regions to introduce stricter COVID-19 recommendations, Radio Sweden
United States: After early containment success, there's now rapid COVID-19 spread in rural Alaska, including the Arctic, Alaska Public Media