Canada approves Moderna COVID-19 vaccine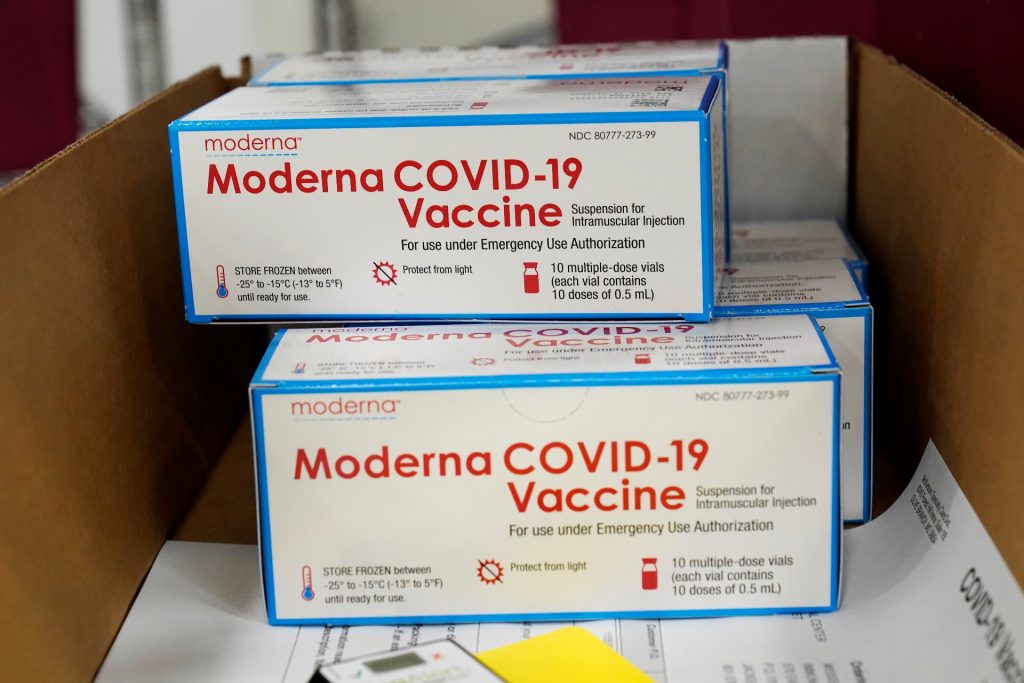 Canadian drug regulators have approved Moderna's COVID-19 vaccine for use in this country, clearing the way for thousands of doses to arrive by month's end.
Health Canada announced the approval on Wednesday after completing a review of the company's clinical trial data.
The Moderna vaccine was found to be 94.1 per cent effective, the federal department said in a notice authorizing use of the vaccine.
"There were no important safety issues identified and no life-threatening adverse events (AEs) or deaths related to the vaccine," the notice said.
Prime Minister Justin Trudeau said now that Health Canada has approved the Moderna vaccine, officials have the green light to start rolling it out across the country.
"The first doses of our guaranteed 40 million dose order from Moderna will arrive in the coming days," Trudeau told reporters in Ottawa.
Later today, Trudeau said he also plans to speak with Noubar Afeyan, co-founder and chairman of Moderna, who grew up in Canada and graduated from McGill University before moving to the U.S., to discsuss speeding up deliveries of the vaccine to Canada and its rollout throughout the country.
This is the second COVID-19 vaccine to be approved by Health Canada. The department approved Pfizer-BioNTech's vaccine on Dec. 9, and it's already being administered in parts of the country to people in high-priority groups, including health-care workers as well as long-term care workers and residents.
"On the Pfizer vaccine, today, I also have some more good news to share," Trudeau said. "I can announce that we will be receiving an additional quarter of a million doses from Pfizer next month."
That takes us up to a total of almost 751,000 Pfizer vaccine doses for January, the prime minister said.
"Between the early doses we have already received, and the shipments now scheduled, we're on track to have at least 1.2 million doses from both Pfizer and Moderna delivered by Jan. 31," Trudeau said.
Moderna vaccine requires 2 doses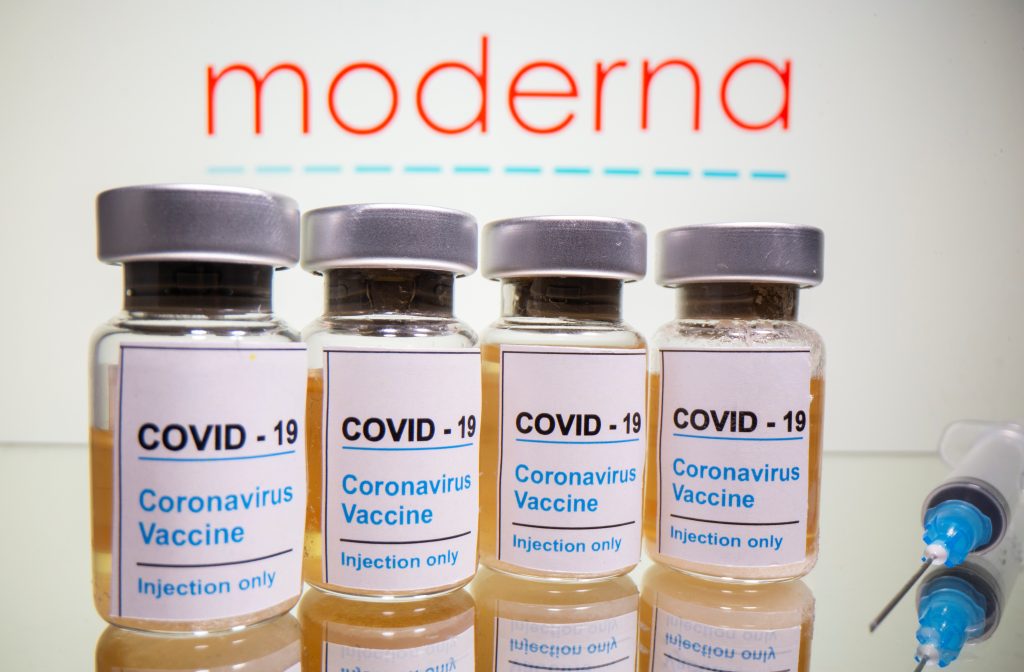 Like the Pfizer-BioNTech vaccine, Massachusetts-based Moderna's shot requires two doses to achieve maximum immunity. It uses mRNA technology — a new vaccine technology that directs cells to produce proteins that trigger an immune response to prevent or fight the virus that causes COVID-19.
"Today's authorization is a critical step in ensuring additional COVID-19 vaccines are available to all Canadians in all parts of the country," Health Canada said in a statement. "The different storage and handling requirements of the Moderna COVID-19 vaccine mean that it can be distributed to isolated and remote communities, including the territories."
The vaccine is indicated for use in people 18 years of age or older, the statement added.
"Moderna is currently conducting additional studies in children from 12 years of age and older, and this indication could be revised in the future to include children if the data from these studies support it," the statement said.
'Exicing news'
Julie Green, Minister of Health and Social Services of the Northwest Territories, said the Moderna vaccine approval is "exciting news."
Green said the announcement puts the territorial government on track to meet its goal of having 75 per cent of eligible residents 18 years of age or older vaccinated in 2021.
Officials anticipate the first shipment of 7,200 doses of the vaccine will be received by the end of December, which is enough for 3,600 N.W.T. residents to receive the required two doses of the vaccine, Green said, addind that the territorial government can now finalize its vaccine rollout approach, which will be released in early January 2021.
"There is still some work to do behind the scenes to get ready for the arrival of the vaccination and implementation of our plan," she said.
Hiring, communications, and logistics are key activities that must be complete before vaccination can begin, Green added. And the territorial government will be working with the federal task force set up by the Trudeau government to ovesee logistics of the national vaccination campaign to make sure that the vaccine reaches every corner of the vast and sparsely populated territory, she said.
"N.W.T. residents can be confident that top Canadian experts, scientists, and medical professionals carefully reviewed all of the scientific data and evidence for vaccine safety and effectiveness," Green said.
While the vaccine will not be mandatory, the territorial government encourages all eligible adult residents to get immunized to protect themselves and others against COVID-19, Green added.
"Once priority groups at highest risk have been offered the vaccine, roll-out will continue for other residents," she said. "Vaccine uptake will be especially important to protect those who cannot yet receive the Moderna vaccine, including residents who are pregnant, immunocompromised, or less than 18 years of age."
Last week, Trudeau said Canada would receive up to 168,000 doses of the Moderna vaccine before the end of December, and that deliveries would begin within 48 hours of Health Canada's authorization.
In August, Canada placed an order for 20 million doses of the Moderna product. Earlier this month, Procurement Minister Anita Anand announced the government would exercise its contractual option for 20 million more shots in 2021. Canada could still buy up to another 16 million doses.
With files from CBC News
Related stories around the North:
Canada: Why vaccinating communities in Arctic Quebec presents a delicate challenge, CBC News
Denmark: Faroe Islands institutes new COVID-19 recommendations until the end of 2020, Eye on the Arctic
Iceland:  Iceland to review COVID-19 border measures by January 15, Eye on the Arctic
Sweden: Sweden's northernmost county among regions to introduce stricter COVID-19 recommendations, Radio Sweden
United States: After early containment success, there's now rapid COVID-19 spread in rural Alaska, including the Arctic, Alaska Public Media