Winnipeg Art Gallery unveils monumental 'Gift' from Inuit artist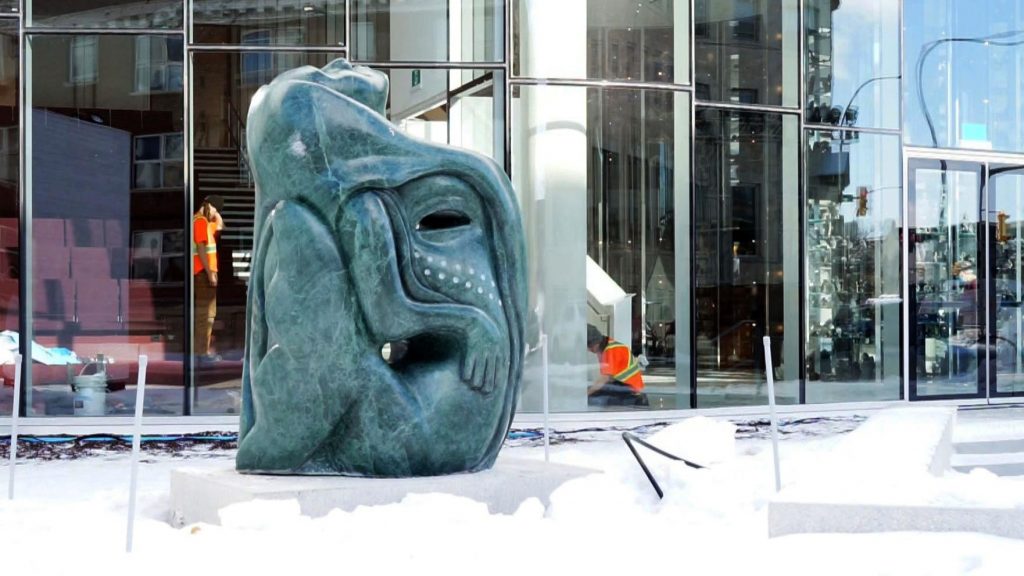 As of last Thursday visitors to the Winnipeg Art Gallery and its Qaumajuq Inuit art centre are greeted by a large stone sculpture by Inuit artist Goota Ashoona.
Carved out of a giant boulder of Verde Guatemala marble, the sculpture is a celebration of the light of knowledge, both traditional Inuit and scientific.
The artwork was commissioned by the Manitoba Teachers' Society "to honour teachers all around us—in the land and in our lives—who reveal the truth, wisdom and beauty that connect us all."
Ashoona, whose father and grandfather were also well-known Inuit artists, has named her creation Tuniigusiia, which translates from Inuktitut as "The Gift". The sculpture symbolizes the gift of knowledge transfer through formal education, but also through storytelling.
"It's Inuit art and it's very big Inuit art," Ashoona said in a video about the sculpture released by the WAG. "I believed in my work just as I believed in myself. It's the only way to be proud."
The sculpture also acts as a symbolic gatekeeper into the world of Inuit art contained in the 40,000-square-foot museum that is expected to open later this year, as soon as pandemic restrictions are lifted.
Meaning "it is bright, it is lit" in Inuktitut, Qaumajuq (pronounced as KOW-ma-yourq or HOW-ma-yourk) is billed as "the first art museum of its kind, bringing Inuit voices to the forefront, and dedicated to the art and culture of Inuit from Canada and beyond." Its collection boasts 14,000 pieces of artwork by Inuit artists.
Designed by Michael Maltzan Architecture with Cibinel Architecture, the new museum connects to the WAG on all four levels.
"A beacon that both emanates and attracts light, Qaumajuq will celebrate the artistry and acknowledge the history of Inuit and First Peoples," James Bedford, president of The Manitoba Teachers' Society, said in a statement.
"And it will teach us, as all good teachers do, to challenge conventional wisdom and privileged perceptions to find truth, connection, and value in our shared humanity."
Related stories from around the North:
Canada: Project to digitize works from Inuit artists gets further grant from Canadian Heritage, Eye on the Arctic
Finland: Sámi-themed Finnish short film makes Sundance lineup, Yle News
Greenland: `Enough of this postcolonial sh#%' – An interview with Greenlandic author Niviaq Korneliussen, Eye on the Arctic
Iceland: Icelandic artist Olafur Eliasson lights up London's Tate Modern, Blog by Mia bennett
Norway: Walt Disney Animation Studios to release Saami-language version of "Frozen 2", Eye on the Arctic
Russia: Russia's Arctic culture heritage sites get protection, The Independent Barents Observer
Sweden: Sweden, Norway team up to preserve ancient rock carvings, Radio Sweden
United States: Set of Indigenous Yup'ik masks reunited in Alaska after more than a century, CBC News