Nunavut officials confirm community spread as COVID-19 hits Iqaluit jails, medical boarding home in Arctic Canada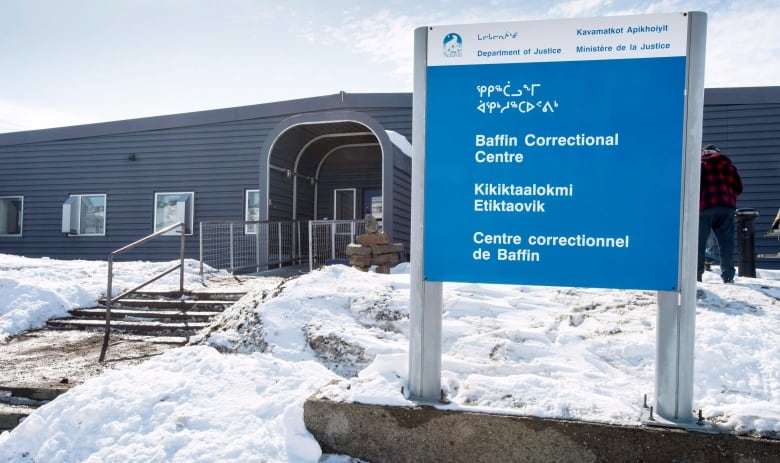 All four people who tested positive are now isolated in a unit in Baffin Correctional Centre
Nunavut's chief public health officer on Friday confirmed there has been community transmission in the territory's capital, with positive cases of COVID-19 confirmed at two Iqaluit jails along with the city's medical boarding home.
Iqaluit has been under lockdown since April 15. The next day, an outbreak was confirmed in the city. But this is the first time heath officials have confirmed widespread community transmission.
"Right now we have a number of incidents of community transmission where we don't yet know the exact link," said Dr. Michael Patterson, Nunavut's medical officer of health, during a COVID-19 update at a news conference Friday.
"We're working on tracking those links down as best we can."
Three cases were reported at the Makigiarvik Correctional Centre and one at the Baffin Correctional Centre (BCC).
The BCC case was identified after a new inmate was screened then tested. After that, the testing of all inmates began and the three cases at Makigiarvik were identified.
All four people who tested positive are now isolated in a unit in BCC, officials at the news conference said. The jail had extra space because many inmates were sent to other facilities, including a jail in Ontario, after a fire earlier this year required repairs to the building.
Premier Joe Savikataaq said everyone at the boarding home is being tested, as well as staff and inmates at correctional facilities in the city. Nurses who work for the Department of Justice are testing inmates.  
Case confirmed at medical boarding home
A staff member at the Tammaativvik Boarding Home — a medical boarding home for Nunavut residents — has also tested positive, officials said.
All those who were at the boarding home during the exposure period are being notified and tested for the virus, Patterson said. The results are expected by Friday. Some individuals have been placed in isolation at a different location.
Flights returning to other communities on Baffin Island were cancelled Thursday to help limit the spread of the virus. Until people staying at the boarding home are tested, they will be required to stay at Tammaativvik, health officials said.
The boarding home houses people from all over Nunavut's Qikiqtaaluk region who fly into the city for appointments at the territory's only hospital.
People who are traveling into Iqaluit to stay there have been diverted to other locations to avoid the risk of exposure, officials said.
Savikataaq announced 11 new cases in Iqaluit in total Friday, with five people recovered.
That brings the total number of active cases in the territory to 67, with 61 of those in Iqaluit, four in Kinngait and two in Rankin Inlet.
The premier urged everyone to continue following public health guidelines.
"I'm shocked by how many people around Iqaluit aren't wearing masks. Come on, guys," Savikataaq said. "Wear masks. It works."
Iqaluit resident transported by medevac
An Iqaluit resident was transported to an Ottawa hospital after developing complications due to COVID-19. The person is in stable condition, Patterson said. This is Nunavut's first hospitalization from the Iqaluit-centric outbreak.
Patterson said approximately 75 per cent of the positive cases are symptomatic and the majority of them involve people between the ages of 20 and 40.
To date, there have been 15,856 Nunavummiut to receive their first dose of the Moderna vaccine. Of those, 12,395 Nunavummiut are now fully vaccinated.
Related stories from around the North: 
Canada: Arctic Tourism & the Pandemic podcast, Eye on the Arctic
Finland: Mysterious coronavirus variant in Arctic Finland is rare US-Mexican strain, Yle News
Denmark/Greenland: Greenland authorities buoyed by high demand for COVID-19 vaccine, Eye on the Arctic
Iceland:  Iceland's ban on unnecessary travel from high-risk areas now in effect, Eye on the Arctic
Norway: Norway extends border closure with Finland due to pandemic, The Independent Barents Observer
Russia: Norway closes borders over fears of virus, but exempts Russian fishermen from severely infected border region, The Independent Barents Observer
Sweden: COVID-19 strategy darkens Sweden's image in the Nordics, Radio Sweden
United States: Alaska politicians send Trudeau letter saying they're "shocked" over Canada's COVID-19 cruise ship ban, Eye on the Arctic