Finland implements mandatory COVID-19 testing at all Lapland border crossings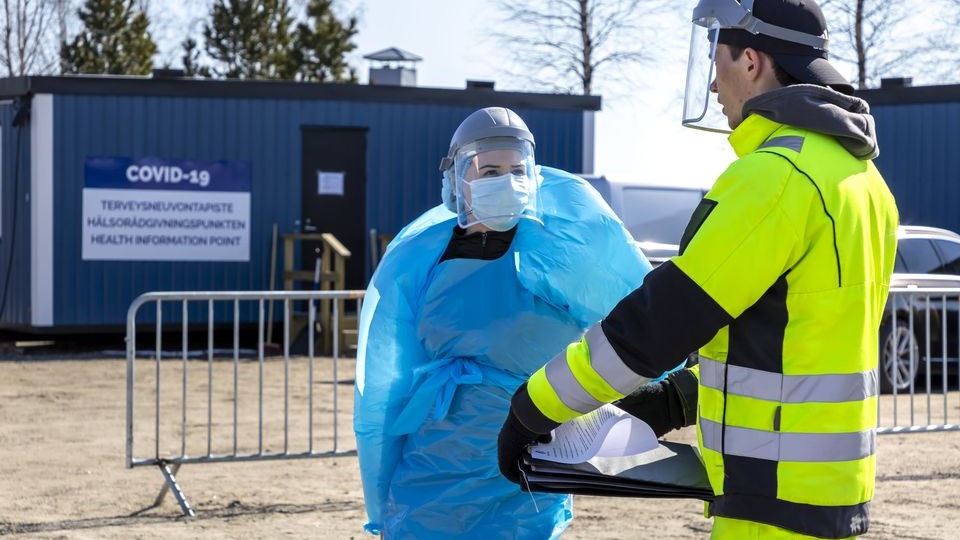 As of June 1 anyone arriving into Finland via a border crossing point in Lapland is subject to a mandatory health check.
Beginning from Tuesday 1 June, all travellers arriving into Finland at any border crossing point in Lapland must undergo a mandatory health check.
At Pello, on the frontier with Sweden, a caravan has been brought to the border for initial use by health personnel carrying out coronavirus tests on arrivals. A shipping container fitted out for health checks is to be moved from the grounds of the local health centre to the border crossing later in the day. The facility will serve both travellers and local residents seeking tests.
The Lapland Regional State Administrative Agency ordered mandatory health examinations because only one third of arrivals have been taking coronavirus tests voluntarily.
This new requirement applies to Lapland's smaller border crossing points and airports. Health checks have been mandatory at border crossing points in Tornio for a longer time.
It is still to be seen how many tests will be carried out, as it is likely that mandatory testing will reduce cross-border traffic.
However, preparations have been made to handle an increased workload by hiring more testers. The Lapland Hospital District has also submitted a request for assistance from the Defence Forces in the hope that medical personnel would be available to assist in testing.
Staff shortage in Ylitornio
The situation is most difficult in Ylitornio, which has the second busiest crossing point on the Swedish border after Tornio. The municipality's chief physician, Kari Askonen said that there is a desperate shortage of testers.
"There is a constant search going on to hire personnel, but no one has applied. There is also a severe shortage of summer holiday replacements, meaning we are right between a rock and a hard place," is how Askonen described the situation to Yle.
The relocation of the local testing site from the health centre to the border was not even considered due to labour shortages.
In their own status statements to regional authorities, the municipalities of Ylitornio and Pello did not consider mandatory health tests necessary, preferring to have continued testing referrals on a voluntary basis. Askonen said that so few infections have come into Ylitornio from the Swedish side of the border that he sees no grounds for mandatory testing.
However, now that the measure is in force, Askonen said he can only hope that people will stay on their own side of the border. Sweden's decision last week to abolish its own controls on the Lapland border could increase the number of daily crossings by hundreds in Ylitornio.
Police assistance, if needed
In Kolari, the testing site will continue to be at the local health centre.
"We will see where this is going and make changes accordingly. So far, we are in a monitoring mode," said Ulla Ylläsjärvi, Kolari's chief physician.
Border guards provide the health centre with information about anyone crossing the border and if they do not show up at the health centre for the test, Ylläsjärvi can make a request for official assistance from the police, and if needed, they can be brought in by force.
On the other hand, Lapland police have already stated that they are not always able to respond to requests for official assistance very quickly.
Force is not viewed at being necessary in Kolari even though local officials now have to deal with it with until at least the end of June.
"Most of us who visit Sweden go to the ICA supermarket which is a hundred metres from the border where there is not even a village. In my opinion, the voluntary arrangement would still have worked," Ylläsjärvi added.
Army medics could help
Even further north, the municipality of Enontekiö is expecting to see an increase in holiday trips to Norway now that it has opened up to travel from the low-incidence areas.
"If Finns start traveling in large numbers to the Norwegian side of the border, it will probably increase the need for testing quite a lot," points out Enontekiö 's chief physician Miia Palo.
The Lapland Hospital District is responsible for the testing arrangements in Enontekiö and Muonio, as well as for other primary health care.
Additional staff has been recruited in Enontekiö and even more testers are still being sought. In Pello, personnel to work in testing at the border were recruited from the municipality's own staff.
The Lapland Hospital District has submitted a request for official assistance to the Defence Forces on behalf of the municipalities, so that military medics could be used to assist in testing. The hope is that several dozen would be made available.
The request to the Defence Forces was filed at the end of last week, but as of early Tuesday, no response had yet been received.
Related stories from around the North:
Canada:  Arctic Canadian territory of Nunavut to start vaccinating youth aged 12-17 on June 15, CBC News
Finland: Mysterious coronavirus variant in Arctic Finland is rare US-Mexican strain, Yle News
Denmark/Greenland: Greenland authorities buoyed by high demand for COVID-19 vaccine, Eye on the Arctic
Iceland:  Iceland to ease quarantine facility requirements for travellers from high-risk areas on May 31, Eye on the Arctic
Norway: Norway extends border closure with Finland due to pandemic, The Independent Barents Observer
Russia: Norway closes borders over fears of virus, but exempts Russian fishermen from severely infected border region, The Independent Barents Observer
Sweden:  At least 16,000 in Sweden have long COVID, Radio Sweden
United States: Alaska politicians send Trudeau letter saying they're "shocked" over Canada's COVID-19 cruise ship ban, Eye on the Arctic