Continued sea ice loss could alter food web for some Arctic marine predators, says Canadian study
If sea ice loss continues it could irrevocably alter the food sources for some Arctic marine predators says a Canadian study released this month.
The study, "Predicting how climate change threatens the prey base of Arctic marine predators," was published this month in the journal Ecology Letters, and used computer modeling to look at different emission scenarios focused the Hudson Bay area between 1950 and 2100.
"All changes were relatively negligible under the low-emission scenario, but under the high-emission scenario, we projected a 50% decline in the abundance of the well-distributed, ice-adapted and energy-rich Arctic cod (Boreogadus saida) and an increase in the abundance of smaller temperate-associated fish in southern and coastal areas," said the authors in the study's abstract
"Furthermore, our model predicted that all fish species declined in mean body size, but a 29% increase in total prey biomass. Declines in energy-rich prey and restrictions in their spatial range are likely to have cascading effects on Arctic predators."
Under the high emission scenario, the study found that changes to fish distribution in the region, as well as their size, would start to pick up in 2025 and continue to accelerate if measures weren't taken to reduce carbon emissions.
Changes to fish distribution and mass
In a news release, the study's lead author said small fish like capelin and sand lance could become more common in the region, forcing marine predators like ringed seal to work harder to obtain the same energy they might have gotten before from a species like cod. 
"It costs energy to forage," said Katie Florko, from the University of British Columbia in Vancouver, and the study's lead author.
"Does that mean the seals will need to spend more energy to get a larger number of these smaller fish for the same amount of energy as capturing a bigger fish? It's not unlike how the burgers in fast food restaurants seem to get smaller and smaller every year, and you're getting less bang for your buck."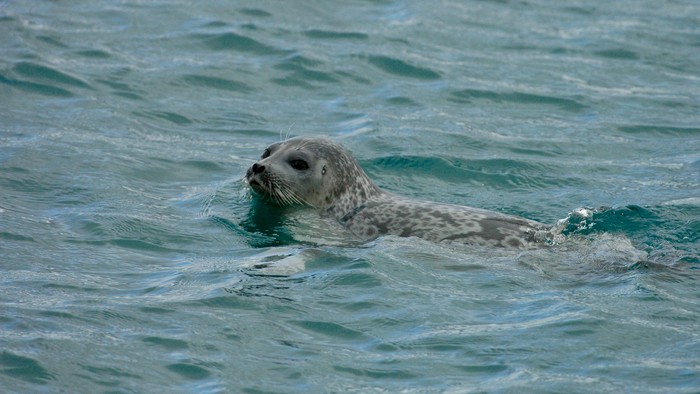 However, Florko said the changes may have some benefits. Capelin are a summer staple of the beluga's diet, so an increase of that species might benefit the whale during that time of year.
Also, since smaller fish store fewer marine contaminants, people who eat seal as a regular part of their diet may also be exposed to less contaminants in their food.
However, the overall changes to the Arctic food web in the face of ongoing climate change, means lowering emissions is still the most desirable scenario for the region say the scientists.
"We've never seen such drastic change so quickly," said Travis Tai, a co-author of the study.
"We're rolling the dice, and we don't know what exactly will happen. When we have dramatic shifts in food web structures, we can expect large changes not only to how species such as ringed seals use the oceans, but also how people use the oceans."
Write to Eilís Quinn at eilis.quinn@cbc.ca
Related stories from around the North: 
Canada: Seabirds & their vulnerability to a warming climate: Q&A with researcher Emily Choy, Eye on the Arctic
Russia:  Perfectly preserved cave lion cub found in Siberian permafrost, CBC News
Sweden: Sweden to lead major Arctic expedition, Radio Sweden
United States: Climate change is worsening water scarcity in rural Alaska says study, Eye on the Arctic