From chief medical officer to Liberal MP: Brendan Hanley wins in federal election in Canada's northwestern Yukon territory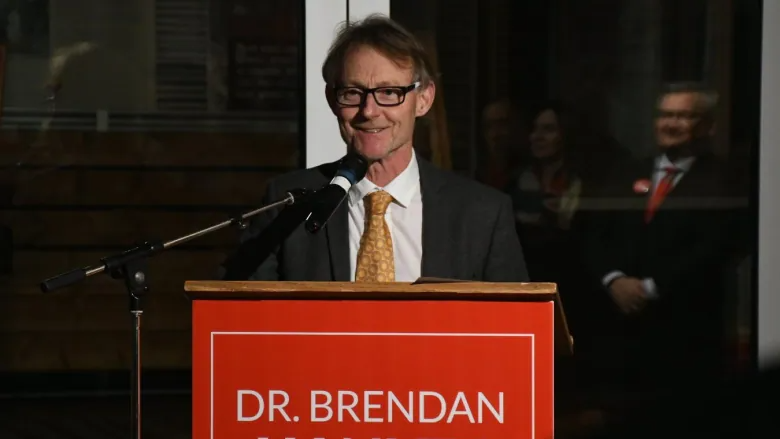 Hanley won with about 33 per cent of the vote — same as Yukon's Liberal candidate in 2019
Brendan Hanley, who guided Yukon's response to the COVID-19 pandemic as the territory's chief medical officer of health, will now head to Ottawa as the territory's Liberal MP.
"This is a win for the Liberal Party of Canada, and tonight is definitely a win for our children," Hanley said in a victory speech to supporters, referring to his party's national child care program.
With all but one of the territory's 90 polls still to report, Hanley held 33 per cent of the vote. He was more than 1,100 votes ahead of Conservative Barbara Dunlop, who was in second place with about 27 per cent of the vote.
New Democrat Lisa Vollans-Leduc, meanwhile, was in third with about 23 per cent of the vote.
Hanley took the lead early on Monday evening as results began to trickle in, and gradually widened that lead as more polls reported.
In his short speech on Monday night, Hanley thanked supporters, campaign volunteers, his family, and outgoing MP Larry Bagnell. He also thanked his fellow candidates, and commended them for a civil and respectful campaign, "as is the Yukon way."
Hanley said as MP he'll draw on his work experience to forge partnerships and tackle demanding issues.
"As a doctor, I am also a member of the healing profession and I recognize that we have some wounds to heal," he said.
"There is work to do to unite us as Yukoners, and as Canadians."
Vollans-Leduc and Dunlop jockeyed for second place through much of the evening, but Dunlop eventually seemed to cement her position there.
Still, a substantial number of votes won't be counted until Tuesday, according to Michael Lauer, Yukon's returning officer for Elections Canada.
"Yukon elections are generally pretty tight. The last election, the incumbent MP won by 153 votes. Right now we've got close to 2,300 special ballots that will not be counted until Tuesday," he said.
Close race was expected
Many in Yukon expected a close race again this time. In 2019, Liberal Larry Bagnell defeated Conservative Jonas Smith by just 153 votes.
By late Monday night, it looked like the Liberal and NDP support in Yukon had barely moved over the last two years. In 2019, Bagnell won with about 33 per cent of the vote — roughly the same as Hanley on Monday.
Vollans-Leduc also received roughly the same proportion of votes as the party's Yukon candidate last time — 23 per cent, compared to 22 per cent for Justin Lemphers in 2019.
Conservative party support dropped though — from nearly 33 per cent in 2019 to about 26 per cent on Monday. That may have something to do with Smith.
He was on the ballot again this time, but as an independent. He was dropped as the Conservative candidate on the eve of the election call, and soon after threw his hat in the ring as an independent.
He ended up with about 13 per cent of the vote — enough to have put Dunlop over the top, if those voters had opted for her.
Speaking on Monday evening, Dunlop said it was a challenge to mount a campaign with so little time.
"On the first day in the campaign office, there were five of us around the table. We were starting completely from scratch, I wasn't well-known politically, and we guessed we had a couple of dozen confirmed votes," she said.
She also described how she felt when Smith announced his candidacy.
"I asked then and there if we should continue. I received four immediate resounding and enthusiastic 'yeses.' We knew we were doing the right thing, and we knew we were doing it for the right reasons."
Speaking on Monday evening soon after polls closed, Smith insisted his support through the campaign came from across the political spectrum.
"As an independent, I've been able to connect with Yukoners and talk about what is important to them and what is important to me and not be hindered by any kind of a party policy or whatnot," Smith said.
He said his campaign was "liberating."
'Meaningful reconciliation'
Vollans-Leduc, speaking on Monday night, said she was proud of the work that went into her campaign.
She also said that she'd be watching how Hanley does as MP, and whether he puts people at the centre of decision-making. She said "meaningful reconciliation" needs to be a priority for him.
"He can expect a phone call from me if those aren't followed through with, because those are … incredibly important to me," she said.
Green candidate Lenore Morris, meanwhile, trailed in fifth place on Monday. She also ran in 2019, when she finished in fourth with about 10.5 per cent of the vote. This time, she sits at about five per cent of the vote.
Speaking earlier on Monday evening, she said she didn't expect to win but still felt she had run a good campaign.
"I felt like I got green ideas into the discussion in a way that wouldn't have happened if I hadn't been running, and that's really important to me," she said.
She said her plans after the grueling campaign were to get out berry picking.
"It's that time of year in the Yukon, and I know the berries are out there and they are waiting for me," she said.
-With files from Jackie Hong, Anna Desmarais, Mike Rudyk and Chris MacIntyre
Related stories from around the North: 
Canada: Liberal Michael McLeod declares victory in Canada's Northwest Territories federal riding, CBC News
Greenland: Greenland's more prominent role on Arctic Council important signal to int'l community says foreign minister, Eye on the Arctic
Norway: Norway gets new government as voters make a forceful left turn, The Independent Barents Observer
Russia: Crushing victory for United Russia, but in one Arctic region, Putin's party is dealt a blow, The Independent Barents Observer