Liberal Michael McLeod declares victory in Canada's Northwest Territories federal riding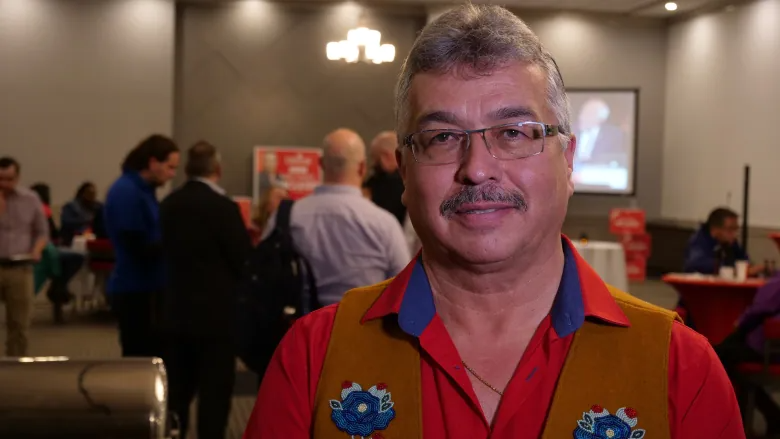 'It's close but we feel the difference is big enough for us to be able to call it confidently'
Liberal incumbent Michael McLeod waited late into the night before deciding he'd won re-election.
"It's close but we feel the difference is big enough for us to be able to call it confidently," he said at a small gathering in Yellowknife.
McLeod lead in the polls throughout Monday's election night, but hesitated to declare a win without a concession from the NDP's Kelvin Kotchilea.
CBC could not immediately reach Kotchilea for comment.
'We were hoping that we would have a majority'
The CBC called the election for McLeod shortly after 1 a.m. Tuesday. By then, McLeod had 38 per cent of the vote followed by Kotchilea with 33 per cent. That left McLeod with a narrow 699-vote lead, though official results won't be confirmed until mail-in ballots are added to the tally. 
"We were hoping that we would have a majority," McLeod admitted, speaking to media, and few others, in a Yellowknife hotel. "If we ever needed a new mandate, it's now during a pandemic."
But, he added, "I'm hoping that we will be able to move forward [with] the many issues that are in our platform."
The Conservative's Lea Mollison came a distant third with 14 per cent of the vote.
Independent Jane Groenewegen took 13 per cent while the Green's Roland Laufer won three per cent.
The territory had about 30,000 people on the voters list, according to Leanne Tait, Elections Canada's returning officer for the N.W.T.
About 3,400 voted in advanced polls and approximately 1,300 requested mail-in ballots, she said.
The standings on late Monday were a slight shakeup from 2019, when the Liberals won 40 per cent, followed by 26 per cent for the Conservatives and 22 per cent for the NDP.
This year, the Conservative's put up a candidate who lives in Thunder Bay, Ont., and said she had never visited the N.W.T.
Low key campaign
The N.W.T.'s election campaign was low key, with candidates barred from travel to several communities as the territory battled its worst outbreak of COVID-19 to date. Travel in and out of Yellowknife is still not recommended by the territory's chief public health officer, and two nearby communities are under local containment orders.
Some voters in remote communities across the Northwest Territories told CBC they were burnt out when it comes to federal politics. Others said it's time for some urgent and meaningful change.
Still others were dismayed to learn that those self-isolating due to COVID-19 or suspected COVID-19 on Sept. 20 would not be able to visit a polling station to cast a vote.
-With files from Alyssa Mosher, Mario De Ciccio
Related stories from around the North: 
Canada: NDP candidate Lori Idlout will be next MP in Canada's Arctic Nunavut territory, CBC News
Greenland: Greenland's more prominent role on Arctic Council important signal to int'l community says foreign minister, Eye on the Arctic
Norway: Norway gets new government as voters make a forceful left turn, The Independent Barents Observer
Russia: Crushing victory for United Russia, but in one Arctic region, Putin's party is dealt a blow, The Independent Barents Observer