Fresh water flown to Iqaluit in Canada's eastern Arctic after city's supply deemed undrinkable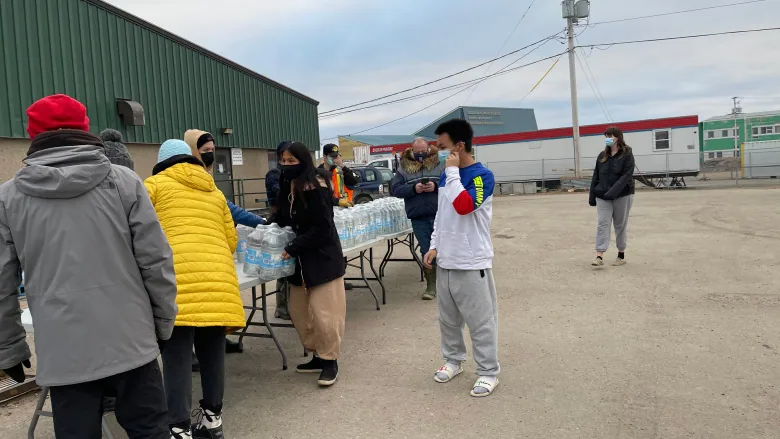 City has ordered 80,000 litres of water for its nearly 8,000 people
The first shipment of potable water for Iqaluit residents arrived by plane Thursday after tap water in the Nunavut capital was deemed undrinkable and potentially tainted with petroleum.
The city has ordered 80,000 litres of water, and four-litre jugs were being handed out in the community of about 8,000 people.
The city said in a release that residents will be given a maximum of four jugs per household and is urging people to keep them for future use.
The city on Tuesday told residents not to drink the tap water, after a fuel smell was detected at the treatment plant, and later declared a local state of emergency.
Agnico Eagle, which operates several mines in the territory, says it is sending 15,000 litres of water to Iqaluit on a cargo flight that is to land tomorrow.
The Nunavut government also declared the city to be in a state of emergency on Thursday, which allows it to have more authority over assigning its departments and public agencies under the Emergency Management Act.
"I want to assure the people of Nunavut, especially those in Iqaluit, that we are taking this water issue very seriously," said Jeannie Ehaloak, minister of community and government services.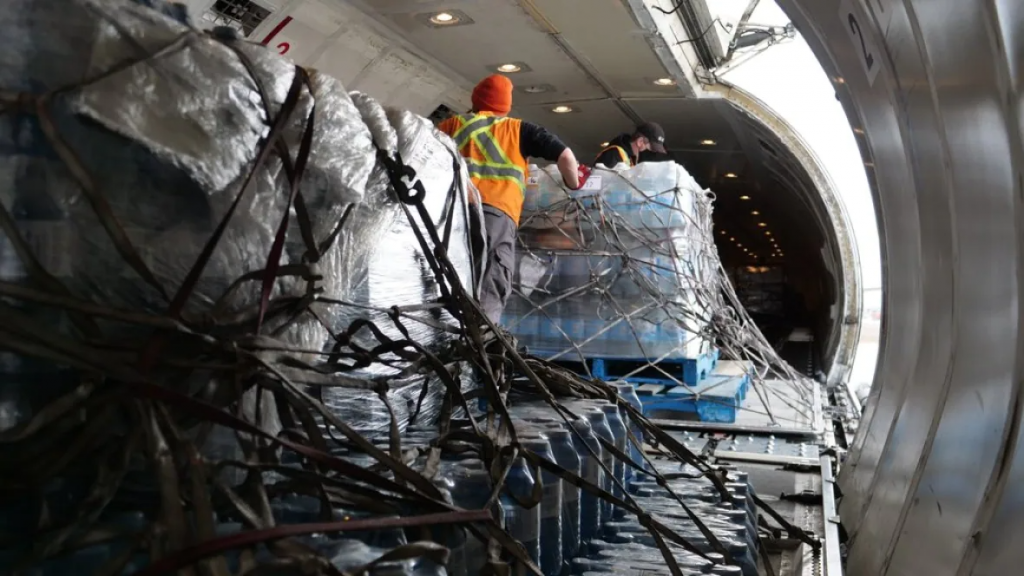 Samples sent south
Meanwhile, residents have continued to collect water at Iqaluit's Sylvia Grinnell River, including volunteers who are getting water for neighbours, elders and those without vehicles.
Water samples have been sent to a lab in Southern Canada for testing and are expected back in the coming days.
A University of Saskatchewan professor who has worked in Iqaluit says any amount of fuel in drinking water is unsafe, but drinking it over the short term isn't necessarily dangerous.
Steven Siciliano, a microbiologist and toxicologist who has done research in the North, says the city did the right thing by telling residents as soon as it found the smell.
Siciliano says Iqaluit's regular water testing looks for bacteria, not hydrocarbons. But the human nose is "incredibly sensitive" to hydrocarbons, meaning people can smell it even if there's a very low amount, he said.
Siciliano said long-term exposure to compounds found in gasoline could be "very risky" but drinking it for a week or so probably isn't going to do much harm.
"It's not like if you have one cup of water, you're poisoned for the rest of your life," said Siciliano.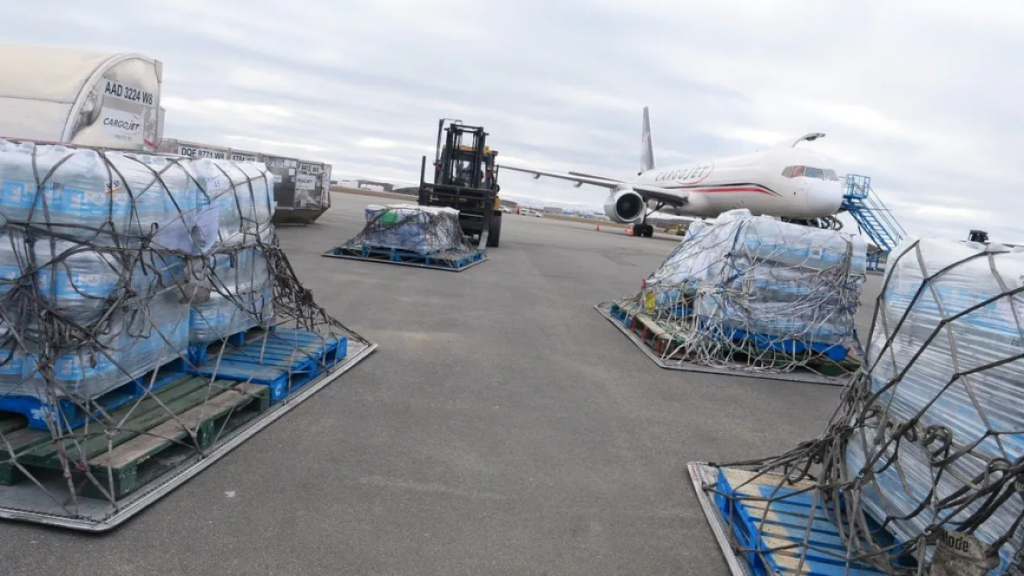 Despite that, Siciliano says the situation in Iqaluit is urgent and a solution needs to be found as soon as possible.
"If they drank it before they found there was fuel, I don't think they have grave cause for concern. Going forward, is it OK? Absolutely not.
As a comparison, he said, smoking one or two cigarettes a day won't give a person cancer but smoking a pack a day likely will.
"It's kind of like that with the water. Drinking it every day for a week? Not going to give you cancer," he said.
"We don't know how much fuel there is. There may not be fuel in there — that's the good news."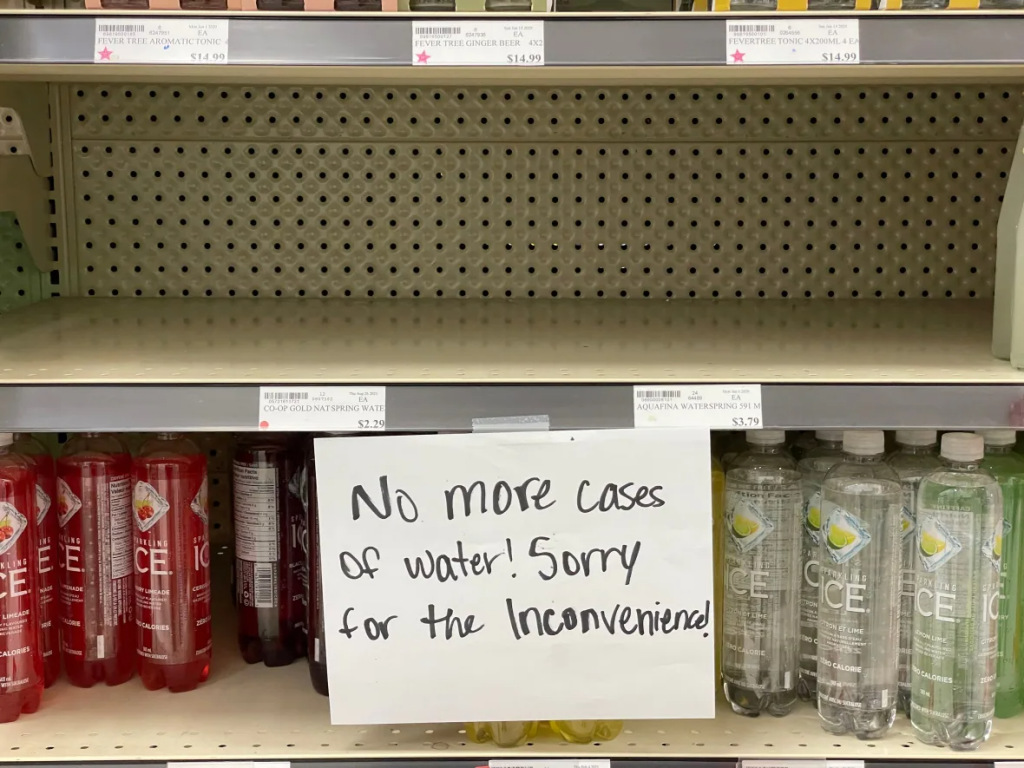 A struggle to get water
Janet Pitsiulaaq Brewster, Iqaluit's deputy mayor, said some people were still having difficulties getting water Wednesday.
Among the various scenes from this week's water crisis, she said one stood out: a woman "leap frogging" her water supply back to her home.
"[She] had a juice jug and a pan full of water," Brewster told CBC's Matt Galloway, host of The Current, on Thursday morning. "She was walking about five metres, putting the pan down, going back and getting the jug, walking to the pan."
"There are many people in our city that actually don't even have jugs to carry water," she said.
Brewster is on leave from her role on city council to run in the upcoming territorial election. She, like the other candidates in her riding, spent the last day filling buckets and jugs to bring to residents.
"I've been driving house to house using social media and my cellphone for people to contact me and let me know that they need water," she said.
"There's a huge part of our population" that doesn't have access to water, Brewster said, citing barriers like cab fare and the lack of public transit in the city.
'Aging and crumbling' infrastructure
The exact cause of the problem remains unclear. But Brewster blames the city's ongoing water problems on its "aging and crumbling" infrastructure.
The long-term solution, she said, is money — about $100 million — from all levels of government.
She says the city's reservoir is too small to meet its needs, which in turns constrains building, adding to Iqaluit's housing crisis.
City councillor Sheila Flaherty said she and her husband, Johnny, have also been helping get water to residents, and she's also worried about the people left behind.
"There's a lot of families and households who don't have food-grade jugs to actually carry water away whether it be from the river or from the water truck depots," Flaherty told CBC's Carol Off on As It Happens Wednesday.
"We're trying to manage as best we can with what we have faced in front of us."
-With files from The Canadian Press, The Current and As It Happens
Related stories from around the North: 
United States: Climate change is worsening water scarcity in rural Alaska says study, Eye on the Arctic