Canada's northwestern Yukon territory to loosen some COVID-19 restrictions, premier says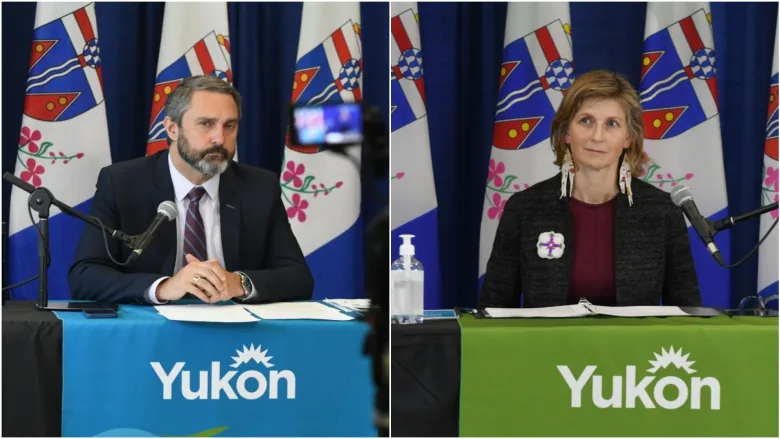 It's in response to 'an encouraging decrease in active cases and daily case counts,' Premier Silver says
Starting this weekend, Yukon Premier Sandy Silver says the territory will loosen some of its COVID-19 restrictions.
Last month, the government declared a state of emergency in response to an "alarming increase in COVID-19 cases and widespread community transmission."
At the time, new public health measures were introduced based on recommendations of the chief medical officer and were said to be in place until at least Dec. 3.
The loosening of measures is in response to "an encouraging decrease in active cases and daily case counts," Silver said.
"Yukoners, you have been diligent," he said. "I'm very proud on how we all pulled together in the recent weeks."
As well, proof of vaccination will continue to be required to access most non-essential businesses and events, but starting Dec. 4, it won't be required for faith-based gatherings or to access personal services such as hair salons.
Businesses and organizations can still choose to require the patrons to show that proof of vaccination. Silver said the territory will "fully support those who want to take this extra step."
Also starting Dec. 4, proof of vaccination will no longer be required for sport and recreation activities for those under the age of 18. And, indoor organized gatherings will no longer be limited to 25 individuals, but will continue to be limited to 50 per cent of the venues' capacity. Masks are still required.
Larger limits for outdoors
Aside from this, Silver said the existing public health measures will remain in effect until there are new recommendations from Dr. Catherine Elliott, the acting chief medical officer of health, and her team.
Yukon officials gave an update on COVID-19 in the territory on Wednesday morning at 10:30 a.m. local time.
Silver was joined by Elliott and Dr. Katharine Smart, Yukon pediatrician and president of the Canadian Medical Association.
Gov't workers have to be vaccinated
Starting Wednesday, Yukon government employees and front-line health-care workers who didn't let the government know if they'd received at least the first dose of the COVID-19 vaccine by midnight Nov. 30, will have to take leave without pay. Government employees need to have a second dose of the COVID-19 vaccine by Jan. 30.
Silver said on Wednesday that 94 per cent of government employees have attested to their vaccination status. He said two per cent of those who have not yet attested are full-time employees.
He said there's also been 29 people who have applied for religious exemptions, and 15 have applied for medical exemptions, accounting for less than one per cent of the government workforce.
Silver said the majority of those who have not yet attested are auxiliary or on call. Here said there will be a further breakdown per department.
Pediatric vaccines
As well, Yukon children aged 5 to 11 will be able get their first shot of COVID-19 vaccine starting on Dec. 6. The territorial government announced last week that clinics will be held for this age group to receive the pediatric Pfizer-BioNTech shot, which is a smaller dose than the one for older children and adults, throughout December.
Smart said there's been a lot of enthusiasm among Yukon parents to get their children vaccinated.
"I know myself, I found out about it, logged on immediately to book my own child who's 11, and already several of the days were full," Smart said. "I was sad I didn't get the first appointment but [it's] encouraging that so many people were already stepping up to have their children vaccinated."
Smart said the risk of children developing myocarditis, a rare effect noted mostly in adolescent boys and young men, is "much more significant from COVID itself, than it is from the vaccine."
Elliott didn't say how many children in the new age group have been booked for vaccines when asked, but said appointments for the vaccine are booked to Dec. 17 at least.
"If anyone logs on right now, they [likely] wouldn't be able to get an appointment even on dates after that because there is so much interest at this time," Elliott said.
The Yukon is also still offering first doses to all other eligible Yukoners, as well booster doses to Yukoners over age 50.
Elliott said while Yukon did see about half of the recent cases of people who have gotten infected with COVID-19 were fully vaccinated, those cases — similar to elsewhere in the world and across Canada — were "mild, short lived," and severe outcomes were avoided.
As of Wednesday morning, there are 61 active cases in Yukon.
Related stories from around the Poles:
Antarctica: U.K. delivers COVID-19 vaccine to British station in Antarctica, Eye on the Arctic
Canada:  COVID-19 worsens housing shortage in northern Canada: CMHC report, CBC News
Greenland: Greenland lifts COVID-19 restrictions on direct travel to small communities, Eye on the Arctic
Iceland: Iceland to soften COVID-19 rules on Oct. 20, plans full lifting of restrictions next month, Eye on the Arctic
Norway: Tromso, Norway to reimpose restrictions as COVID-19 cases soar, Eye on the Arctic
United States: Rural Alaska at risk as COVID-19 surge swamps faraway hospitals, The Associated Press
United States: Rural Alaska at risk as COVID-19 surge swamps faraway hospitals, The Associated Press