Yukon in northern Canada confirms 2 cases of COVID-19 omicron variant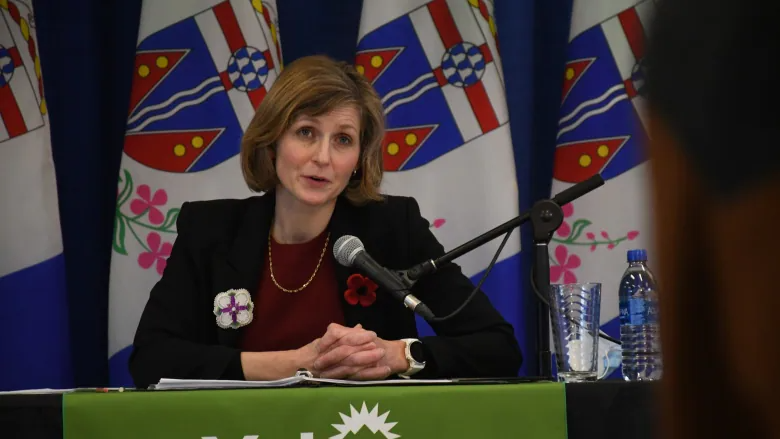 Yukon is now reporting its first two cases of the COVID-19 omicron variant in the territory.
"We anticipated this. We were prepared and this has been very well-managed by the excellent staff at Yukon Communicable Disease Control," said Dr. Catherine Elliott, the territory's acting chief medical officer.
The announcement was made as officials gave an update Wednesday morning on COVID-19 in the Yukon. The news conference was held by Health Minister Tracy-Anne McPhee alongside Elliott.
Elliott said the omicron cases are contained right now, but added people should be "prudent and cautious" as the holidays approach.
"As we enter the holiday season, we have moderate levels of COVID activity already in the territory with the delta variant and we have the arrival of omicron amongst two individuals," she said, adding more information on holiday guidance will be provided next week.
There isn't much known about omicron, which the World Health Organization labelled a variant of concern. It's being linked to a rapid rise of cases in nearly all South African provinces.
She didn't say where the omicron cases are, besides being in Yukon. She said the territory is "tailoring the duration of the isolation period" and how it manages those household contacts, which will be "more stringently."
"For example, household contacts at this point are being asked to isolate with those cases until we learn more about the variant," Elliott said.
"This is a precautionary step to prevent the spread into the community."
Elliott was asked about the symptoms of the two omicron cases but would not say.
Booster shots for those aged 18 and up
Also, starting on Wednesday people in Whitehorse aged 18 and over can book appointments to get a COVID-19 booster shot, McPhee said.
Vaccine clinics in some communities are also now open for people aged 18 and older with more clinics to be added in the coming weeks.
However, Elliott said the priority right now is getting first shots for children aged five to 11 years old this month, so there will be limited appointments available for adult booster shots in the short term.
"We hope to get everyone over the age of 18 the opportunity to have their booster early into the new year," Elliott said.
"I urge everyone to be patient. Please be kind and be thankful as we move together through this time."
At this point, nearly 80 per cent of Yukon's entire population in all age groups is fully vaccinated, Elliott said.
"When you have such a large proportion of the population vaccinated and they're showing the same number of infections as a much smaller proportion that are not vaccinated, you can see the vaccine is working," she said.
Most territorial gov't workers are vaccinated
Yukon government employees and front-line health-care workers who didn't let the government know if they'd received at least the first dose of the COVID-19 vaccine by midnight Nov. 30, will have to take leave without pay.
As of Tuesday, McPhee said 94.2 per cent of employees have attested to having received their first dose of the COVID-19 vaccine. Of those who have not yet attested, 1.8 per cent are full-time employees, making up 107 people, she said.
The majority of those who have not yet attested are casual or on-call employees, accounting for 3.3 per cent of the government's workforce, McPhee added.
Yukon government employees need to have a second dose of the COVID-19 vaccine by Jan. 30.
Steady downward trends in cases
Last week, Yukon Premier Sandy Silver announced the territory would be loosening some of its COVID-19 restrictions as of Dec. 4.
However, the state of emergency called last month in response to an "alarming increase in COVID-19 cases and widespread community transmission" is still in effect.
No date has been given so far on when that will end.
As of Wednesday morning, there were 44 active COVID-19 cases in the Yukon, and Elliott said over the last week, the territory has had an average of eight new cases a day — "a manageable level."
"These numbers represent a continued stabilization in case counts and the continued decrease in new infections every day is promising," she said.
"The circuit breaker had the effect that was intended, and holding current measures now is intended to help us all have a safe holiday season."
Related stories from around the North: 
Canada: Omicron variant cases in Canada prompt new travel rules for Nunavik, Quebec, Eye on the Arctic
Finland: Strong signs of tourism revival in Finland's north, Yle News
Iceland: Iceland extends COVID-19 measures for at least two weeks, Eye on the Arctic
Greenland: Greenland's new domestic and international COVID-19 rules in effect until March 6, Eye on the Arctic
Sweden: Sweden to introduce new Covid-19 measures on Dec. 8, Eye on the Arctic