Canada's Northwest Territories prepping for more travel-related COVID cases, say health officials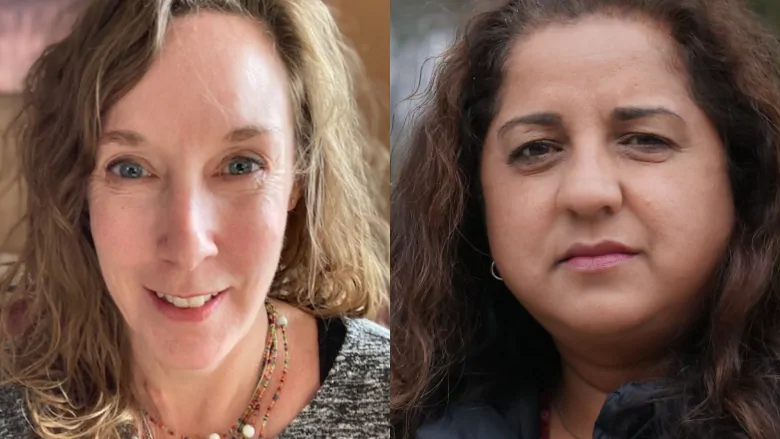 "We're getting to the point where the main exposure [in the N.W.T.] will be travel-related'
The N.W.T.'s chief public health officer, Dr. Kami Kandola, says the territory expects COVID-19 case counts to rise in the coming months as people travel for the holidays.
During their last call-in of the year on CBC's The Trailbreaker Thursday morning, Kandola and Dr. AnneMarie Pegg, the territory's medical director, said anyone planning to travel over the holidays should seriously consider getting a booster dose of the COVID-19 vaccine.
"We're getting to the point where the main exposure [in the N.W.T.] will be travel-related," Kandola said.
Kandola said she is keeping an eye on the daily case counts across Canada, which are now on the rise. She said there's several reasons for that: winter, travel and gatherings over the holidays, and the presence of the omicron variant in Canada.
Pegg said the N.W.T. was lucky to get a large allotment of vaccine booster doses early on, and so far more than 12,000 people in the territory have received the doses.
Residents who receive a booster dose will need to re-download their QR code, as it does not automatically update.
Health officials have also launched a COVID-19 safety net campaign. A series of quizzes on the government's COVID-19 website have been posted so people can gauge their level of risk in getting and spreading COVID-19 as they travel, gather and do other activities over the holidays.
As of Wednesday, there were 11 active cases of COVID-19 across the Northwest Territories.
What's the danger associated with the omicron variant?
Sixty-five cases of the omicron variant have been reported across Canada, including two cases reported Wednesday in Yukon.
Kandola said the variant is known to be at least twice as transmissible as the Delta variant, but health officials are still waiting for data on the severity of omicron, as well as how effective vaccines are against it.
"So far, it has been described as a mild illness. It doesn't have the same features as the Delta variant," she said of how it impacts vaccinated people.
Kandola said they are likely to experience mild symptoms — body aches, a cough or sore throat — but no loss of their sense of taste or smell.
What changes are coming in the next month related to leisure travel?
Strict rules around leisure travel in the N.W.T. are expected to loosen later this month.
Right now, most leisure travel in the territory by non-residents is banned. Residents coming into and out of the territory for non-essential travel are required to self-isolate, unless they are granted an exemption.
Kandola said health officials are looking at opening up leisure travel for fully vaccinated people, though they are waiting to learn more about the omicron variant first.
Kandola also said she expects to be able to look at lifting the N.W.T.'s public health emergency in the spring of 2022, if more people are vaccinated and case counts decrease.
What's happening with COVID-19 rules for kids under the age of 5?
About a third of all children between five and 11 have received a first dose of the Pfizer-BioNTech pediatric vaccine, since the territory first began administering them on Nov. 26, but children under the age of five won't be eligible for a vaccine until the new year.
Kandola said the rules aren't changing yet for children under five, and isolation requirements for those children remain in effect. That's in part to protect children in the same age group who may socialize with those who have travelled.
"In the winter, when the cases are going up and we have a more transmissible omicron variant, and we're still trying to roll out vaccines to two-thirds of the five to 11 [age group], this is a risk we cannot take," she said.
"It is not fair for those children who can't get the vaccine to be exposed and not protect them."
If an 11-year-old had COVID-19 and has now had their first vaccine dose, will they have to self-isolate after travelling out of the territory with fully vaccinated people?
Addressing this specific question, Kandola said if 14 days have passed since that child has had their first dose, they do not have to isolate when they return to the N.W.T., but will need to be tested on the first and eighth day.
That child can also return to school.
Kandola also said, in general, health officials are looking at changes to isolation requirements for children five to 11, especially if they live in a household where everyone else is fully vaccinated.
In late November, the territory announced children aged five to 11 don't have to isolate after travelling if they received their first dose at least 14 days prior. However, eight weeks after their first dose, they are no longer exempt from isolating.
Why are infants under six months old exempt from isolating?
Kandola clarified that infants under six months old are exempt from isolating after travel, only if the birth parent is fully vaccinated.
"We do know, around six months, with other vaccines they tend to wane," she said.
"The zero to six month [age group] will never be eligible for COVID vaccination, so this is an exemption that will stay throughout the course of the travel order."
Related stories from around the North: 
Canada: Yukon in northern Canada confirms 2 cases of COVID-19 omicron variant, CBC News
Finland: Strong signs of tourism revival in Finland's north, Yle News
Iceland: Iceland extends COVID-19 measures for at least two weeks, Eye on the Arctic
Greenland: Greenland's new domestic and international COVID-19 rules in effect until March 6, Eye on the Arctic
Sweden: Sweden to introduce new Covid-19 measures on Dec. 8, Eye on the Arctic