Authorities scramble to find housing for quarantined tourists in Finnish Lapland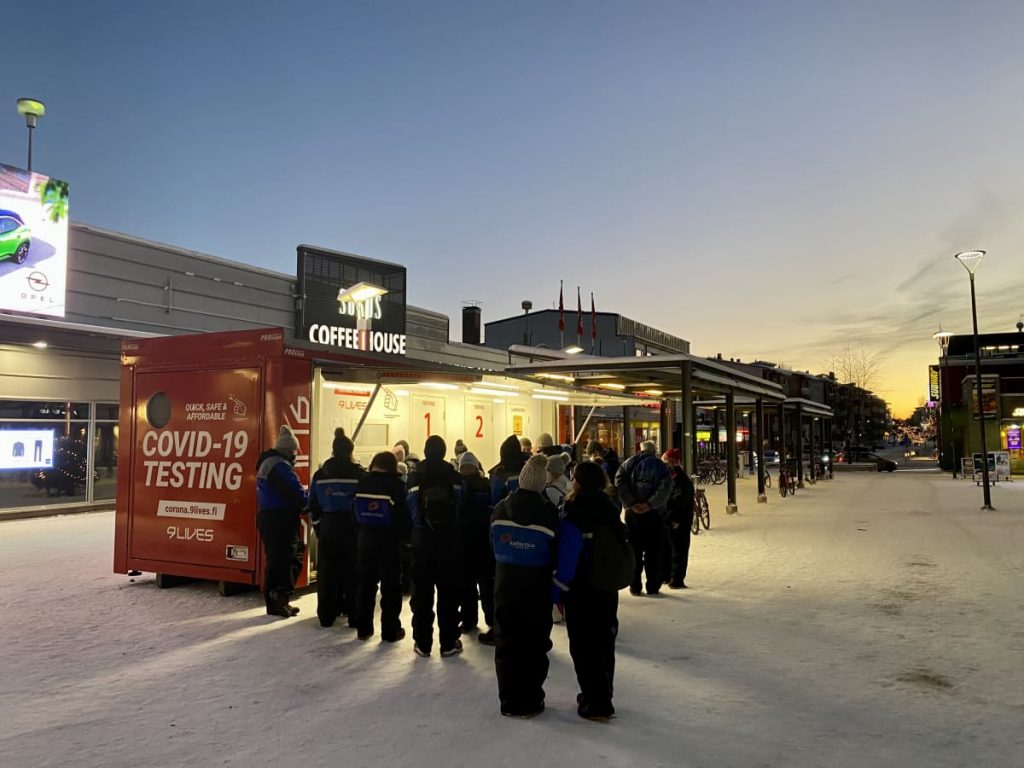 Fifty tourists have been quarantined in Lapland, which reported its first Omicron case on Thursday.
Municipalities in Lapland are seeking out accommodations for foreign tourists who may end up ordered into quarantine after testing positive for Covid.
The region is especially crowded this time of the year due to international visitors looking to spend the Christmas season in Finland.
So far, a total of 50 foreign tourists have been placed in quarantine after contracting the virus.
"As a general rule, the infected have been accommodated in hotels and boarding houses. All municipalities are now mapping out plans to organise facilities of a different kind," Markku Broas, chief infectious diseases physician for the Lapland Hospital District, said.
According to current guidelines, accommodations for those infected with the virus must meet specific requirements. At a minimum, the room must be suitable for a single person or a family and must have toilet and shower facilities.
Additionally, the quarantined person or family must be provided meals in such a way that they do not need to leave the room.
10 in isolation in Rovaniemi
The City of Rovaniemi, home to Finland's Santa Claus Village, currently has 10 tourists in isolation. City officials began looking for suitable quarantine facilities this week.
"No city would have that kind of empty housing, probably. The room needs to be suitable and should come with sanitary facilities. We have been searching for and visiting these kinds of spaces," Ulla-Kirsikka Vainio, Mayor of Rovaniemi, said.
City officials have said that they do not want to reveal any further details regarding the quarantine facilities to protect the privacy and safety of the individuals in isolation.
The tourist season in Rovaniemi is currently at its peak, with several establishments close to being fully booked. Authorities have subsequently faced challenges in finding facilities that can meet the specific requirements needed for quarantined tourists.
"The first directive is for hotels and boarding houses to make arrangements for isolation. If this is not possible, we are prepared to organise the quarantine facilities," Vaunio added.
The City of Rovaniemi is also attempting to set aside dozens of residences that can be reserved as quarantine facilities from now till January.
"There will be tens of thousands of tourists in Rovaniemi during that period, so we have to be prepared. No one knows how many people will contract the virus at that point," Vainio said.
First case of Omicron detected in Lapland
The Lapland Hospital District reported its first confirmed case of the Omicron variant of the coronavirus on Thursday.
The infection has been traced to an Irish tourist in Rovaniemi, who first tested positive for the virus on Saturday.
The highly mutated variant appears to be more contagious than previous strains, and has been spreading rapidly across the globe.
The Lapland Hospital District has recorded 122 coronavirus cases this week—nearly the exact same figure as the same period last year.
Four Covid-19 patients have been hospitalised in the region so far. According to Broas; however, health authorities are anticipating an increase in the number of patients and have begun preparing for the same.
In addition to residents, Lapland currently has a considerable number of foreign as well as domestic tourists.
"All estimates indicate rising infection rates. Close contact between people is high and the prevalence of the Omicron variant makes things worse, of course," Broas stated.
Related stories from around the North: 
Canada: Rapid response team heading to Old Crow, Yukon, to tackle COVID-19, CBC News
Finland: COVID-19 surge casts shadow over tourism in Finnish Lapland, Yle News
Greenland: New strategy activated to manage COVID-19 outbreak in Upernavik, Greenland, Eye on the Arctic
Iceland: Iceland extends COVID-19 measures for at least two weeks, Eye on the Arctic
Norway: Norway imposes partial pre-Christmas COVID lockdown, The Independent Barents Observer
Sweden: Sweden to introduce new Covid-19 measures on Dec. 8, Eye on the Arctic