Rapid response team heading to Old Crow, Yukon, to tackle COVID-19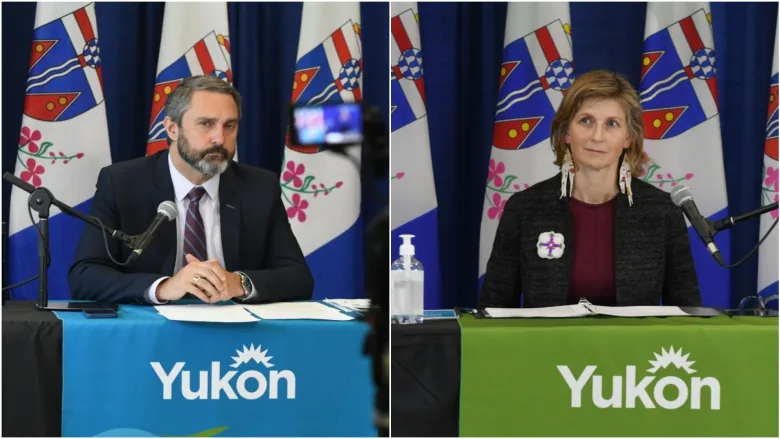 Last week, the Vuntut Gwitchin Government passed additional measures requiring all residents to self-isolate
A rapid response team is being sent to Old Crow, Yukon, this week to help with the COVID-19 situation there, Premier Sandy Silver said Wednesday.
He made the announcement during a news conference on Wednesday, accompanied by Yukon's acting Chief Medical Officer of Health Dr. Catherine Elliot.
The rapid response team is set to provide "testing support" in Old Crow, Elliott said.
This could include using rapid molecular testing in a health centre or community setting, she said, and it could include social supports "depending on the community's needs."
Last Thursday, the Vuntut Gwitchin Government in Old Crow passed additional measures requiring all residents to self-isolate and stay inside their homes for 14 days.
The isolation period took effect last Friday. Each residence is allowed to form a social bubble with one other household, masks need to be worn in public spaces, and people are able to go on the land for traditional purposes as long as they follow the rules.
Non-essential travel to and from the community has been barred. There are four active cases there right now, and two recovered as of Tuesday, Elliott said, and none have been severe.
She said the majority of cases were introduced from outside the community or through close household contacts. She said the territory is not currently seeing community transmission in Old Crow.
"We're watching to see if there is spread in the community," Elliott said. "Old Crow community has really taken this bull by the horns and [is using] all the tools in their toolbox including supporting people at home with food and necessities."
Omicron 'will become the dominant variant'
There are no Omicron cases in the territory right now, Elliott said on Wednesday, as the first two confirmed known cases of the variant in the territory, announced a week ago, have recovered.
However, Elliott said that in time, Omicron "will become the dominant variant" in the Yukon.
"What we do now is about how much we can slow the time when Omicron is spreading in our community and how much we can abate or protect ourselves against any severe disease that Omicron could cause," she said.
Since Omicron is "so transmissible" she warned that when the variant is in Yukon, "it will infect a lot more people."
One thing I've seen time and again throughout this pandemic is people think they're going to get infected by somebody who's foreign or from away or from a different community or a different social group," Elliott said.
"The fact is we're most likely to infect those people we're close [to] … and that's really important to remember."
More gov't employees attest to being vaccinated
So far 17 more full-time territorial government employees have attested to having at least one shot of the COVID-19 vaccine since last week, Silver said.
It has now been two weeks since the vaccine requirements for employees have come into effect. Those who did not attest by midnight on Nov. 30 had to take leave without pay starting Dec. 1.
"Overall, it has been great to see how many people have attested to to having their first dose of their COVID-19 vaccination. As attestations continue to come in."
He said as of Tuesday, 94.5 per cent of employees have attested to having received their first dose. Those who have not yet attested include 90 full-time employees.
Correctional facility outbreak contained
It was also announced last week that as of Dec. 8, people in Whitehorse aged 18 and over can book appointments to get a COVID-19 booster shot, though appointments for first shots for the five to 11 age group is being prioritized for now.
On Monday, an outbreak was declared at the Whitehorse Correctional Centre, where there were three confirmed COVID-19 cases. Elliott said Wednesday that the cases there have since been contained.
As of Wednesday morning, there are 52 active COVID-19 cases across the territory, Elliott said. The seven-day average of active cases is 67.6, compared with 63.6 the week before, she added. Over the past week, there's been an average of eight new cases per day.
Related stories from around the North: 
Canada: Another Nunavik community moved to yellow COVID-19 alert level in northern Quebec, Eye on the Arctic
Finland: COVID-19 surge casts shadow over tourism in Finnish Lapland, Yle News
Greenland: New strategy activated to manage COVID-19 outbreak in Upernavik, Greenland, Eye on the Arctic
Iceland: Iceland extends COVID-19 measures for at least two weeks, Eye on the Arctic
Norway: Norway imposes partial pre-Christmas COVID lockdown, The Independent Barents Observer
Sweden: Sweden to introduce new Covid-19 measures on Dec. 8, Eye on the Arctic