Nunavik community of Kangiqsujuaq put on red alert amidst rising COVID-19 cases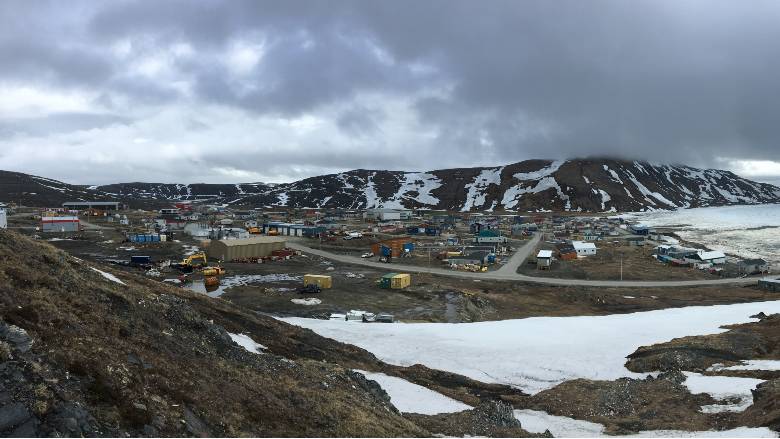 The community of Kangiqsujuaq in Nunavik, the Inuit region of northern Quebec, was put on red alert on Friday amidst rising COVID-19 cases and strong suspicion of community transmission, the Nunavik Regional Board of Health and Social Services said in a Facebook post.
Case counts as of Friday, the most recent data available, put active cases at 12, in the community of approximately 750 people.
Nunavik's COVID-19 alert system has five levels:
Green – low risk
Yellow – controlled risk
Orange – moderate risk
Orange (+) – moderate risk plus some additional public health measures including curfew
Red – high risk
Each level triggers a different series of health measures in order to control the circulation of COVID-19.
Kangiqsujuaq's move to red alert means a 10pm to 5am curfew is now in place, visiting between separate households is prohibited, and non-essential services including places like church and the gym have been shut down.
Essential services like the co-op store and health clinic remain open, but health authorities ask people to limit their trips as much as possible.
As of Friday, Nunavik was reporting 329 active COVID-19 cases.
COVID-19 cases in Nunavik
The most recent active case counts in Nunavik as of January 14:
Puvirnituq: 111

Kangigsualujjuaq: 84

Kuujjuaq: 45

Salluit: 24

Tasiujaq: 24

Ivujivik: 15

Kangiqsujuaq: 12

Aupaluk: 3

Inukjuak: 3

Kangirsuk: 3

Quaqtaq: 3

Kuujjuaraapik: 2

Akulivik: no active cases

Umiujaq: no active case 
Source: Nunavik Regional Board of Health and Social Services
Of the region's 14 communities, seven are on red alert: Puvirnituq, Ivujivik, Salluit, Kangiqsujuaq, Tasiujaq, Kuujjuaq and Kangiqsualujjuaq.
Seven communities are currently at the orange plus level: Umiujaq, Inukjuak, Akulivik, Quaqtaq, Kangirsuk and Aupaluk.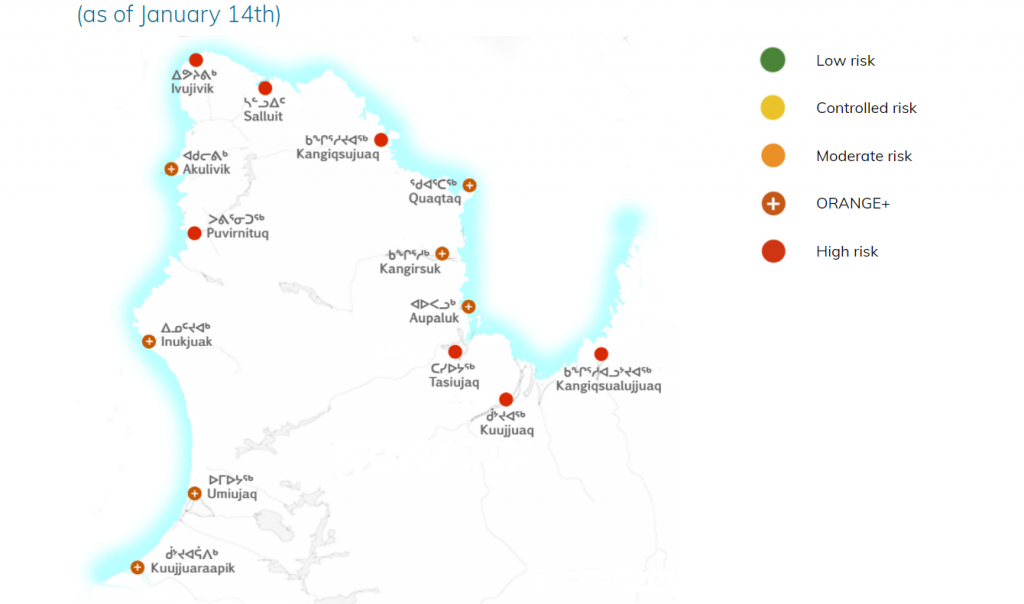 There's been 1,407 recoveries since the current outbreak in Nunavik started at the beginning of October 2021.
Write to Eilís Quinn at eilis.quinn@cbc.ca 
Related stories from around the North: 
Canada: Layoffs of 12 unvaccinated employees at Canadian North had 'minimal' impact on operations, says airline, CBC News
Greenland: Greenland gov grants mayor's request for alcohol ban amidst rising COVID-19 cases, Eye on the Arctic
Sweden: Swedish government announces new restrictions following sharp rise in COVID-19 cases, Radio Sweden