Greenland, Denmark initiate investigation into past relations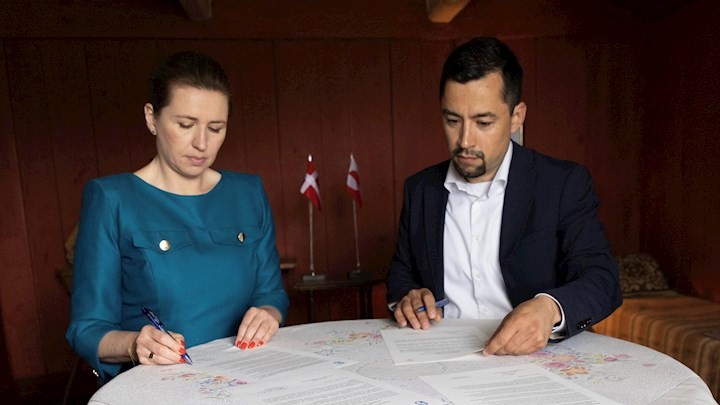 An investigation into the historical relations between Denmark and Greenland was announced on Thursday, to shed light once and for all the impact of colonialism on the Inuit population. 
The initiative was instigated by the Government of Greenland.
"In recent years, we have witnessed one sad story after another that come at great personal cost to those affected," Múte Bourup Egede, Greenland's Prime Minister said in a statement.
"The entire Greenlandic population is behind the demand for a historical investigation."
The investigation period will run from WWII to the present day and will focus on on "…the political decisions, events and other factors that contributed to the development of Greenland and the Greenlandic population as well as the relationship between the two countries," the Greenlandic government said in a news release.
Terms of reference expected later this year
The historical report will be done by independent researchers.
Greenland's Ministry of Education, Culture, Sports and Church Affairs and the Ministry of Education and Research in Denmark will prepare the terms of reference together and present them in October. 
In recent years, increasing light has been shed on past Danish programs imposed on the Greenlandic population.
In 2020, Danish Prime Minister Mette Frederiksen made an official apology to Greenlanders  who were part of a social experiment in the 1950s.
The initiative started by taking orphans to Denmark so they could learn Danish culture and language, but the program was expanded to where orphans became the minority in the initiative. 
Some of the children lost their ability to speak Greenlandic in their foster families, after which authorities recommended that the foster families adopt the children.
Those involved in the plan worked with Greenlandic authorities to gain consent from parents and guardians, although the report said it is not clear whether the implications of the adoptions were fully understood.
Although no children in the program were mistreated in their foster families, those who were placed in it said they returned to Greenland unable to speak the language of their relatives and experienced loneliness, rejection and alienation.
IUD program most recent scandal 
The announcement of the historical investigation on Thursday, comes in the wake of revelations about an IUD program in place from the 1960s to 1991 that saw Danish health authorities insert the contraceptive device in Greenlandic women and teenagers, some as young as 13, and often without their, or their parents, permission.
The program made headlines after details were revealed in a Danish podcast series in May.
In their statement on Thursday, the Greenlandic parliament said they'd requested a separate report into the IUD program from the Danish government.
The IUD program took place after after Greenland ceased to be a Danish colony in 1953. The Greenlandic Parliament said an investigation needs to take place to establish whether Denmark complied with its UN obligations after decolonization took place.
"We have to tell our story," Bourup Egede said. "We need to uncover the background for the various decisions made over the years."
Write to Eilís Quinn at eilis.quinn(at)cbc.ca
Related stories from around the North:
Canada: "We still have a lot of healing to do with our fellow Canadians" – National Day for Truth and Reconciliation observed September 30, Eye on the Arctic
Finland: Sami Parliament in Finland agrees more time needed for Truth and Reconciliation Commission preparation, Eye on the Arctic
Greenland: Danish PM apologizes to Greenlanders taken to Denmark as children in 1950s, Eye on the Arctic
Norway: Can cross-border cooperation help decolonize Sami-language education, Eye on the Arctic
Sweden: Sami in Sweden start work on structure of Truth and Reconciliation Commission, Eye on the Arctic
United States: Alaska reckons with missing data on murdered Indigenous women, Alaska Public Media