Faroe Islands issues provisional dolphin catch limit for 2022, 2023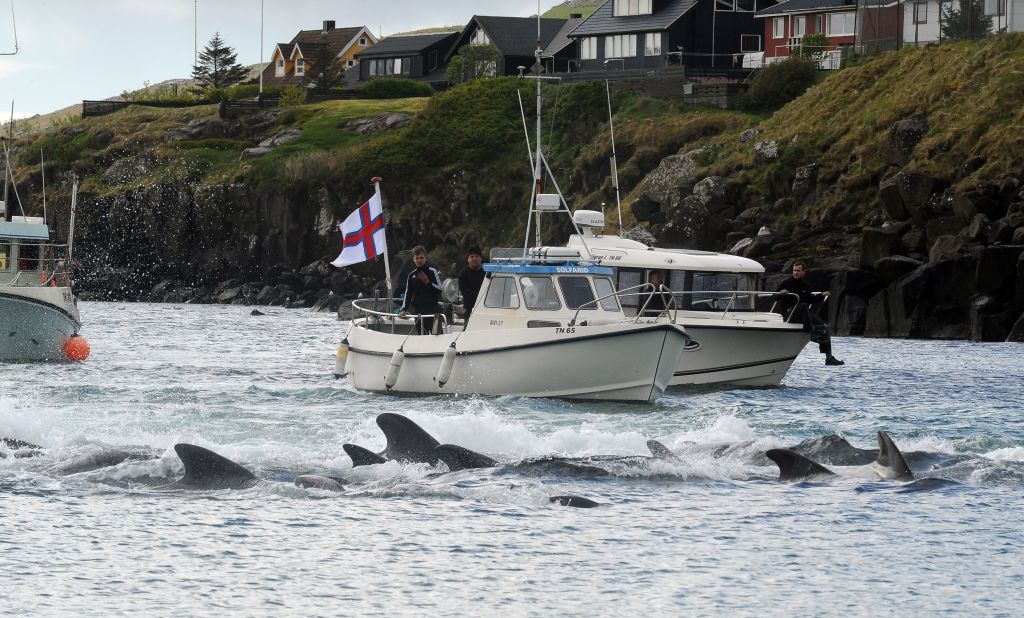 The Government of the Faroe Islands has issued a provisional dolphin catch limit for 2022 and 2023.
The quota will be put at 500 white-sided dolphins, the government said in a statement on Sunday. 
The move comes after the government was heavily criticized in 2021 for the amount of animals caught and the way they were harvested that season.
Some 1,423 white-sided dolphins were caught at that time and made headlines around the world, with animals rights groups saying rules weren't followed, many animals suffered, and that more meat was harvested than could be consumed. 
"It has been acknowledged that aspects of that catch were not satisfactory, in particular the unusually large number of dolphins killed," the government said.
"This made procedures difficult to manage and is unlikely to be a sustainable level of catch on a long-term annual basis."
Opposition to hunt 
The harvesting of whales and dolphins is a part of Faroese culture going back centuries.
To harvest the animals, the hunters use their boats to drive the animals into shallow water a which point they are pulled aground and killed.
"Catches of small whales are an important supplement to the livelihoods of Faroe Islanders, who have for centuries relied on the sustainable use of marine resources for their economy and local food security," the government said.
"The meat and blubber from each whale drive provide valuable food with a low carbon footprint, which is distributed for free in the different communities where the catches take place."
But the Islanders and hunt face strong opposition each year from animal rights organizations saying the harvest is inhumane and can't be justified given that the Faroese no longer rely on sea mammals as a primary source of food.
Testing better hunting methods
The Government of the Faroe Islands, an autonomous region within the Kingdom of Denmark, says the latest science suggests there's approximately 80,000 white-sided dolphins in the waters around the Islands, and catching up to 825 a year would be "well within sustainable limits."
An average of 260 of the animals have been caught annually, since 2000, it says.
The government said it would also continue to look into improving hunting methods that would kill the animals more quickly.
A prototype of a dolphin-specific spinal lance has been developed and is currently being tested, as the spinal lance currently used for the much larger pilot whales and has been shown to be "ill-suited" for the much smaller white-sided dolphins, the government said.
The provisional catch limits are expected to implemented on July 25.
Write to Eilís Quinn at eilis.quinn(at)cbc.ca
Related stories from around the North: 
Canada: Illegal hunting of caribou herds along Northwest Territories winter roads running rampant, CBC
Finland: Finland slashes bear hunting quota by one third, 20 fewer permits in North, Yle News