Canada's inaction on Arctic surveillance could affect future sovereignty: report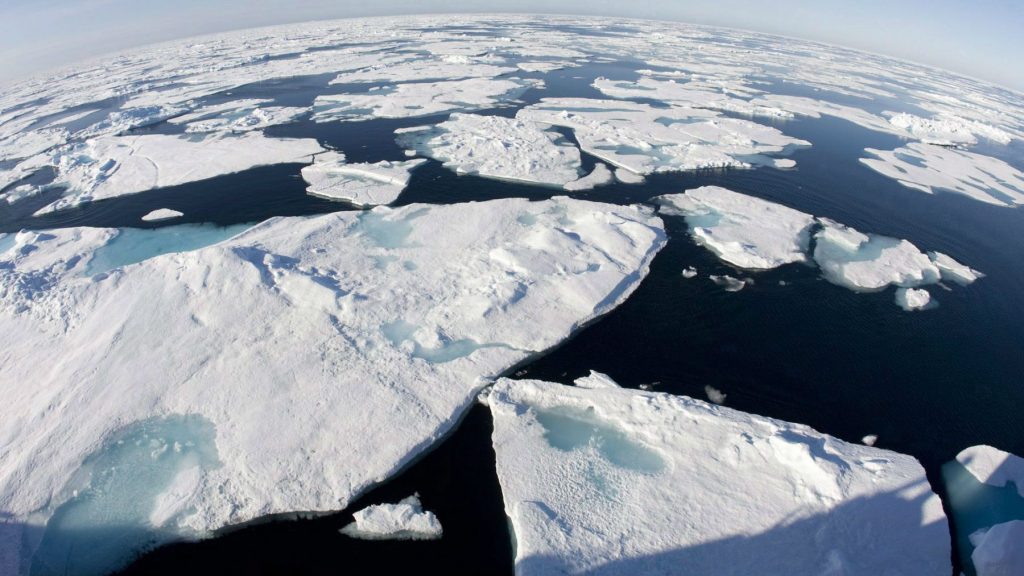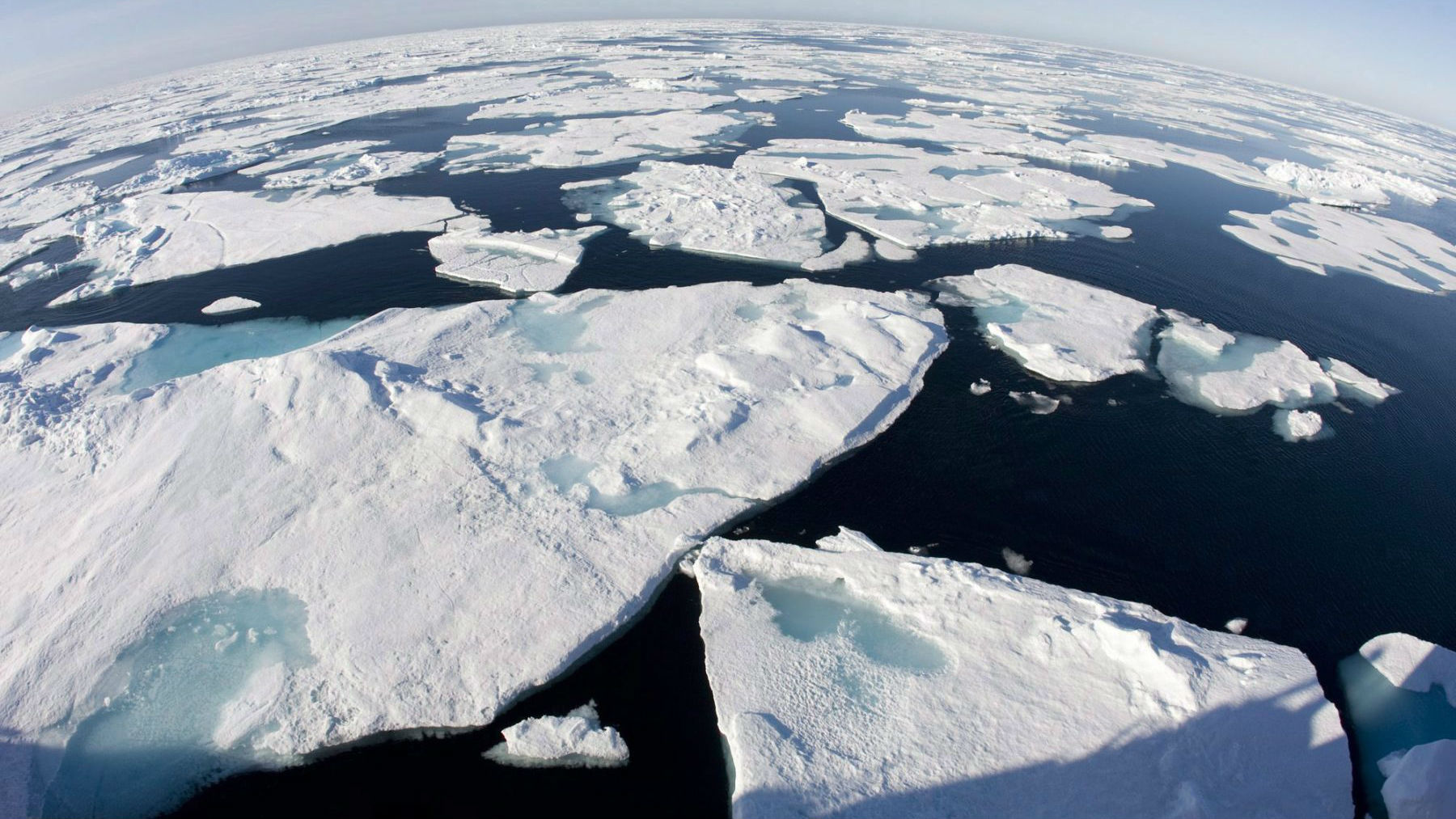 In an era of climate change and increased geopolitical competition, Canada is becoming increasingly ill-equipped to respond to intensifying surveillance challenges in the Arctic, something that could have long-term effects on sovereignty if allowed to continue, said a report released Tuesday by the country's Auditor General.
"Overall, the federal government has not taken the required action to address long-standing gaps affecting its surveillance of Canada's Arctic waters," the Arctic Waters Surveillance report said.
"As a result, the federal organizations that are responsible for safety and security in the Arctic region do not have a full awareness of maritime activities in Arctic waters and are not ready to respond to increased surveillance requirements. These requirements are growing as a warming climate makes our Arctic waters increasingly accessible to vessels and as interest and competition for this region grows."
The 33-page report flags a sobering litany of areas where Canada is falling short: outdated surveillance equipment; insufficient maritime traffic data, ongoing procurement problems, and no contingency plans for navigating a path forward.
"Increasing interest in the Arctic includes renewed interest in the region for strategic and military purposes, and Canada's decisions about surveillance of Arctic waters today may have long-term effects on our sovereignty," the document said.
The report also points out that the renewal of the country's aircraft, vessels, satellites and infrastructure needed to respond to safety and security incidents in the North is so out of date that they may need to the be taken out of service even before they're able to be replaced.
Aging icebreakers, little wiggle room
Among, many examples in the report is Canada's decision to build two heavy icebreakers, the first of which is due to enter service in 2030.
The plan for one new polar icebreaker, which could operate for longer periods further North then is possible with existing vessels, was first announced by the then Conservative government in 2008 to replace the aging Louis S. St. Laurent vessel but has been beset by numerous delays. 
The current Liberal government then announced in May 2021 that a second polar vessel would added, projected to come into service 2030-2031.
"The first new icebreaker is expected to be delivered in 2030, and after life extensions, the current icebreakers are expected to start reaching the ends of their service lives by 2029, leaving little room for further delay if a gap in ice breaking capacity is to be avoided," the report said.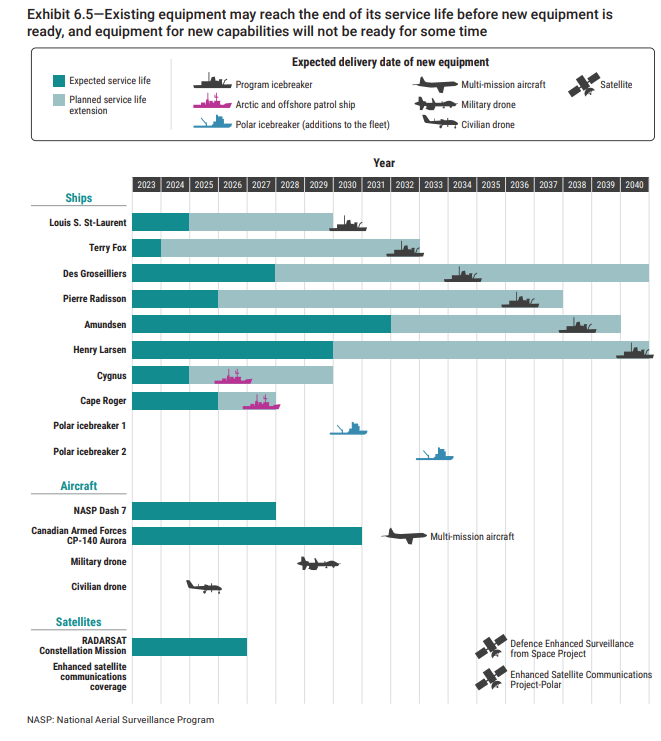 Activity increasing as country faces waning domaine awareness
Climate change has increased shipping traffic in Arctic Canada as waters become more navigable.
The auditor general's report says Canada's aging fleet of vessels that can operate in the North is an increasing concern because federal organizations rely on vessels and aircraft for information they're unable to get through satellites.
The RADARSAT-2 and RADARSAT Constellation Mission satellites are current used for maritime surveillance by the federal government. The satellites relay data to ground stations in the intervals when they pass over the Arctic. However the satellites are unable to respond to the needs of federal government agencies, the report said.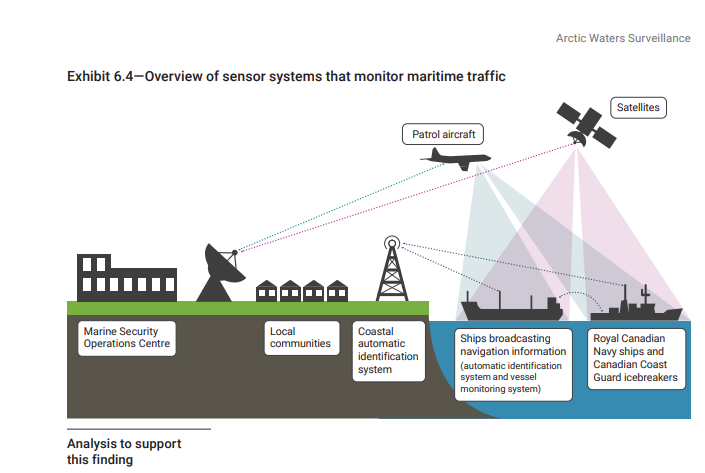 "The RADARSAT Constellation Mission satellites, already used at full capacity, cannot accommodate all the demands of federal organizations for radar imagery of Canada's territory," the report said. "Every time a priority request is made, the imagery acquisition plan must be reviewed to determine which other needs will be delayed or not met."
In addition, the Constellation Mission satellites, launched in 2019, were only designed to last seven years.
The RADARSAT-2 was designed to operate until 2015, but is still in operation.
Interruption of satellite services past 2026 'significant risk'
The Canadian Space Agency will launch a successor to the RADARSAT Constellation Mission, but the government has said that will take around a decade, the report said.
"An interruption of satellite earth-observation services past 2026 is therefore a significant risk," the report said.
"Budget 2021 allocated $9.9 million over 2 years to the agency to plan the next generation of earth-observation satellites. At the time of our audit, the agency was developing options to replace the constellation's capabilities and to fill gaps in earth-observation services that could emerge after 2026."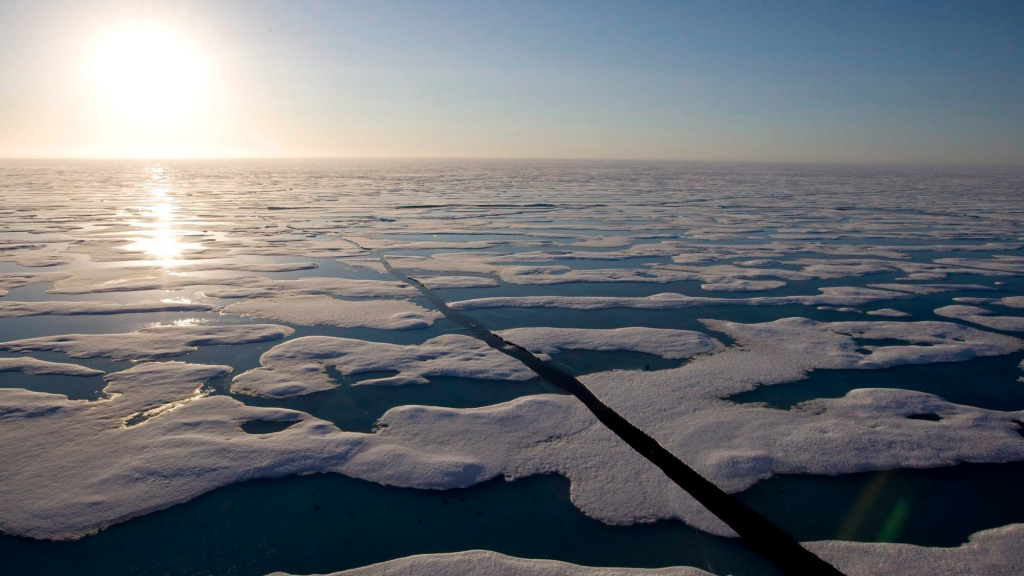 The federal departments covered by the audit were Transport Canada, Fisheries and Oceans Canada and the Canadian Coast Guard, National Defence and the Canadian Armed Forces, Environment and Climate Change Canada, Public Services and Procurement Canada.
The audit covers the period of April 1, 2021 to March 31, 2022 and focused on domestic surveillance only.
Write to Eilís at eilis.quinn@cbc.ca 
Related stories from around the North: 
Canada: NORAD's role vital for North America and for NATO, says Stoltenberg, CBC News
Faroe Islands: Denmark, Faroe Islands agree to establish air surveillance radar to bolster gaps in Arctic surveillance, Eye on the Arctic
Finland: Norwegian military vehicles take new transit corridor via Finnish Lapland, The Independent Barents Observer
Iceland: Arctic security discussed at Reykjavik Northern Group meeting, Eye on the Arctic
Norway: Defence minister says Norway must get stronger in the North, The Independent Barents Observer
Russia: Assertive Moscow outlines push into central Arctic Ocean, The Independent Barents Observer
United States: U.S. Army poised to revamp Alaska forces to prep for Arctic fight, The Associated Press