NORAD's role vital for North America and for NATO, says Stoltenberg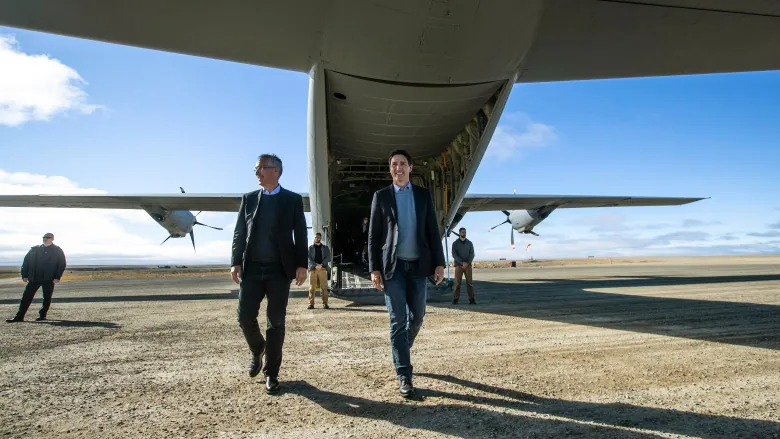 NATO's secretary general got an up-close look at Canada's northern defences — and culture — on Thursday during a visit to the Arctic, a region of escalating geopolitical competition.
Accompanied by Prime Minister Justin Trudeau, Jens Stoltenberg had a first-hand look at a North Warning System radar station in Cambridge Bay, Nunavut — part of a system due to be modernized as part of a multibillion-dollar refurbishment of NORAD, the North American air defence system.
Stoltenberg was given a full security briefing by Canada's top military commander, Gen. Wayne Eyre.
He also watched Canadian soldiers — and possibly some troops from a few other allied nations — take part in Canada's annual northern military exercise, known as Operation Nanook.
They toured the Canadian High Arctic Research Station and were greeted by local elder Eva Kakolak, who welcomed the delegation — including Defence Minister Anita Anand and Foreign Affairs Minister Mélanie Joly — with the traditional lighting of the Qulliq, an Inuit oil lamp.
The ceremony was a reminder for NATO's top political leader that the people who inhabit Canada's North have lives and deep roots that extend beyond the international tensions that brought him there — a point that Trudeau underlined.
"We can never forget that sovereignty doesn't come through soldiers or scientists. Sovereignty comes through the people who've lived here for millennia," he said.
Stoltenberg acknowledged the social importance in his own brief remarks.
"When I see what you do here — both when it comes to defence security, but also when it comes to research, understanding what the developments are … the social, economic and the security aspects of the High North — then I realize how important Canada is when it comes to Arctic," the secretary general said.
Concerns over a resurgent Russia
Even still, it is the fear of a resurgent Russia that brought the head of NATO to Cambridge Bay.
In an opinion piece published recently in the Globe and Mail, Stoltenberg noted the increasing importance of Canada's Far North as the West's relationship with Moscow deteriorates over the war in Ukraine.
"The shortest path to North America for Russian missiles or bombers would be over the North Pole," the secretary general wrote. "This makes NORAD's role vital for North America and for NATO."
The visit is significant because the Liberal government is facing increased pressure from allies to take more ownership of the defence of its northern approaches.
"I suspect that Stoltenberg is spending time probably prodding and encouraging Canada to actually step up its game when it comes to Arctic security," said Rob Huebert, a defence expert on Canada's Far North at the University of Calgary.
The fact that the secretary general visited a NORAD radar station caught his attention, given last June's announcement about refurbishing the defence network.
"Stoltenberg is having a look at what we are promising to do," Huebert said.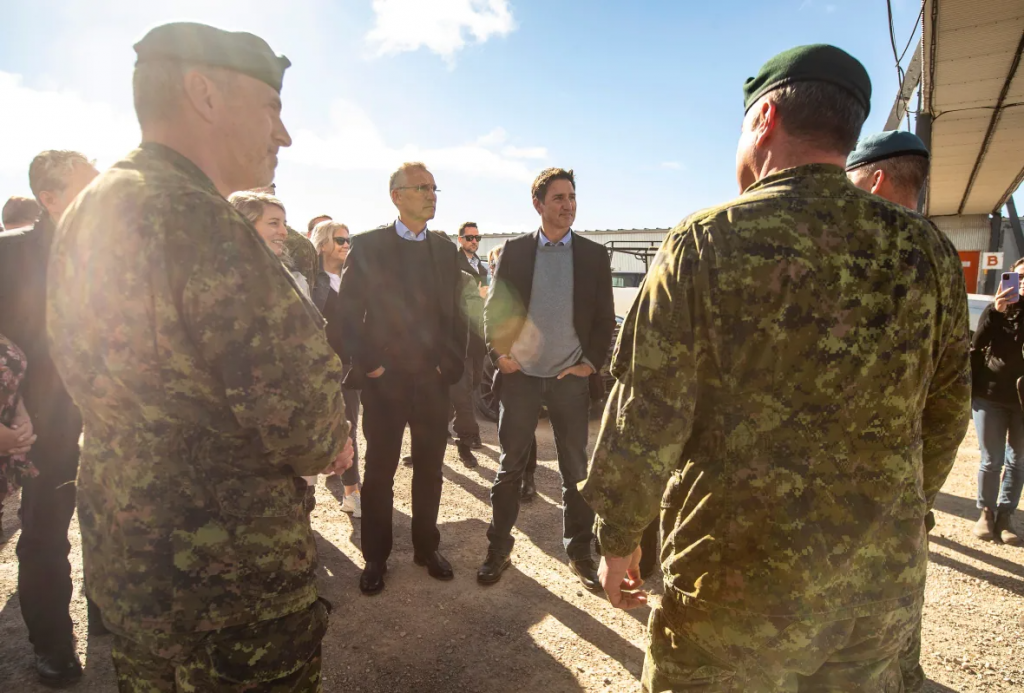 In June, just before the last NATO summit, Anand committed Canada to spending $4.9 billion over the next several years on updating NORAD, a joint military command with the United States.
The Liberal government also committed to an overall investment in continental and northern defence that it says will exceed $40 billion over the next two decades.
Ottawa has yet to fully explain how the money will be spent, other than to say about $15 billion will go to infrastructure upgrades.
Related stories from around the North: 
Canada: Prime Minister, NATO secretary general to spotlight Arctic defence on Nunavut visit, CBC News
Finland: Norwegian military vehicles take new transit corridor via Finnish Lapland, The Independent Barents Observer
Norway: Defence minister says Norway must get stronger in the North, The Independent Barents Observer
Finland: Defence ministers of Norway, Finland, Sweden to talk security at Thursday meeting, Eye on the Arctic
Russia: Assertive Moscow outlines push into central Arctic Ocean, The Independent Barents Observer
United States: U.S. Army poised to revamp Alaska forces to prep for Arctic fight, The Associated Press