Defence minister says Norway must get stronger in the North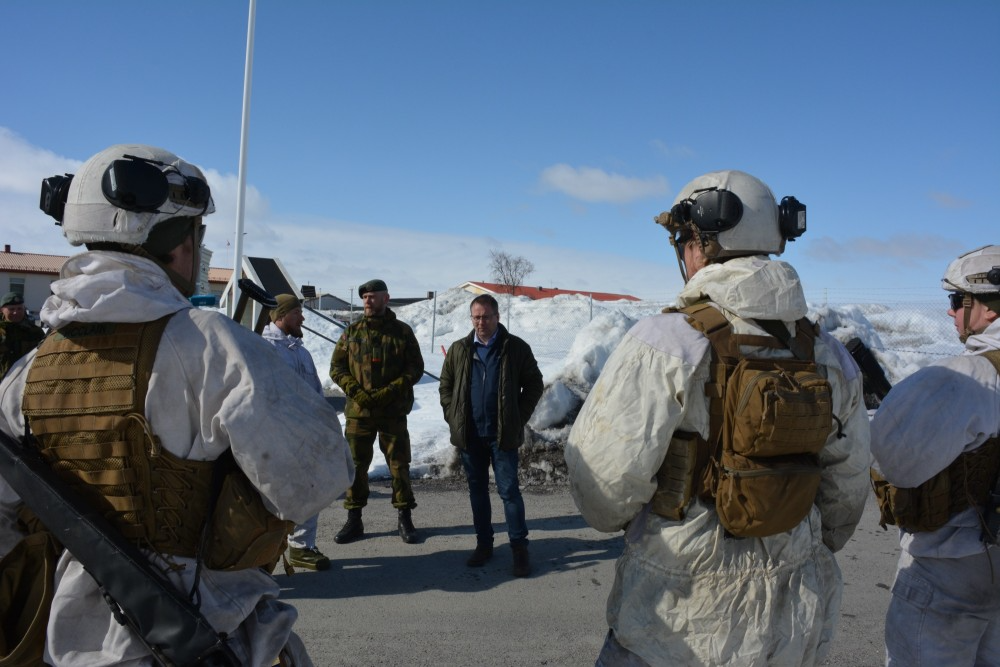 This week, after his meeting at the U.S base in Germany, new Norwegian Minister of Defence Bjørn Arild Gram travelled to Kirkenes, the town on Norway's border to Russia.
It appeared as a carefully planned move, but judging from the Norwegian Defence Ministry the trip to Kirkenes had been scheduled completely separately from the visit to Ramstein.
Gram was appointed Defence Minister on the 14th of April and now plans to pay visits to key military units.
"I believe Kirkenes is a natural place to start," the minister told the Barents Observer.
Bjørn Arild Gram takes over the reigns in the defence ministry at a time of a historical watershed. There is a big war in Europe, and the aggressor is located only few kilometres from where the new minister today met with journalists.
"There is no doubt that Norway is heavily affected by Russia's war against Ukraine," Gram underlined.
'Security situation in Europe considerably changed'
Norway shares a 198 km long border with Russia, and several of the latter's key strategic naval bases are located less than 100 km from Kirkenes. The Russian Northern Fleet is heavily engaged in the war against Ukraine and is reported to have suffered heavy losses. The Russian side recently made clear that the forces in the Kola Peninsula will get a boost in combat capability.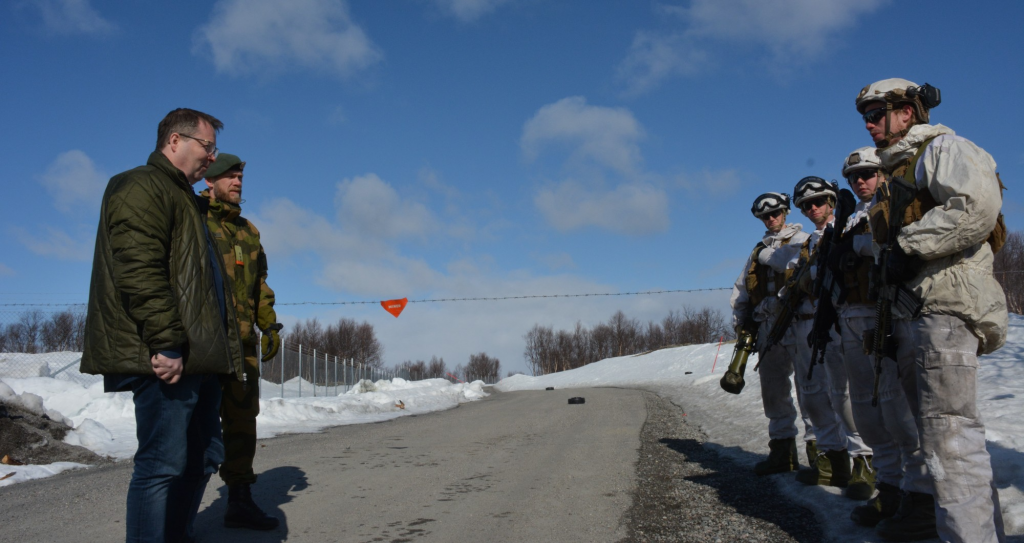 According to Defence Minister Gram, Norway must get stronger in the region.
"The whole security situation in Europe is considerably changed and an important response from our side is to strengthen activities and presence in the north," he underlined. "Here, we are talking protection of sovereignty, surveillance and presence," he added.
During his visit, Gram was shown around at the garrison that houses about 800 soldiers, among them border guards and members of a newly established Ranger Company.
Further military support not excluded 
The Sør-Varanger Garrison (GSV) is part of the Finnmark Land Defence. By year 2025 the Ranger Company is to be fully operational with about 200 soldiers armed with light anti-aircraft and anti-armor weapons.
"We are in the process of getting stronger and that must continue," Minister Gram said about the new northern units.
He also underlined that Norway is doing much to support Ukraine with aid and military support. During his visit in Ramstein this week, he stressed that "it is important that we stand united in the support of Ukraine in its fight against invading forces from Russia."
Norway has already donated 4,000 M72 light anti-armour weapons, as well as about 100 Mistral air defense missiles, to Ukraine.
The Norwegian defence minister does not exclude that Norway will donate even more weapons.
Related stories from around the North: 
Canada: Arctic Security: Will Canada's federal budget deliver for NORAD?, Eye on the Arctic
Finland: NATO chief: Decision on Finland's membership can be quick, Yle News
Norway: Ukrainian president warns Norway against Russian Arctic militarization, The Independent Barents Observer
Russia: New sanctions deal fatal blow to Russia's Arctic LNG, The Independent Barents Observer
Sweden: Sweden takes part in Arctic military manoeuvres with NATO countries, Radio Sweden
United States: Arctic nations say they're ramping up military spending as they meet with U.S. Senators, Alaska Public Media