'Uninspiring & flat': Yukon's opposition weighs in on non-race for Liberal leadership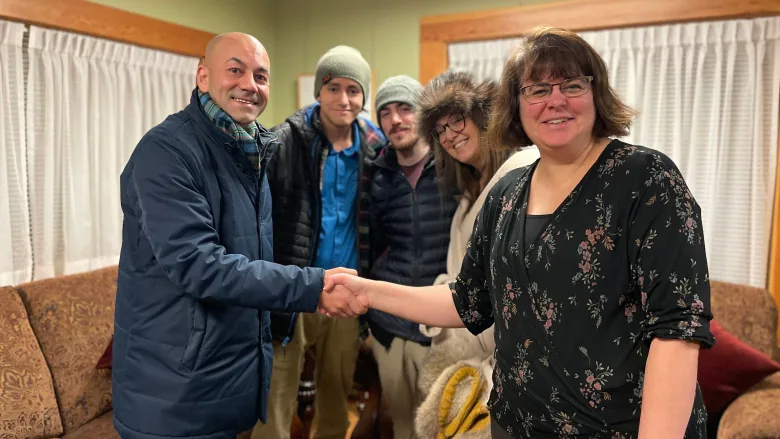 Ranj Pillai to be sworn in as premier this weekend after running unopposed for party leadership
Yukon's official opposition says the anointing of the territory's next premier suggests the governing Liberals have run out of steam.
"It does seem like an uninspiring and flat Liberal leadership election process," said Yukon Party MLA Brad Cathers on Monday, the day after MLA Ranj Pillai was acclaimed as the territory's next Liberal leader and therefore premier. Pillai will be sworn in as Yukon's tenth premier this weekend.
Premier Sandy Silver announced last fall that he would step down as Liberal leader and premier. Pillai was the only person to enter the race to succeed him.
Cathers — who lost his own bid to lead the Yukon Party three years ago — says the non-race for the Liberal leadership reveals "pessimism" within that party amid flagging support. And he criticized Pillai for not actively campaigning.
"[That] we failed to see even a single policy announcement during that entire time, seems very reflective of a tired old government that has no vision for the territory, or for improving the lives of Yukoners," Cathers said.
NDP Leader Kate White, meantime, was more circumspect. Four years ago, she was similarly unopposed when she bid for the leadership of her party.
Still, White suggested that she took a different approach than Pillai at that time.
"I will tell you I ran a race, I had lots of public events, there was lots of outreach. So people, I think, do things in a different way," she said.
White's party has effectively helped Silver's government survive since the 2021 general election. That's when the Liberals were reduced from a majority government to a minority, and subsequently struck a deal with the NDP to hang onto power.
That deal is set to expire this month, and White won't say what might happen next beyond suggesting "a willingness to work together."
The Yukon Party, meanwhile, is agitating for an election.
'Confidence in Ranj,' party spokesperson says
Pillai himself hasn't agreed to an interview since being named next Liberal leader. In a written statement, he said he was "honoured and humbled."
Party spokesperson Paolo Gallina said the leadership convention that was scheduled for Jan. 28 will now be more of a policy convention for party members.
Gallina also said the lack of a leadership race is simply a "show of confidence in Ranj."
"I think there were a number of folks who were interested in the position. I know that the party had many conversations with potential candidates," Gallina said.
"I think that people see [Pillai] as a strong leader, I think people see him as very experienced and someone who is highly capable of governing the territory."
Prime Minister Justin Trudeau also issued a statement on Monday, congratulating Pillai and saying he was looking forward to working with the incoming premier "to continue to build healthy and resilient communities in the Yukon."
Congratulations to the new Premier of Yukon, @RanjPillai1. I'm looking forward to working together to advance our shared priorities, to make sure communities across the territory are healthy and resilient, and to build a better future for all Yukoners. https://t.co/BxOdLCGKVJ

— Justin Trudeau (@JustinTrudeau) January 9, 2023
"This includes making life more affordable, building an economy that works for everyone in the Yukon, moving forward on the shared path of reconciliation with Indigenous Peoples, taking ambitious action in the fight against climate change, expanding access to child care for Yukon families, and improving access to safe, affordable housing and quality health care," the statement reads.
Trudeau also thanked Silver for his years of public service and wished him "all the best in his future endeavours."
-With files from Julien Gignac and Sarah Xenos
Related stories from around the North:  s
United States: Alaska Republican governor sworn in for second term, The Associated Press