Northern premiers sign federal health deal offering half of what they wanted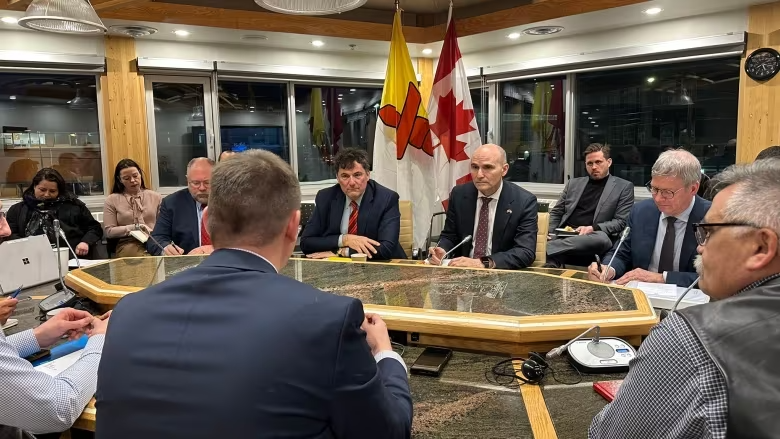 Territorial premiers have officially given their blessing for a federal health-care plan that will see a small boost to health funding for the North, but which falls short of what premiers had been asking for.
The plan in question, announced last week, is supposed to inject billions into provincial health-care systems. The amount coming North, however, is far less than what Northern premiers wanted to see, according to Nunavut Premier P.J. Akeeagok; and a disappointment, according to N.W.T. Health Minister Julie Green.
In a statement Thursday, Akeeagok called for a bigger federal investment in the Territorial Health Investment Fund, which helps pay for medical travel and also gives territories a bit of money to try out new health care initiatives.
He said the federal government's renewal of that fund, which puts aside $175 million for all three territories over five years (at $35 million a year), comes in at less than half of what premiers had requested.
"Together with the Northwest Territories and Yukon, our government has written to Prime Minister Trudeau, calling on the federal government to reconsider a proposal the territories presented in November," Akeeagok wrote.
That proposal would have set the fund at $75 million a year. Half that money would go to Nunavut, because of the unique challenges it faces with health care.
What the deal means
The numbers are still emerging on how much the deal will put in each territory's pockets, but Green said roughly $12 million in new funding should be coming to the N.W.T.
"We expressed our disappointment … [It] doesn't represent a very significant portion of our budget," said Green, whose department is worth about $600 million in the territorial budget currently before the Legislative Assembly.
"But we, as a territory, have decided to stay on board … and accept this deal."
Aside from the Territorial Health Investment Fund, the deal puts more money into the Canada Health Transfer for emergency services. Green said the N.W.T. would be getting an immediate $2-million top-up to that fund, though it isn't clear yet what the other territories will get.
That health transfer, which the N.W.T. got about $53 million from in 2022-23, will also increase by 10 per cent this year, and will keep increasing in the coming years.
Territories will also get money through so-called tailored bilateral agreements, which cover four priorities: family health services, health workers and backlogs, mental health and substance abuse, and modernizing health care systems.
Green said that bilateral funding — amounting to about $7 million for the N.W.T. — would help the N.W.T. expand the family medicine residency program, which currently only takes in two students per year.
"What we're trying to do, more than invent new things, is make sure what we've got is running well," she said.
As for the Yukon, Premier Ranj Pillai said the territory plans to sign an agreement with the federal government for the funding and then work out the details. The Yukon also expects to get just over $7 million in bilateral funding, and Pillai said the federal priorities for that funding match the Yukon's own priorities.
"We're happy with what we're seeing," Pillai said.
Related stories from around the North: 
Canada: N.W.T., Nunavut premiers say they need time to digest federal offer on health care funding, CBC News
Greenland: Greenland to reduce services amidst staffing shortages in health care system, Eye on the Arctic