Historic Hans Island agreement with Canada moves from Copenhagen to Greenland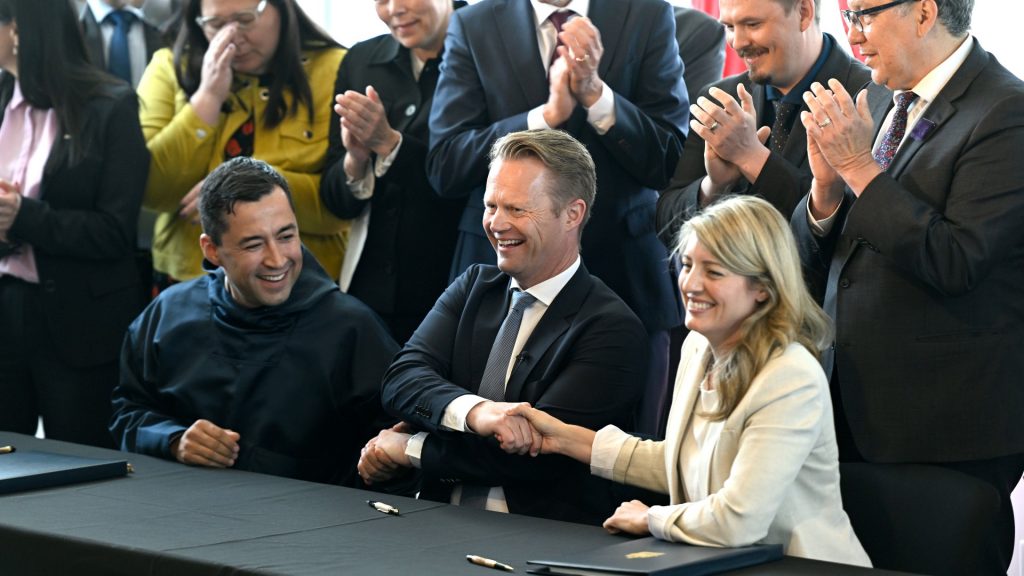 The physical copy of the Hans Island border agreement signed by Canada, Denmark and Greenland in 2022, has been moved from Copenhagen to Greenland. 
"It is great that we have now received the border demarcation agreement from the Danish Minister for Foreign Affairs," Vivian Motzfeldt, Greenland's minister of foreign affairs, business and trade, said in a news release this week. 
"The agreement is a historic moment for Canada, and Greenland in particular. Therefore, it is also fitting that it is at home in Greenland."
Canada and Denmark reached an agreement on their longstanding Hans Island dispute in 2022. 
On June 14, the foreign ministers of Canada and Denmark, along with Greenland's Prime Minister, signed an agreement to divide the rocky piece of land between the two countries.
The 1.2 km² island island, referred to as Tartupaluk in the Inuit language, is located between Greenland and Canada in Kennedy Channel in the Nares Strait. 
50-year old dispute
The Hans Island dispute goes back to the 1970s when the issue of what to do with the small rock island came up as Ottawa and Copenhagen were establishing the maritime boundary between Canada and Greenland, which is part of the Kingdom of Denmark.
The island sits on the demarcation line.
There are no people or vegetation on the island, but it became the site of national posturing in the ensuing years with both Canada and Denmark officials making occasional visits, sometimes with navy vessels.
Related stories from across the North: 
Canada: Ocean protection needs Inuit involvement, marine congress hears, Eye on the Arctic
Finland: Russian shoppers take Norway's Schengen shortcut to Arctic Finland, Yle News
United States: A year after Russia invaded Ukraine, a walrus discovery is caught up in geopolitics, Alaska Public Media