NATO will make us stronger, says Nordic defense chiefs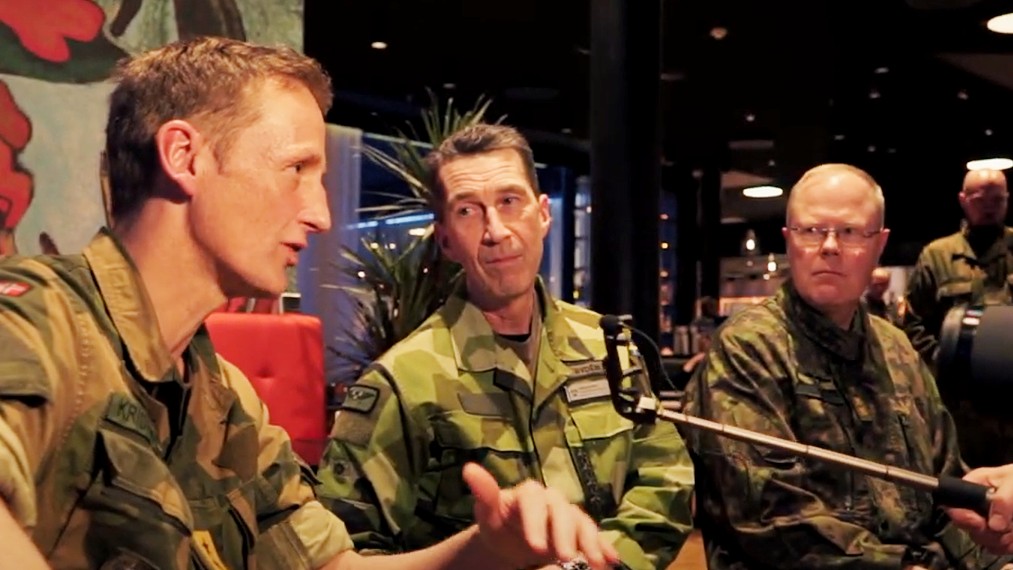 "I am not worried at all about the security of Scandinavia because we have a strong defense," Finland's Chief of Defence Command, Lieutenant General Vesa Virtanen, underlined as he sat down in a debate during this week's Kirkenes Conference.
"Our principle has always been that if you are a hedgehog, you will not be attacked because it hurts so much," he explained and assured that Finland's defense capacity is is in a good shape.
The defense leader of the Nordic country with a 1344 km long border with Russia had come to the Norwegian border town together with his Norwegian and Swedish colleagues.
None of the three men expressed fear for the nearby neighbor that is waging a war of aggression not seen in Europe since Second World War.
"I am concerned," Swedish defence chief Micael Byden admitted to the Barents Observer. But quickly added that the Nordic defense cooperation is now making the region much stronger. "If you are not welcome to come here your should think both once and twice before because we have capabilities and we are ready to take on the challenge with an aggressor," he underlined.
Russia's war in Ukraine is strongly affecting the Russian defense capacity in the Kola Peninsula. According to a recent Norwegian intelligence report, the Russian land forces in the region is reduced to one-fifth of its pre-war capacity. More than 1,500 troops are believed to have been killed.
"When it comes to this region, what we are seing on the Russian side is that their land forces are very much occupied in Ukraine. They have lost significant numbers  both in personnel and equipment," Norway's Chief of Defense Eirik Kristoffersen said.
Russia's invasion of Ukraine has radically changed the security situation in the Nordic region. Only few months after the start of the attack, Sweden and Finland applied for membership in the alliance, an unthinkable development in the pre-war period.
Micael Byden admits that a great shift is taking place in his country. "We are right now in a mental transition [and] we need to figure out what this is all about, to be a member and not only partner," he explained in the conference.
Swedish and Finnish NATO membership will significantly bolster security in the Nordic region, the three military leaders underline.
"The main purpose of the military is to avoid war, and the threshold for doing anything to Norway, Sweden and Finland will of course increase with Sweden and Finland being part of the alliance, Kristoffersen said and added that the three countries now are in the process of making an unprecedented integration of their armed forces.
"The Nordic region is to become the most integrated region in only few years," he underlined to the conference audience.
It is all about defending ourselves, he explained.
"President Putin and Russia knows that Sweden, Finland and Norway do not pose any threat to Russia, they know that perfectly well."
"Otherwise they would not have move all those troops to Ukraine as we have seen the last year," he adds.
Related stories from around the North: 
Canada: Canada's North spared from national military staff shortages, CBC News
Faroe Islands: Faroe Islands' Arctic strategy focuses on security, climate & cooperation, Eye on the Arctic
Finland: President Niinistö: Finland aims to join Nato with Sweden "as soon as possible", Yle News
Greenland: Greenland, Iceland sign cooperation agreement in Reykjavik, Eye on the Arctic
Iceland: Canada's GG among keynote speakers at Arctic Circle Assembly, Eye on the Arctic
Norway: Hybrid threat researcher detained in Tromsø on suspicion of being Russian agent, Thomson Reuters
Russia: Newly deployed nuke-bombers at Kola is certainly a signalling, expert says, The Independent Barents Observer
United States: China, Russia among global priorities, including in Arctic, in U.S. security strategy, Eye on the Arctic