Syllabic eye charts: Doctors' groundbreaking approach for Indigenous patients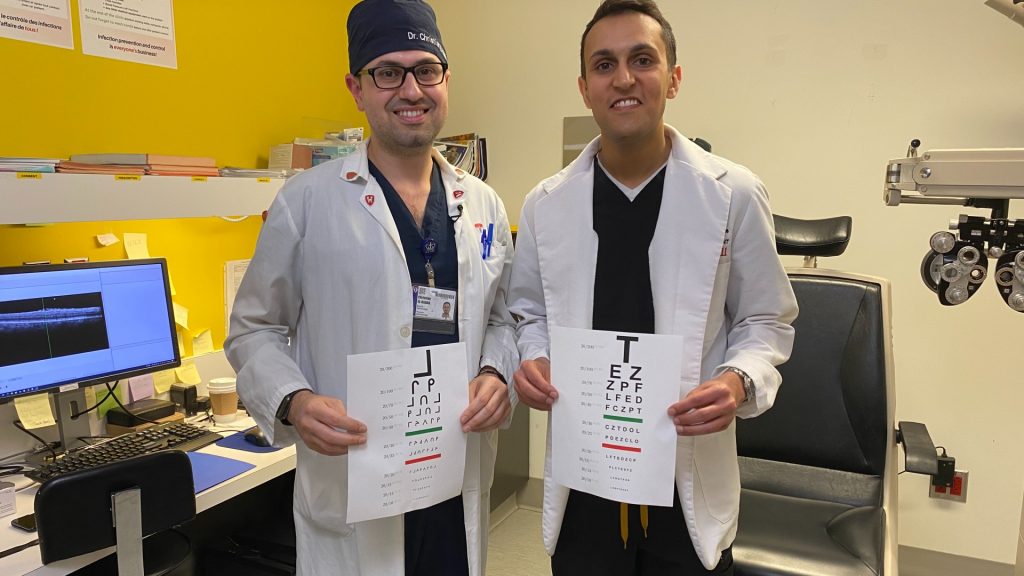 Inuit in northern Quebec are now able to take vision tests using the Inuktitut writing system, after two Montreal doctors developed eye exam charts in syllabics. 
Christian El-Hadad, a McGill University ophthalmologist, and colleague Shaan Bhambra, a recent graduate of McGill's medical school, developed the charts after they started traveling to Nunavik, the Inuit region in the Arctic part of the province, to see patients. 
The charts typically used, known as visual acuity charts, use Latin letters, and the doctors quickly recognized that because of this, some patients, especially those that mainly spoke Inuktitut or seniors, struggled. 
"Inuit speak good English in Nunavik, but many may not have been taught the individual letters," El-Hadad said in a phone interview. "We had respected elders, but they were being treated as illiterate when they were asked to use latin letters, because they are used to a different alphabet."
The two doctors agreed a more standardized approach was needed and got to work on creating the charts using syllabics. 
"We developed the charts and adapted the sizing of the letters to match the sizing parameters of the existing visual acuity chart in Latin," Bhambra told Eye on the Arctic in an email exchange.
"We then ran a study showing that the majority of patients who read both Inuktitut and Latin had equal or greater visual acuity in Inuktitut, indicating to us that our visual acuity chart was valid in measuring their visual acuities."
Chart can be used for other languages using syllabics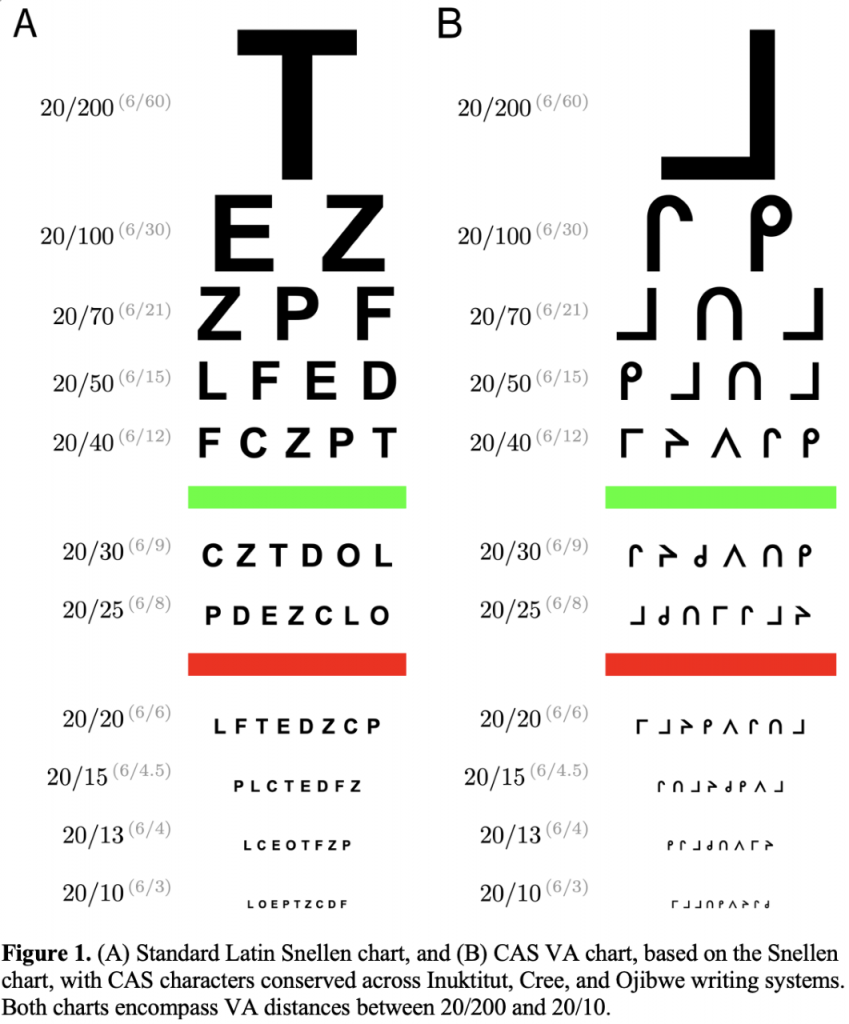 The doctors soon realized that the charts could also be used in other Indigenous communities in Canada, where syllabics are used to write the local languages. 
"Recognizing that multiple Indigenous languages use the Canadian Aboriginal Syllabics characters led us to specifically use characters that would be conserved across multiple languages," Bhambra said.
"We selected characters that would be useful across Inuktitut, Cree, and Ojibwe. As well, we wanted to ensure that healthcare practitioners using the charts who were not trained in the Aboriginal script could recognize the sounds stated by the patients."
To do that, they created a sound lexicon for each syllabic that examining doctors can refer to.   
El-Hadad said it's a small effort on a doctor's part to increase patient comfort.
"As a physician and as a surgeon, I'm not the vulnerable one in the room, the patient is," he said. "So whatever I can do to make them feel better, and whatever I can do to gain their trust and make them feel taken care of, I will do."
Charts now available in all Nunavik communities
The charts are now available in all 14 Nunavik communities and El-Hadad says he's had inquiries about the project from as far away as the Northwest Territories.
"It's free access, so as long as you have access to a printer and can respect the dimensions it should be good for anyone to use." 
Shamba said working on the project has been a highlight of his medical career so far.
"It's been incredibly rewarding to see the response of patients," he said. "Indigenous patients face several barriers in the healthcare system, and being able to provide more inclusive or patient-centred care for them has been incredibly meaningful.
"I hope that the visual acuity charts are used across the country in multiple Indigenous communities, and that we demonstrate that adapting approaches in healthcare to improve inclusivity for Indigenous patients can have a real impact."
Write to Eilís Quinn at eilis.quinn(at)cbc.ca
Related stories from around the North: 
Canada: Health services reduced in 6 Nunavut communities amid staff shortages, CBC News
Greenland: Greenland to reduce services amidst staffing shortages in health care system, Eye on the Arctic
Russia: German project to house everything published in Siberian and Arctic languages to seek new funding, Eye on the Arctic
Sweden: Social media strengthens Sami language, Radio Sweden