First Nation in Yukon petitions court to bar alleged drug dealer from community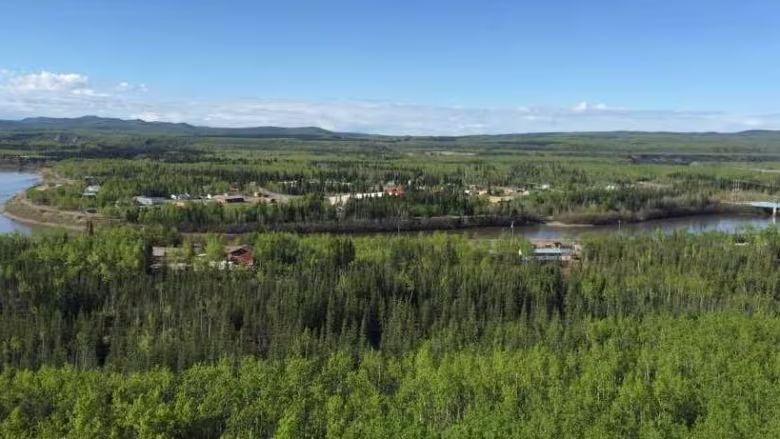 Selkirk First Nation passed resolution in February to keep alleged dealer out, but say he's returned
The Selkirk First Nation in the Yukon has gone to court in an effort to keep an alleged drug dealer out of the community.
A petition filed this month to the Yukon Supreme Court asks that the man, who is not a citizen of the First Nation, be declared a trespasser causing mischief on settlement lands. The First Nation is asking for an injunction to keep him from returning, and a court order allowing RCMP to arrest him and bring him to court if he does.
In its petition, the First Nation cites "numerous reliable information reports" made to local community safety officers this past fall and winter about the man's activities in Pelly Crossing, where the First Nation is based. It alleges the man has been trafficking drugs to local citizens, has engaged in theft, and been involved in a fight with a local citizen.
It says the man lives near Dawson City, but sometimes stays at a residence in Pelly Crossing.
Petition to be heard next month 
The petition describes how the Selkirk First Nation (SFN) attempted to deal with complaints about the alleged drug dealer by passing a local resolution in February to keep him out of Pelly Crossing.
Chief and council unanimously declared the man's behaviour a "threat to public order and the safety of SFN citizens in Pelly Crossing."
The man was then given a letter — hand-delivered by a community safety officer, accompanied by an RCMP officer — informing him that he had 48 hours to leave the community, and that he would be trespassing if he returned.
He returned just weeks later, according to affidavits from the chief and the lead community safety officer.
The man "continues to attend on and stay on settlement lands, without any right to do so," the petition reads.
The petition is set to be heard in court later this month.
Opioids, crack cocaine 'crisis,' says chief
In an affidavit filed with the petition, Chief Darin Isaac says drug and alcohol abuse has been a longstanding issue in his small community, but it's become a lot worse in the last couple of years. He blames non-citizens of the First Nation who come to Pelly Crossing to sell drugs, "primarily opioids and crack cocaine."
"The availability of these illegal drugs in our community has led to a significant number of our citizens abusing illegal drugs. This has created a crisis in our community," Isaac's affidavit reads.
Isaac — who lost a bid for re-election as chief this month, to Sharon Nelson — says the drug crisis has put a strain on the First Nation's resources and staff.
"It will take considerable effort on the part of SFN and our citizens to deal with the effects of health issues relating to the drug addictions, withdrawal and treatment for our citizens," the affidavit reads.
He describes how the First Nation has attempted to address the crisis through a number of measures, including entering an agreement with the Yukon government's Safer Communities and Neighbourhoods (SCAN) unit to deal with people using First Nations housing for bootlegging and selling drugs. He says the First Nation has issued warnings and evicted some tenants who were trafficking.
Isaac also describes how the community safety officer (CSO) program, established in Pelly Crossing in 2019, has been central to local efforts to monitor and tackle the drug crisis.
"Based on [lead CSO Darcy] Marcotte's reports, I understand that SFN citizens will speak with him and other SFN CSOs, however they are afraid of reprisals from the drug dealers and are not willing to talk with the RCMP or SCAN," Isaac's affidavit reads.
"Mr. Marcotte advised SFN council and I do believe that he only passes on reports of illegal activity when he believes the complainant is being truthful."
'We will not tolerate drug-related activity in our community and on our Settlement Lands'
A second affidavit, from Marcotte, explains how CSOs serve as a first point of contact for First Nation citizens who need help, and that includes reporting on drug dealing or bootlegging. Often, citizens are not comfortable making formal statements to RCMP, Marcotte states.
He also cites the fatal shootings in Mayo, Yukon, last month, saying Selkirk First Nation citizens "have been afraid, and less willing to make reports of drug dealing to the CSOs."
In a statement this week about the court action, the First Nation said it was "sending a clear message that we will not tolerate drug-related activity in our community and on our Settlement Lands."
"This is a Yukon wide crisis, and we will continue to work with the RCMP in our collaborative strategy to address this issue within our community," the statement reads.