Mysterious spiral of light spotted in North caused by SpaceX rocket, physicist says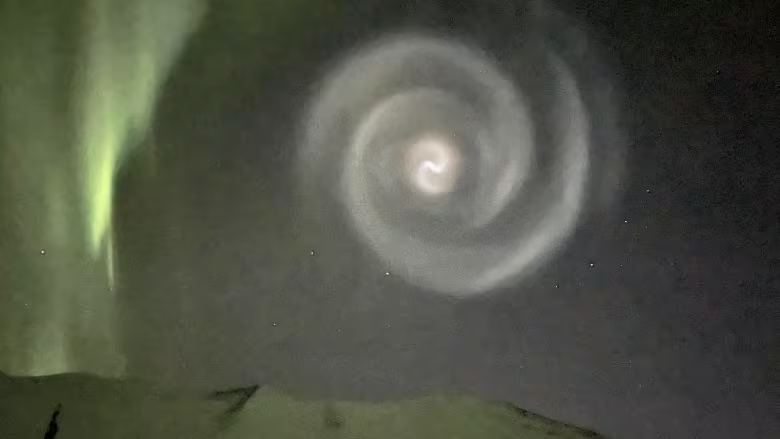 'He was like, 'You need to look at this, because I feel like I might be hallucinating."
A mysterious swirl of light seen in the night sky over parts of Alaska, Yukon, and the N.W.T. on the weekend was so odd and striking for those who saw it, it even managed to briefly upstage the aurora borealis.
But the spectacular phenomenon has a very earthbound explanation — it was apparently a cloud of unspent fuel from a SpaceX rocket.
"We had no idea what was going on — 'Oh my gosh, are we seeing a UFO? Or what's happening?'" recalled Talia MacDonald, who spotted it in the wee hours of Saturday morning on the remote Dempster Highway in northern Yukon.
"It was a bit spooky, because we were the only ones on the highway."
MacDonald and her partner were driving north toward Inuvik, N.W.T., at about 3 a.m. on Saturday when they saw it. They were near Eagle Plains, Yukon, at the time, and MacDonald had been suddenly woken by her partner, who was driving.
"He was like, 'You need to look at this, because I feel like I might be hallucinating,'" MacDonald said.
"Paul thought he was like, tripping out because he'd been driving for like seven hours straight at that point."
He wasn't hallucinating. MacDonald also saw the trippy sight — a bright blueish-white spiral of light that briefly seemed to get stronger and brighter before it vanished. MacDonald figures it was visible for maybe two minutes. That was long enough for them to stop their vehicle and snap some pictures.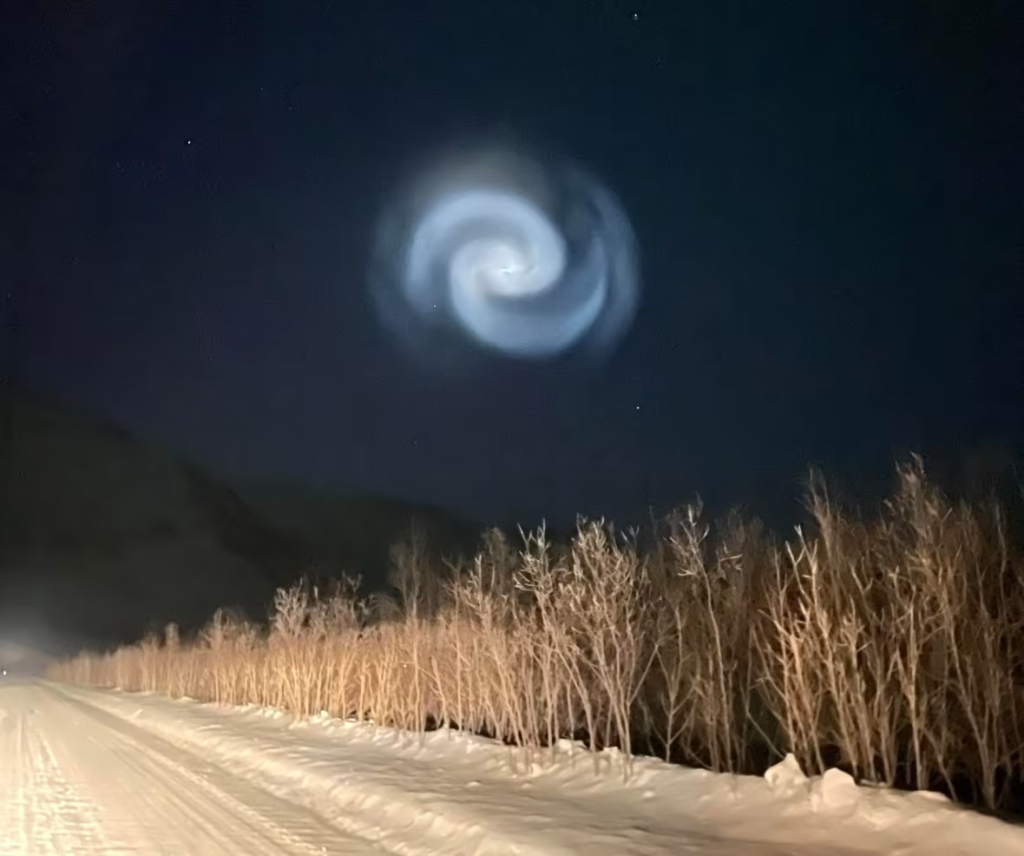 They wondered if it was somehow connected to the northern lights, which MacDonald says were going "pretty wild" at the time.
SpaceX rocket, says physicist
But according to Don Hampton, a physicist at the University of Alaska, it had nothing to do with the aurora borealis. He says that bright spectral swirl has a more earthbound origin — a SpaceX rocket.
SpaceX is a private company that designs, builds and launches rockets and their payloads into space. It was founded in 2002 by tech billionaire Elon Musk.
Hampton was asleep when the swirl was spotted over parts of Alaska, but he heard all about it the next day from Alaskan aurora watchers. He also saw images captured by the university's aurora camera at the Poker Flat Research Range.
"I have seen some of these before so I figured it must be a launch," Hampton said.
It didn't take him long to figure out that a SpaceX rocket had been launched from a base in California a few hours before, and would have been on its second orbit, over Alaska, at about the time people were seeing the spiral.
Hands-down gotta be one of the coolest sights — @SpaceX falcon9 and Aurora in the skies over our cabin in Fairbanks, Alaska this morning. pic.twitter.com/jhno8zK6TW

— Kris10 (@53chevygirl) April 15, 2023
"So once I saw that, I said, yeah that's probably what that was," Hampton said.
He explains the spiral as a vapour of unspent fuel that's been ejected from the rocket, and visible under the right conditions.
"Very often when they're finished with their mission, they will actually sort of eject some of their propellant. And when that goes out in space and the sun is shining on it, you can see that in the sky if you're [in the] dark on the ground," Hampton said.
"So we were just in the right time, right place in Alaska to be able to see it."