Many Canadians are done with monarchy—but GG says they should give Charles a chance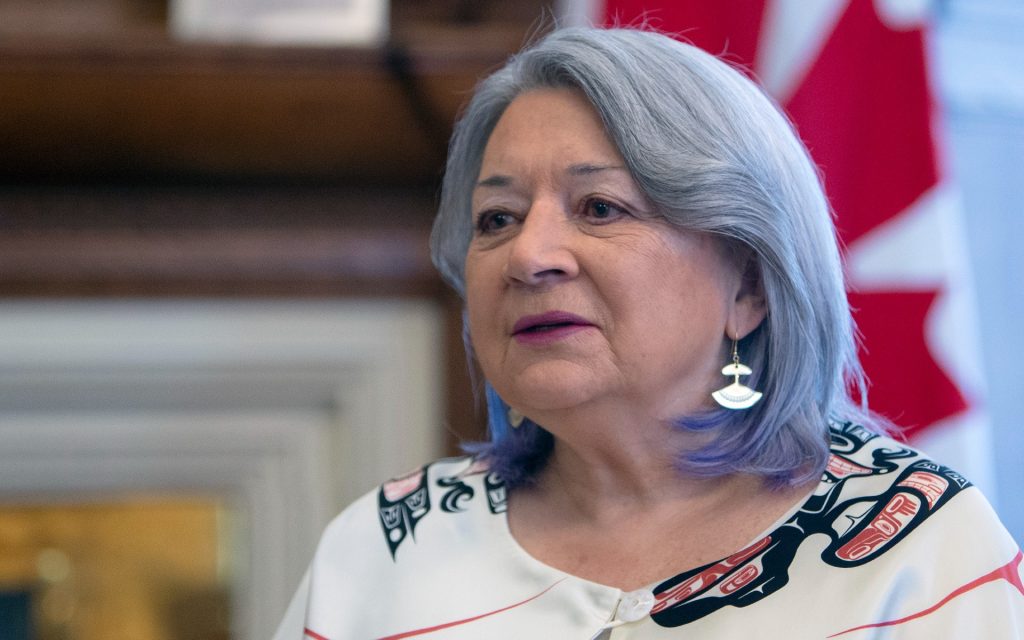 Gov. Gen. Simon says coronation will be an important moment in the Indigenous-Crown relationship
The King's representative in Canada says this country hasn't yet had "serious discussions" about what would happen if this country ditches the monarchy — and King Charles III deserves a chance to prove himself.
"If there is any talk of whether there should be a king at the head of our country, then we have to have some very serious discussions in Canada about what we want … and I haven't heard those discussions take place," Gov. Gen. Mary Simon told CBC's The House in an interview airing Saturday.
"I have heard a lot of individuals saying … the polling has said they don't support the King. But at the same time, I think we need to give him a chance. We need to give him a chance to show us that he is a good leader."
Simon spoke to host Catherine Cullen ahead of her trip to the United Kingdom, where she'll attend the coronation of King Charles III on Saturday. She'll be the first Canadian governor general to witness the crowning of a new monarch in over 70 years.
Recent polling has suggested that most Canadians are not in favour of recognizing Charles as King. Though his mother Elizabeth was broadly popular in Canada, his rise to the throne has prompted a renewed conversation about the role of the monarchy in Canada.
While the monarch holds no political power in Canada, it still serves for many as an important symbol and is part of Canada's constitutional structure.
Prime Minister Justin Trudeau said last week that Canadians are not particularly interested in conversations about the monarchy and there's little appetite for changes that would require constitutional amendments.
"There are obviously a number of people who feel that a different system would serve us better. Those people could make those arguments, but what those people can't do is agree on what alternative would be better," Trudeau said.
Conservative Leader Pierre Poilievre, whose party traditionally has been more friendly to the monarchy, spoke positively about the institution in his speech commemorating Elizabeth's death last fall, remarking on its importance in symbolizing the division of powers and as a guarantor of democracy.
A chance for a 'renewed' Crown-Indigenous relationship
Simon told the CBC's Cullen that the institution of the monarchy was an integral part of Canada's development and is still tied into the structure of Canadian democracy.
Simon also said she thought Charles would prove to be a good King, given his genuine advocacy on the environment and his serious desire to meet and engage with Indigenous leaders in Canada.
Charles's attitude is particularly relevant to the Indigenous reconciliation project, given the Crown's direct relationship with Indigenous people in Canada. Charles is set to meet with Inuit, First Nations and Métis leaders on Thursday.
Simon said that she's hopeful about the possibility of progress and the development of a "renewed" Crown-Indigenous relationship through King Charles — although she cautioned that things aren't likely to change quickly.
She said she doesn't know if Charles would be open to some key requests made by Indigenous leaders — who have called for, among other things, an official apology for the Crown's role in colonization and the residential school system.
"I think we have to start slowly," Simon said. "I think the Indigenous leaders and the King have to get to know each other, build the trust that is needed.
"An apology is always important. But it's the action that's behind the apology that is crucial."
Simon said she knows the institution of the monarchy is not popular with some Canadians. And while she said Charles deserves a chance, she expressed an openness to a conversation about the monarchy's future.
"There is still a substantial number of individuals that do support it and see that as being part of moving forward," she said.
"I think if if we were able to discuss in a positive and fruitful way, what are the alternatives, where do we go from here? That's a conversation going forward."
CBC 's coverage of the coronation of King Charles will be available across all platforms on May 6 starting at 4 a.m. ET on CBC TV, CBC News Network, CBC Radio and streaming on CBC Gem, CBC News Explore, and CBC Listen
Related stories from around the North: 
Canada: Northerner remembers Queen's kindness on Arctic tour in Canada, Eye on the Arctic