Ash falling 'on our heads': Hay River, KFN evacuees drive through the night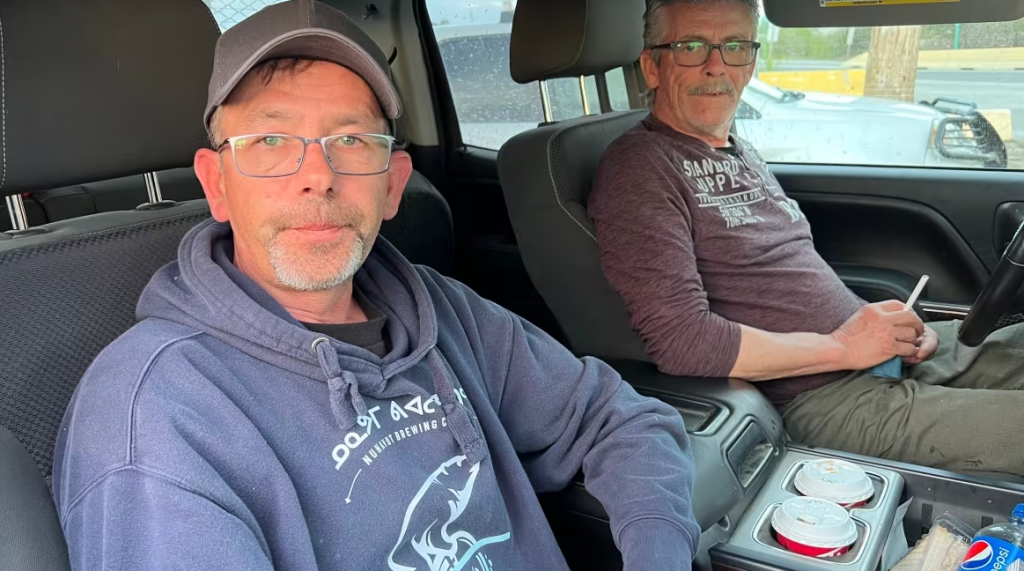 Kátł'odeeche First Nation and the Town of Hay River issued evacuation orders on Sunday
To Dion Griffiths and Gary Pynn, it looked like the fire near Hay River, N.W.T., and Kátł'odeeche First Nation reserve kept growing through all of Sunday.
"The wind changed and the smoke came across our camp," said Pynn.
"The ashes were falling on the deck and on the chairs, on our heads."
He and Griffiths were sleeping when they got the evacuation order around 11 p.m. Sunday.
"Just mad panic and … put my boots on and put my clothes on and out the door I went," said Griffiths.
He said the town was an "organized mess" as they were trying to leave.
"It was a big, long string of traffic."
The pair said gas stations were closed in Hay River as people were leaving.
They added that many people stopped to camp or park on the side of the road once they got to Enterprise, N.W.T.
People leaving Hay River and Kátł'odeeche First Nation have been told to go to Yellowknife.
David Maguire, spokesperson for the Northwest Territories Health and Social Service Authority, said evacuees that wish to be kept informed of available services and supports can call 867-446-2023 or register in person at the city's Multiplex.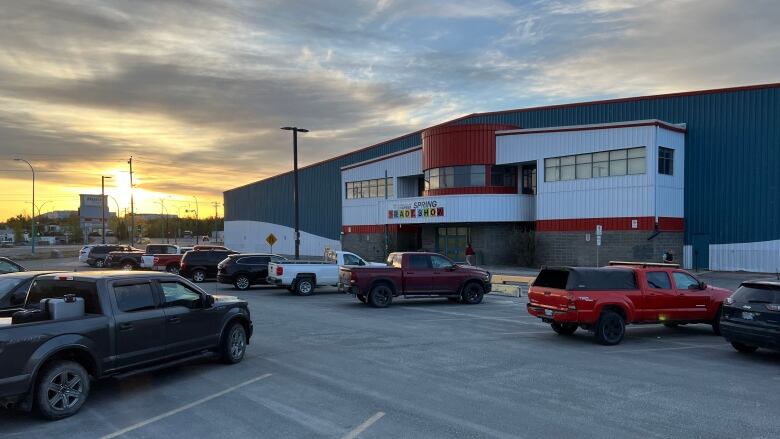 Damage expected in Kátł'odeeche
"I drove from sunset to sunrise to get up to Yellowknife to find hopefully a little bit of safety up here," said Alex Brodeur.
He said after last year's flood, he felt prepared to evacuate from the community quickly.
But this year it felt more urgent.
"You really can't take that risk," he said. "You can't just go and get your feet wet and be OK. I'm sure there's a lot more evacuations this time."
Before leaving, he drove by the river and saw dozens of cars and people standing on the bank looking toward Kátł'odeeche.
"Many [of the people] were probably from the First Nation and could probably point out where the houses were, watching the potential that they were probably burning down at that point," he said.
Fire officials say they believe there has been significant structural damage in Kátł'odeeche.
"We're not going to be able to evaluate the extent of that damage until a later time," said Mike Westwick, wildfire information officer with NWT Fire.
"Lack of visibility and unsafe conditions caused significant challenges for our firefighters in the evening."
Earlier this morning, the First Nation posted on Facebook saying all the archives and artifacts at the Yamózha Kúé Society (Dene Cultural Institute) had been saved from the building.
Risk ongoing 
Speaking on CBC North's The Trailbreaker Monday morning, Kandis Jameson, Hay River's mayor, said surrounding communities helped by lending tanker trucks.
"We were watching what was happening along the river all night," she said. "So far, so good, but the risk is definitely not over."
Westwick said the extreme conditions are expected to continue despite rain in the forecast.
He also said officials suspect the fire was caused by human activity.