Ice jams, rapid snowmelt flood homes, businesses and roads across Alaska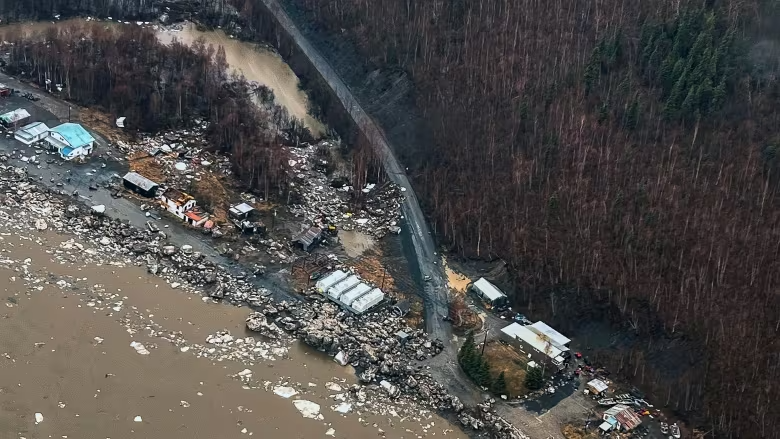 Ice jams on Yukon and Kuskokwim rivers cause most of damage
Flooding across Alaska has inundated scores of homes, with several of them knocked from their foundations by large ice chunks, and shut one of the state's few east-west highways down to one lane.
Ice jams on the Yukon and Kuskokwim rivers caused most of the damage through a large swath of Alaska, while a quick melt of the snowpack caused Moose Creek to overflow near Glennallen. The flooding caused delays for motorists on the Glenn Highway which connects Anchorage to points east, including Canada.
Multiple homes and buildings flooded in Glennallen — a town about 290 kilometres northeast of Anchorage — including a grocery store.
The sewer system in Glennallen was impacted by the flooding and portable restrooms were being brought in until repairs can be made, the Alaska Department of Homeland Security and Emergency Management said in a statement.
"Large pumps are dewatering flooded areas, gravel is being laid for emergency access repair, and emergency sewer line repairs are underway," the statement said.
The Glenn Highway was expected to remain open, with a pilot car escorting motorists through flooded areas.
'Got so hot, so fast'
Glennallen resident Isaac Beshaw told Anchorage television station KTUU that the snowpack usually melts slowly but warm temperatures this year sped that up.
"This year it got so hot, so fast, that everything, wherever it came from, just came down splashing and just flooded the whole thing," he said.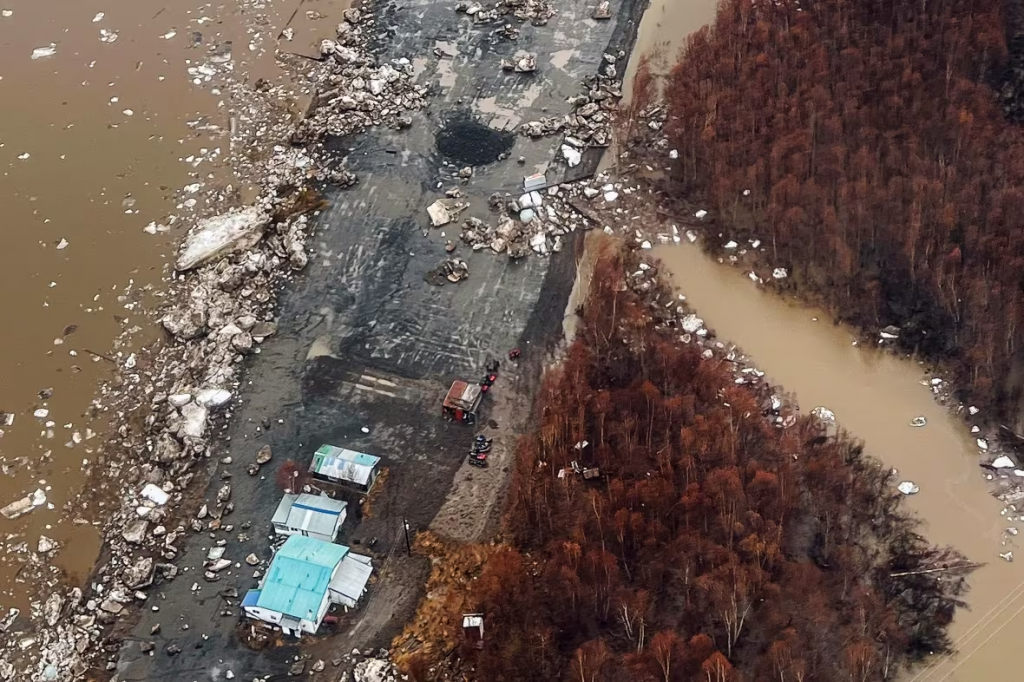 Drone video from KTUU showed numerous cars, trucks and trailers submerged, with oil and gas sheens visible in the standing water.
Ice jams on the Yukon and the Kuskokwim broke over the weekend, sending huge chunks — some up to 3.6 metres tall — and water into riverbank communities.
Along the Yukon River in the eastern portion of the state, 15 homes in the community of Circle were flooded and at least three were pushed off their foundations, emergency management officials said.
Flooding concerns were reported in two other Yukon River communities, including two inundated homes in Eagle and more in Fort Yukon.
Along the Kuskokwim River in southwest Alaska, multiple homes were flooded and at least four dislodged from their foundations in Crooked Creek. The runway was open, and drinking water, supplies and two medical professionals were flown to the village.
Shelter set up in school
All Crooked Creek residents were reported to be safe and accounted for, and the clinic was operational, the emergency
management agency said. A shelter was set up at the school.
Generators and personnel to repair the village well were also sent, and power was partially restored.
The flood damage has the potential to be devastating in Crooked Creek and Circle, each of which has fewer than 100 residents. Governor Mike Dunleavy issued a disaster declaration for both communities, along with Eagle and Glennallen.
At least two homes in Red Devil, another Kuskokwim River community, also flooded.
Related stories from around the North:
Canada: Fort Liard, Nahanni Butte should be on 'high alert' for flooding in coming days, says N.W.T. gov't, CBC News
Finland: Flooding in Finland is getting worse, new climate report says, Yle News
Sweden: Heavier rainfall will increase risk of landslides and flooding in Sweden, Radio Sweden.