Arctic Winter Games committee looks to Yukon as potential host in 2026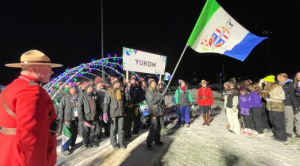 The Arctic Winter Games (AWG) could be coming back to the Yukon sooner than expected.
The territory is next scheduled to host the event in 2032, but the Games' International Committee is looking for a place to host the 2026 games.
Yamal, Russia, was supposed to host in 2026 but the committee suspended Russia because of the ongoing war in Ukraine.
"There's so many different factors," said John Rodda, vice president of the AWG International Committee.
Rodda said the Northwest Territories was then approached with the idea to host in 2026, two years earlier than planned — but the territory declined.
That's when two other jurisdictions expressed interest.
"We had heard there was some interest in Yukon," Rodda said. "And potentially from Northern Alberta, even though they had just hosted [the games] recently."
Rodda said he spoke with Whitehorse Mayor Laura Cabott, who he said thought the idea would resonate with the Yukon government.
"The mayor of Whitehorse was quite excited about the opportunity," he said.
"At least speaking for the City of Whitehorse. I understand it's the Yukon that's actually the host jurisdiction, so the relationship is with higher-level government — but there appeared to be some confidence from the mayor that discussions with the government leaders would be positive."
CBC News requested an interview with Cabott, but a city spokesperson said she wasn't available until next week.
Rodda said after his discussion with the mayor, and other Yukoners who shared the mayor's enthusiasm toward the idea, he decided to send a letter to Yukon Premier Ranj Pillai.
Rodda said it wouldn't take much for the Yukon to pick up where it left off in March 2020, when Whitehorse was last set to host the games. That event was cancelled at the last minute amid growing concerns about COVID-19.
"A lot of the work they did from '18, '19 and up into 2020 … a lot of prep work is still … call it, 'on the books,'" he said.
"Much of what they did in preparation could be rolled over into hosting in '26."
Rodda said now he'll wait to hear back from the premier.
Pillai was unavailable to comment but senior communications advisor Renee Francoeur confirmed to CBC News that Pillai has read Rodda's letter. She said the premier has also shared the letter with the City of Whitehorse.
Related stories from around the North:
Canada: Yellowknife won't host 2026 Arctic Winter Games, minister confirms, CBC News
Finland: Ice fishing World Championships latest in Finnish series of odd sports events, Yle News
United States: Veteran musher Brent Sass wins Yukon Quest 300, CBC News