Unique Russian-Norwegian medical evacuation in the High Arctic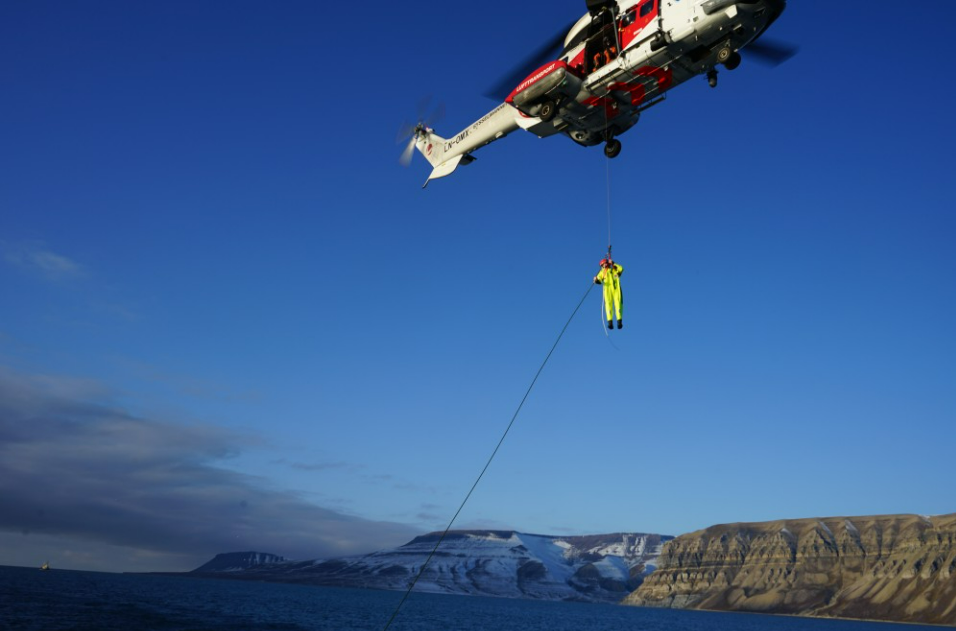 Flying out of Longyearbyen, the medical evac chopper safely picked up a crew member from the Arctic research vessel "Severny Polyus" near the North Pole. This was the world's northernmost evacuation of a patient ever.
It was the Sea Rescue Centre in Murmansk that Tuesday morning requested assistance from Norway with a medical evacuation from the "Severy Polyus" [Russian for "North Pole"]. The onboard doctor had examined the patient and concluded he needed emergency hospitalisation.
The Russian research vessel drifts with the ice at 86 degrees North between Svalbard and the North Pole.
Nearest SAR helicopter is Longyearbyen where the Governor operates two Super Puma AWSAR. 86 degrees North, however, is on the limit of range. Prepared for far-distance rescue operations, the Governor has extra fuel deposits on the northern shores of the archipelago for the pilots to be able to fly long distances into the Arctic Ocean.
The operation was led by the Joint Rescue Coordination Centre for Northern Norway (JRCC) in Bodø which has an agreement with Murmansk to assist in emergencies. The Norwegians and Russians have for years exercised joint coordinated search- and rescue in the maritime border areas between Murmansk and Finnmark.
Flying time between Longyearbyen and "Severny Polyus" is about five hours in each direction, said spokesperson Rune Danielsen with the JRCC to NRK.
At 2 am the chopper was back in Longyearbyen with the patient. "No problems during the mission," the JRCC reports in a tweet this night.
It is not reported what medical problems the crew member is suffering, but further transport by ambulance plane from Longyearbyen to the mainland is likely.
Related stories from around the North:
Canada: Q&A – Search and Rescue in Canada's North with Sergeant Simon-Luc Lavoie, Eye on The Arctic
Russia: Murmansk gets two new rescue helicopters for Arctic, The Independent Barents Observer