Growing permafrost slump threatens part of Alaska Highway, road to be moved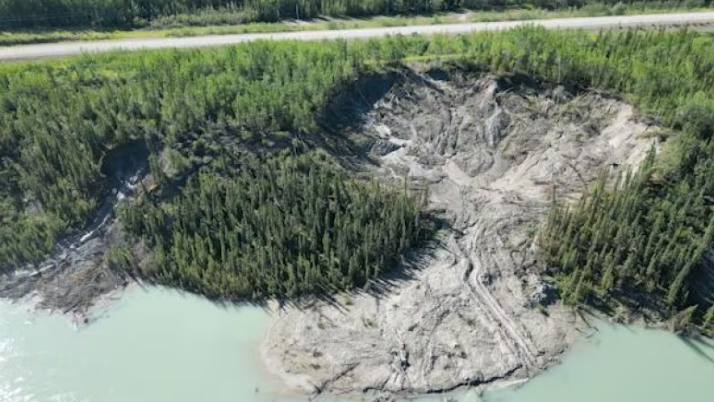 The Yukon government says work will begin shortly to move a section of the Alaska Highway northwest of Whitehorse, as a growing permafrost slump has now expanded into the road's right-of-way.
The so-called Takhini Slump is about 30 kilometres from Whitehorse in the Ibex Valley. Researchers have been monitoring the slump, which has grown in recent years as permafrost thaws.
"You really can see permafrost degrading in real time," said Fabrice Calmels, a researcher in permafrost and geoscience at Yukon University.
Calmels said when researchers first noticed the slump, it was about 50 metres wide and about 85 metres from the roadway. Now, it's twice as wide and about 25 metres from the road, and another smaller slump has formed close by.
Vegetation and muck can be seen slowly sliding down the edge of the slump toward the Takhini River below, with water dribbling over patches of exposed ice.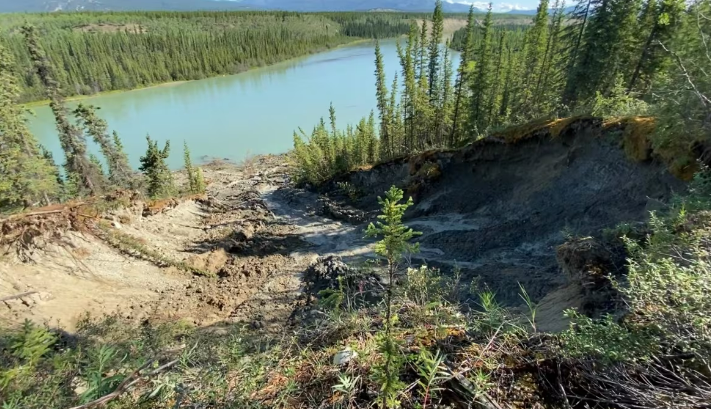 The new slump has been nicknamed "baby slump," though Calmels said some researchers have taken to calling it "teenage slump" because it's growing so fast.
"Because it's a site that is only maybe 30 kilometres from Whitehorse, it's a very easy site to study, to access. We can come here each week, each month, and we can monitor it with the drone," Calmels said.
"So we are able to acquire a lot of knowledge and data."
In an email to CBC News, Madison Guthrie of the Department of Highways and Public Works said the government has been working with the Yukon University researchers to come up with a plan for the highway. The slump was causing concerns for the "long-term viability" of the road, she said.
"We considered several options but decided that realigning the highway was the best long-term solution," she wrote.
"The realignment will protect highway infrastructure and public safety by increasing the buffer between the active thaw slump and the highway."
Guthrie said a tender for the project closed last month, and work would begin "shortly."
Calmels also said it's hoped that the slump's movement toward the road may actually slow as it gets closer.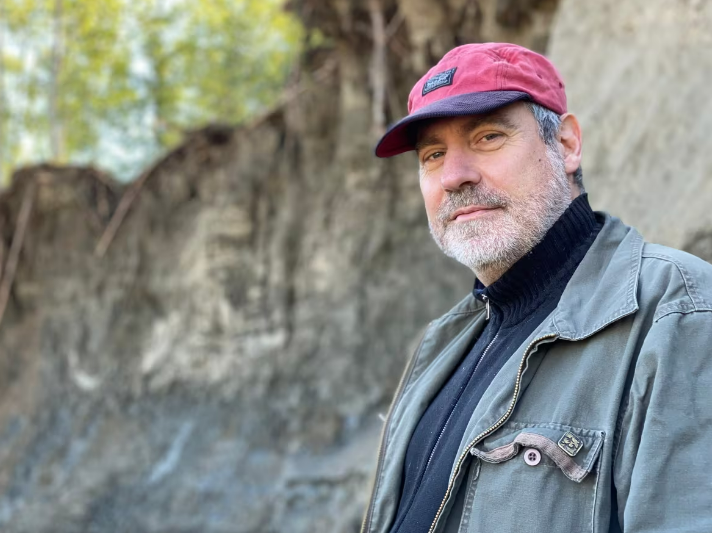 "We hope that because there is maybe less permafrost under the road, because the road has been a disturbance for so [many] decades, that the process will slow down," he said.
Monitoring will continue, though, and an alarm system is expected to be implemented next year, he said. The idea is that an alarm would be sent every time the slump moves another metre closer to the road.
"We hope that what we learn from this site would be applicable in other problematic areas that will be presenting in the North," Calmels said.
"These slumps are developing more and more, these last two decades."
Related stories from around the North: 
Canada: $20 million in debt forgiven by Housing NWT in last 3 years, CBC News
Russia: Melting permafrost may release industrial pollutants at Arctic sites: study, Eye on the Arctic