N.W.T. 'auntie' and 'uncle' pins a hot commodity at NAIG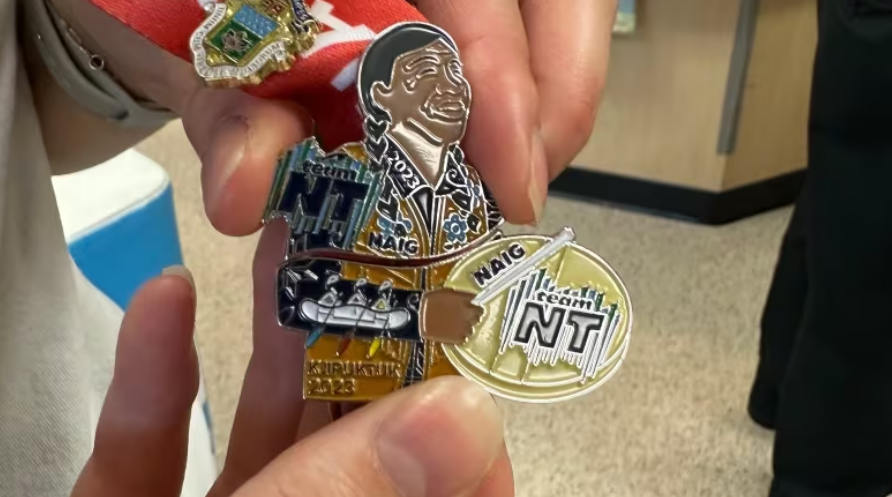 Team N.W.T. had some premium pins at the North American Indigenous Games, both for their design and nickname. 
Teams and other organizations associated with the event create pins that trade to build a collection.
Three N.W.T. pins were available, one as a two-piece Inuvialuit drummer, the other a two-piece Dene drummer. The drums and the bodies are separate pins.
"We wanted to do something to represent the two big cultures in the North," said Carson Roche, the designer of the pins.
"I was googling Facebook photos from my late uncle Morris Neyelle, he took some photos of drummers and I used that as an inspiration."
Competitors in the games nicknamed the pins "auntie" and "uncle."
"It didn't even come to my mind that that was going to happen, but seeing it now, putting them side by side, auntie and uncle," he said with a laugh.
Roche said he designed the pins to be a set because it entices people to try and put it together.
"I noticed when I was an athlete and wanted pins, the pins that people wanted the most were puzzle pieces," he said.
"Kids go crazy for the puzzle pieces and anything that moves."
That's why the third pin was designed as a sliding northern lights over a landscape that included a cabin, smoke and "Kjipuktuk", the Mi'kmaw word for Halifax.
"I really wanted to do something with the northern lights and I wanted them to move," said Roche.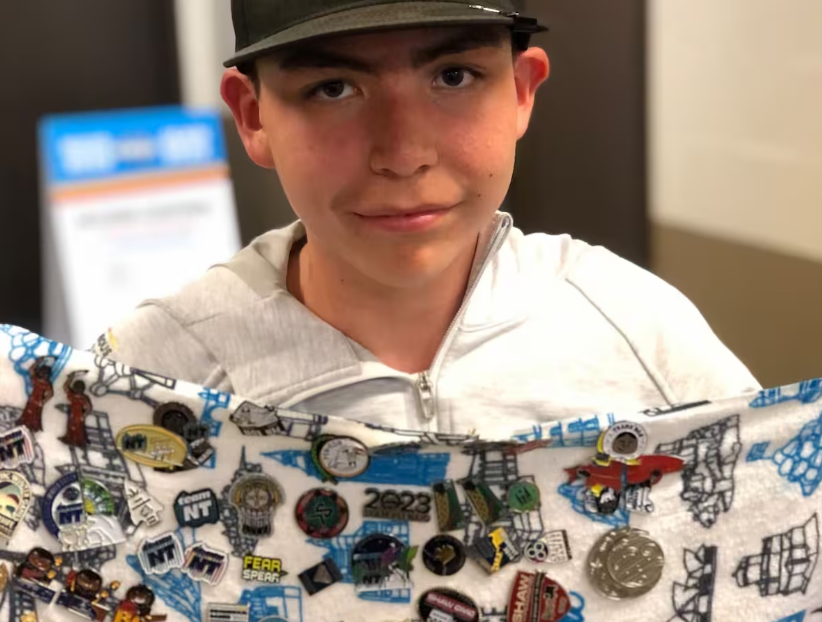 Greyson Catholique was a competitor at the games — a gold medal winner in the 4 x 400 metre relay. But he was also a competitor in pin collecting.
"Pin trading is fun, you get to meet a lot of new people," he said.
Catholique had previoulsy traded pins at the Arctic Winter Games.
He said he liked that the auntie and uncle pins were a set, but his favourites were the Yukon and Nunavut pin, and a Red Dress pin that was available at the cultural village.
The games came to a close on Friday afternoon, with several events being postponed and cancelled due to a torrential downpour and flooding throughout many parts of Nova Scotia.
Related stories from around the North: 
Canada: Guy Lafleur in the North – 'He just wanted to meet his fans' says former NHL teammate Steve Shutt, Eye on the Arctic
Finland: Ice fishing World Championships latest in Finnish series of odd sports events, Yle News
United States: Veteran musher Brent Sass wins Yukon Quest 300, CBC News